Have you ever misplaced your keys, forgotten the name of someone you've just been introduced to and found it difficult to count backwards by sevens from 75?  All signs of cognitive impairment or early stage Alzheimer's as Brian Fidler gently informs us in Broken, now playing at Uno Fest.
Broken celebrates the relationship between 10 year old Will and his grandfather, an accomplished photographer who now lives in the family's basement.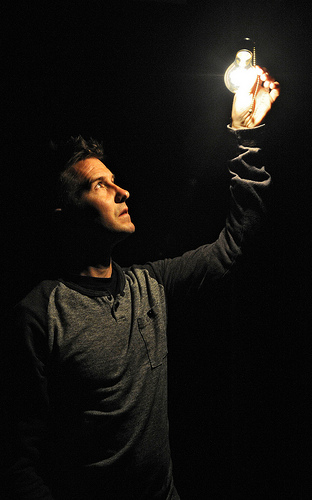 Photo: Ian Stewart Photography
Hovering between memory, reality and imagination – the audience is invited to choose a different name for themselves during the show (or not) – with a ladder to represent stairs to the basement, and a floating lightbulb that becomes by turns a miner's lamp, an announcer's mike, or camera flash – Broken allows us, from a safe distance, to touch on a subject that is extremely emotionally charged.
Our memories can at best be faulty or selective at any stage of our lives as Fidler illustrates with the tale of a trek through the woods with his soon-to-be wife, but it's when those close to us begin to disintegrate before our eyes, un-tethered to past or present, that hurts the most.
A production of Ramshackle Theatre, Broken has been in development for three years and was originally intended to tell the story of Fidler and his grandmother. By his own admission, Fidler found it too difficult to continue and reworked the script to incorporate events both real and imaginary.
Inspired by his background in found object puppetry Fidler creates simple, effective and exquisite moments – his grandfather's face superimposed on his body, a visit in the hospital.
Sound design and original music by Jordy Walker takes us back to the era of World War II, the subject of many memories, and becomes much harsher and discordant as memories start to unravel and objects lose their meaning.
Broken has a low-tech approach (design by David Skelton) that allows the audience's imaginations to soar, and become co-creators with the actor, venturing far into realms of love and loss, and probing ever so carefully a territory most of us will travel directly or indirectly during our lifetimes.
Broken appears next at Toronto's SummerWorks Performance Festival (August 8 – 18th), one of only four productions selected for their National series.
Broken, Intrepid Theatre Club, # 2-1609 Blanshard Street
Tickets $17, $69/5 Show Pass, $100 Karma 5 Show Pass
Ticket Rocket online, in person or by phone 250 590 6291
Saturday May 25 4pm*
Monday May 27 6:30pm
Tuesday May 28 6:30pm
Ramshackle Theatre/Nakai Theatre Whitehorse
Written and Performed by Brian Fidler
Directed by Maiko Bae Yamamoto
Designed by David Skelton
Sound and Music by Jordy Walker
65 minutes, adult content
Disclaimer: I was provided a complimentary ticket to Broken for the purpose of writing a review. As always, I retain full editorial control over all the content on my blog.