I'm always looking to extend my cultural horizons beyond tried and true choices. The Cage Festival, November 8th – 22nd has definitely piqued my interest.   Four Victoria arts institutions – the Victoria Symphony, Art Gallery of Greater Victoria, University of Victoria (School of Music) and Open Space – are celebrating the 100th anniversary of John Cage's birth by hosting a series of concerts, art exhibitions and special retrospectives highlighting this multi-faceted composer, artist, writer and critical thinker.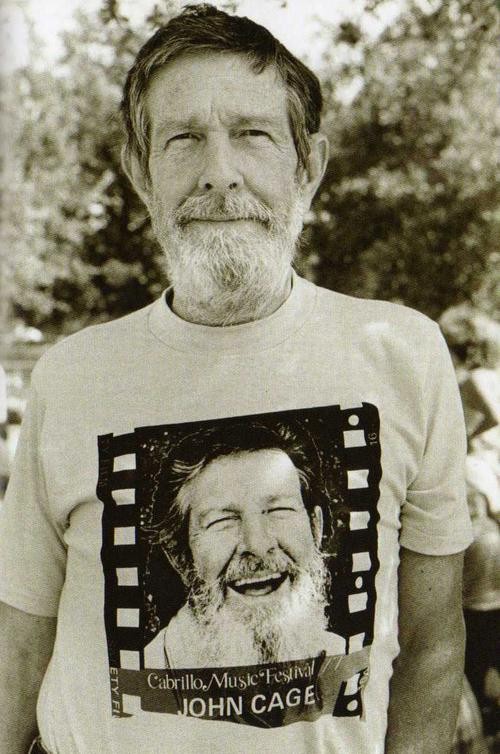 Photo: A Year From Monday
 John Cage (1912 – 1992) was an American composer, philosopher and artist. It is impossible to define Cage in terms of a single discipline. It may be that his discipline is simply the imagination, endlessly provoked. Cage is best known for developing indeterminacy as the principal method used for creating his work, whether it be sound, text or image.

A tireless worker and organizer, he was a friend of and collaborator with many of the most important contemporary artists and thinkers, including: Robert Rauschenberg, Jasper Johns, Marcel Duchamp, Mark Tobey, Morris Graves, Buckminster Fuller, Merce Cunningham, Marshall McLuhan, Norman O. Brown. In the early 1950's he was also a member, along with composers Morton Feldman, Christian Wolff and Earle Brown, of what is now called the New York School. Cage was very strongly influenced by eastern thought, initially Hindu then more importantly Zen, which he studied from the late 40's on. The music of French composer Erik Satie, and the writings of American philosopher Henry David Thoreau and Irish writer James Joyce are central to his work.   (from the AGGV website)
Many of the events are free, or by donation, and the ticketed events are moderately priced.  In this age of trans-media, and remixes, why not investigate the work of a pioneer at combining art forms?
Here's an example from Cage's piece "Indeterminancy"
[vsw id="AJMekwS6b9U" source="youtube" width="425″ height="344″ autoplay="no"]
The complete Cage Festival schedule:
Festival Pass (admission to all ticketed events): $25
Thursday, November 8, 7pm – Art Gallery of Greater Victoria (AGGV), curated by Christopher Butterfield
Opening of Devoted Play, an exhibition of visual material by/around/concerning John Cage with a reception co-hosted by the Victoria Symphony. Admission to the Opening Event is FREE and open to the public.  The exhibit runs until January 6, 2013. On the first Tuesday of each month, admission is free.
Devoted Play brings together artifacts which show various aspects of a man now considered among the most influential figures in art and music. Each object illuminates a part of Cage's world, whether musical, visual, or philosophical: a letter justifying 4'33", his notorious silent piece; a Japanese zen painting; examples of his own graphic work; and film of the Merce Cunningham Dance Company, with which he was associated for many years.

Join the AGGV, Open Space, Victoria Symphony, and the University of Victoria in celebrating the opening of this dynamic season of events, with a performance of John Cage's Imaginary Landscape No. 4 (1951), for 12 radios by the Uvic Sonic Lab.
Friday, November 16, 12:30pm – Phillip T Young Recital Hall (University of Victoria, MacLaurin Building)
University of Victoria Percussion Studio (Admission by donation)
William Linwood, director with guest Rick Sacks, percussion
John Cage – First Construction (in Metal) (1939)
Linda Catlin Smith – Blue Sky (2006)
John Cage – Second Construction (1940) 
Friday, November 16, 5-7pm Musiccircus 8-10pm concert Etcetera, Ryoanji
Phillip T Young Recital Hall (University of Victoria, MacLaurin Building)
University of Victoria Sonic Lab (Admission by donation)
Saturday, November 17, 8pm – Alix Goolden Hall
Victoria Symphony – Tania Miller, conductor – Tzenka Dianova, piano – Rick Sacks, percussion
Admission $20/$10 
Charles Ives – Tone Roads No.1 (1915)
Charles Ives – Tone Roads No.3 (1915)
Charles Ives – The Unanswered Question (1906)
John Cage – 4'33'' (orchestral version – 1947)
Rick Sacks – Water Music (premiere, Victoria Symphony commission)
John Cage – The Seasons (1947)
John Cage – Concerto for Prepared Piano (1950-1951)
Sunday, November 18, 7:30pm –Art Gallery of GreaterVictoria
Müge Büyükçelen, Cory Balzer (violins), Mieka Michaux (viola), Alasdair Money (cello)
Admission $15/10 (tickets at the AGGV) in person or by phone
John Cage – String Quartet in Four Parts (1950)
Linda Catlin Smith – Gondola – String Quartet No 4 (2007)
Christopher Reiche – The length of this piece is not arbitrary and Painting a Portrait of Glass (2009)
Charles Ives – String Quartet No.1 "from the Salvation Army" (1897-1900)
Monday, November 19, 7pm – Open Space (510 Fort St.) (Admission by donation)
Essay: Discussion on Cage and Anarchism with Andrew Culver, Cage's assistant in the 1980s, and Dr. Allan Antliff, professor of art history, University of Victoria.
As part of Victoria's Cage 100 festival, Open Space presents John Cage's installation Essay.  This rarely heard work immerses the body in an anarchic soundscape of spoken words and empty space.
Thursday, November 22, 7:30pm -Art Gallery of Greater Victoria (AGGV)
Artist's talk: Gordon Mumma. Admission $15 (or $5 for AGGV members). Advance ticket sales begin November 8th.
Renowned American composer Gordon Mumma offers a screening of his documentary TIME'SPACE chronicling the rehearsals, conversations, performance and visual art of Cage from 1960–80 followed by a conversation with Mumma about his experiences with Cage and the Merce Cunningham Dance Company, and Cage's profound impact on music, art and culture.