Ligeti Festival celebrates composer's centenary in Victoria BC March 21-29 2014
I first learned of the upcoming Ligeti Festival through an e-bulletin from the University of Victoria School of Music, and started to do research on this unknown-to-me composer.
What I found was fascinating—for, as with many people, I had actually heard his music.  It's been used extensively (sometimes without prior permission) in the movies 2001: A Space Odyssey and The Shining. This is, however, simply a glimpse of his life's work.
I had the chance to connect with Victoria Symphony Music Director, Tania Miller and Ajtony Csaba, conductor of UVic's Sonic Lab, about the upcoming festival.
"The Victoria Symphony schedules a new music festival every year which composer-in-residence Miachael Osterle curates—it's his brain child.  By collaborating within the community we are able to involve more people, and make it more accessible to the public."
"It's one of the best things the symphony is doing right now", says Maestra Miller, "we get really excited about it".
In regards to Ligeti, she states "Everyone should know him like they know Beethoven—he's one of the most influential composers on the 2nd half of the 20th century".
It's a sentiment that Csaba, who grew up close to Ligeti's birth place, re-iterates "Ligeti is one of the few composers who transgressed from being a "well-known avant-garde composer"to the state of being inevitable and classical. His oeuvre, aesthetic, and critical art-philosophy continue to influence our music perception today across all genres, including electronic dance music, film, music theatre and instrumental music.
When I met him in Vienna, he was already in a wheelchair, but still very aware and curious about everything that happened in the music. It was a thrilling surprise that Michael Oosterle and the Victoria Symphony proposed him to be in the center of the 2014 Festival."
With festivals and collaborations such as the Cage Festival (for the 100th anniversary of Cage's birth), the Britten Festival (another centenary) and A Chinatown Celebration (celebrating Victoria's historic Chinatown), Maestra Miller believes "artistically we open up potential directions we were not aware of until we start to collaborate".
Past partnerships have included Pacific Opera Victoria, the Greater Victoria Art Gallery, the Belfry Theatre, University of Victoria School of Music, the Victoria Chinese community, the Emily Carr String Quartet and Open Space.
The Ligeti Festival is co-presented by the Victoria Symphony and the University of Victoria School of Music (Sonic Lab) in partnership with the Emily Carr String Quartet and Vox Humana.
Tickets to the festival concerts are $20. A festival pass is available for $25 at the Symphony box office.  The concert at UVic is by donation.
From Ligeti's early works (Andante and Allegretto—performed by the Emily Carr String Quartet), to pop culture classics (Lux Aeterna—familiar from 2001: A Space Odyssey—performed by Vox Humana Choir), to a more recent Violin Concerto (performed by UVic's Sonic Lab in a program that Csaba promises will "offer a sparkling sound-theatre ranging from meditative simplicity to the orgy of colors") and finishing with "his greatest achievement—Piano Concerto—and one of his quirkies—Poeme Symphonyique 100 Metronomes" performed by the Victoria Symphony, the Ligeti Festival promises a most comprehensive examination of the composer's work.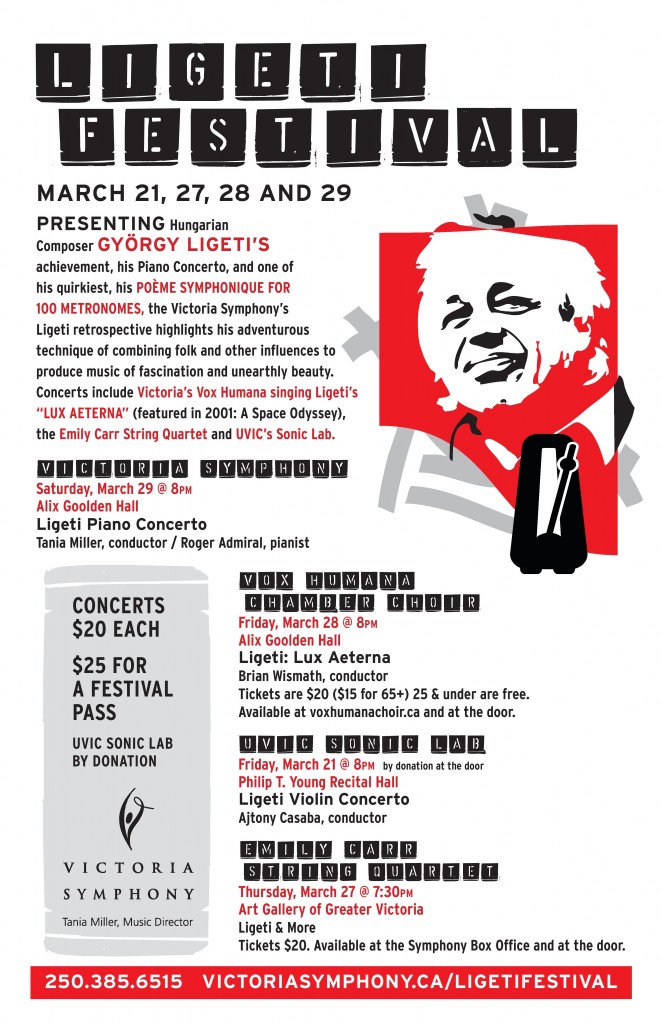 Ligeti Festival Programs
Friday, March 21 @ 8 PM, Philip T. Young Recital Hall
UVic Sonic Lab-Ajtony Csaba, conductor
Billone – Verticale Muto
Berio – O King
Ligeti – Violin Concerto (featuring Müge Bügükçelen)
Donations are accepted at the door.
Thursday, March 27 @ 7:30, Art Gallery of Greater Victoria
Emily Carr String Quartet Ligeti & More
Ligeti – Andante and Allegretto
Komorous – String Quartet No 1 'The White Shift'
Komorous – String Quartet No 2 'The Atonement'
Oesterle – Stand Still (2010) for solo violin
Ligeti – "Loop" from the Viola Sonata
Ligeti – Cello Sonata
Sokolovi – Commedia dell'arte
Tickets are $20 and available at the Symphony Box Office and at the door.
Friday, March 28 @ 8 PM, Alix Goolden Hall
Vox Humana Chamber Choir – Brian Wismath, conductor
Ligeti – Lux Aetena
Schnittke – Drei geistliche Gesänge
Gorecki – Totus Tuus
Dubra – Ave Maria
Sharman – Love (from Love, Beauty, Desire)
Pärt – dopo la vittoria
Tulev – Summer Rain
Wachner – Sometimes I Feel Alive
Tickets are $20 ($15 for 65+) 25 & under are free. Available at voxhumanachoir.ca and at the door.
Saturday, March 29 @ 8 PM, Alix Goolden Hall (pre-concert talk 7 PM)
Victoria Symphony, Tania Miller, conductor / Roger Admiral, pianist
Ligeti – Poeme Symphonique for 100 Metronomes
Ligeti – Ramifications
Sokolovic – Nie Proverbs
Frehner – Ochus Bochus
Ligeti – Concerto for Piano and Orchestra
Tickets are $20 and available at the Symphony Box Office or at the door.