Glam, glitz and gambling. What fun!  Step into your best gown or tux and out of this dreary and damp February weather. Imagine yourself in Montenegro at the famous Casino Royale, made popular by the Bond movie.  For one night only, leave your pre-occupations aside for more pleasant pastimes at this fundraiser for the Canadian College of Performing Arts (CCPA).
The college holds a special place in my arts world. I remember hearing co-founder Janis Dunning speak at a Victoria AM breakfast many years ago. Her passion inspired me to  explore the possibility of training and education there for my son.  Since his graduation in 2007 I've continued to be involved as a volunteer.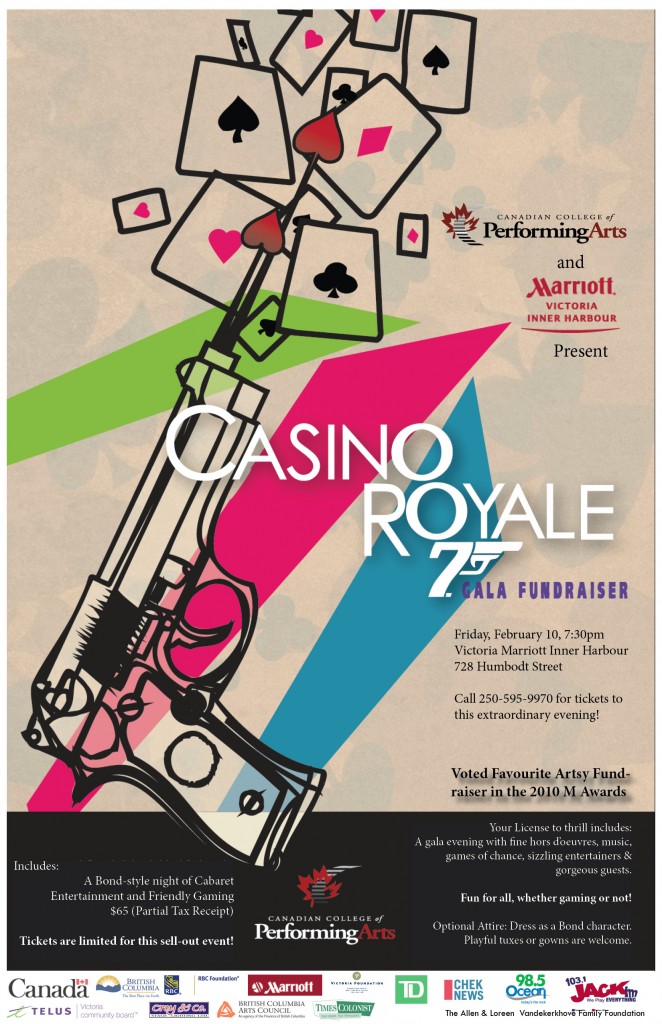 What:                       Casino Royale; A Bond-style night of Cabaret entertainment and gaming
When:                      February 10, 2012, 7:30pm
Where:                     The Victoria Marriott Inner Harbour.
(Tickets on sale through the CCPA office; 250-595-9970)
The Canadian College of Performing Arts will be presenting their special evening of food, music, fun-filled games of chance, prizes and auctions, spotlight entertainers and gorgeous guests. "This event has become a Victoria mainstay attraction," says Heather Roberts, Casino Royale Committee Chair. "We always sell out this event and being recognized as Victoria's Favourite Artsy Fundraiser in last year's M Awards helps with the prestige of the event.

The centerpiece will be the performances by the young artists from across the country, who train at the Canadian College of Performing Arts. Guests are encouraged to attend wearing their most playful tuxes or gowns. The environment will allow guests to imagine they are in Montenegro, the location used in the Casino Royale 2006 Bond movie.

The evening will also include delicious hors-d'oeuvres by the host and event sponsor Victoria Marriott Inner Harbour.

Tickets: $65 *Partial tax receipt

All proceeds for this fundraiser go towards training students of the College, some of the top young performing artists in the country. CCPA will be ending its 14th season with performances with the Victoria Symphony at the end of March and a full production of Footloose in April.
CONTACT INFORMATION:
Steven Seltzer, Communications Manager
Canadian College of Performing Arts
250-595-9970
communications@ccpacanada.com                                  http://www.ccpacanada.com