The indomitable and super-talented Ingrid Hansen, founder of SNAFU Dance Theatre is at it again. And you have the opportunity to support the development of a new work. On December 8th and 9th SNAFU presents Little Orange Man-a-palooza, a fundraiser for their new play Kitt and Jane.
If you missed a chance to see Little Orange Man at this year's Victoria or Vancouver Fringe Festivals – don't despair.  For two nights only this multi-award winning show (Pick-of-the-Fringe Victoria International Fringe Festival 2011, Pick-of-the-Fringe Hold Over – Vancouver International Fringe Festival 2011, Volunteer's Choice – Vancouver International Fringe Festival 2011, Vancouver Playhouse Award) returns to the Intrepid Theatre Club, followed by a Kinder Art Party and Gory Story Jam with music by the equally awarded Steve Chmilar (2006 Canadian Music Week National Songwriting Competition).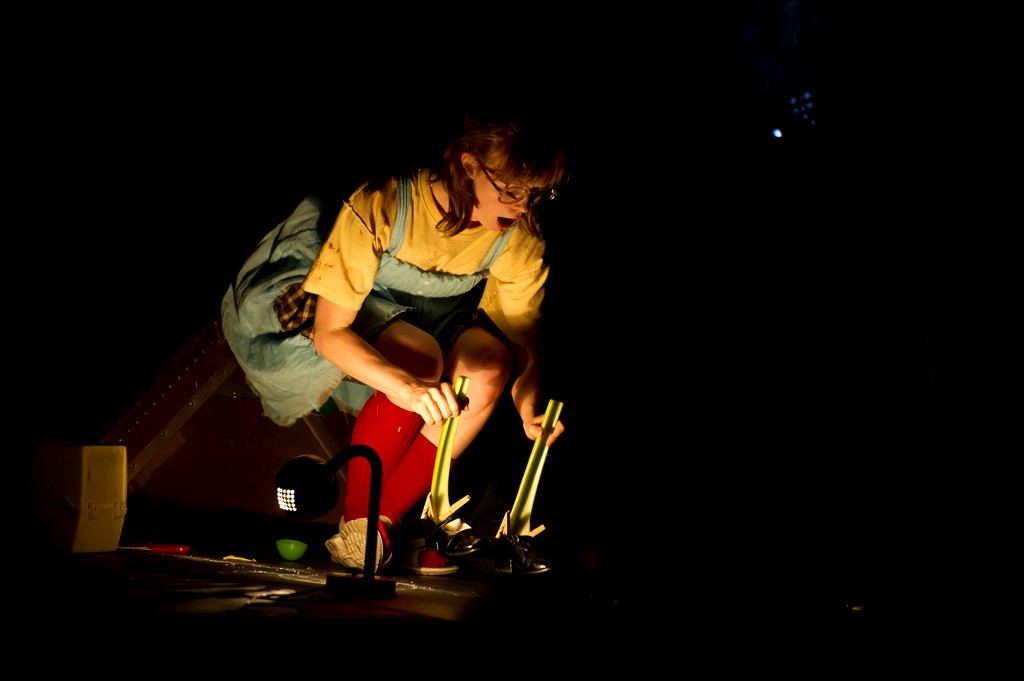 Photo: Al Smith on Flickr: used with permission of Snafu Dance
Little Orange Man sold out at both Victoria and Vancouver Fringes, and will be part of the Vancouver Playhouse's 2012/2013 season.
In Little Orange Man, local artist Ingrid Hansen plays twelve-year-old Kitt Pedersen, whose world-view has been informed as much by her grandfather's gruesome folktales as by Google and quantum theory.  Kitt is undertaking a massive dream experiment — which requires access to the audience's subconscious.
SNAFU's next project is Kitt and Jane.
Kitt from Little Orange Man is now fourteen and teamed up her fellow social reject and frenemy Lucas Jameson (played by the amazing Rod Peter Jr.)  Together the teens construct an interactive survival guide for the post-apocalyptic future.  Kitt and Jane will premier at the Belfry Spark Festival in March 2012.
Ingrid Hansen is one of this generation's most talented creative geniuses; by turns choreographer, puppeteer, dancer, musician, actor, costume designer, singer. Her productions are known for their beauty, ingenuity, complexity and audacity.  She is equally at home working in more "traditional" theatre and puppetry settings or in allowing full wing to her creative flights of fancy.  In all of this creativity,  she continues to work collaboratively with a wide range of equally talented individuals, mentoring and being mentored.
Little Orange Man appeals to the twisted child in all of us – if we are brave enough to leave our preconceptions aside.
Who: SNAFU artists Kathleen Greenfield, Ingrid Hansen, Jess Amy Shead and Rod Peter Jr.
What: 8PM performance of Little Orange Man
Kinder Art Party & Gory Story Slam to follow, serenaded by Steve Chmilar and Friends
Treats, Beer, & Prizes
Where: Intrepid Theatre Club – 1609 Blanshard at Fisgard, Victoria
When: Two Dates – Thurs Dec. 8th and Fri Dec. 9th – Doors at 7PM, Show at 8PM.
Tickets: Sliding scale $10 – 10,000,000 to be paid at the door
Reserve by emailing Jess Amy Shead at jessamyshead@gmail.com
"Half the time I was bawling, the other half I was laughing out loud. Hansen's manipulation of found object puppets- many of which are made of food- is so lifelike that you find it hard to believe they aren't alive." – The Craig – online review for Little Orange Man


"At once haunting and hilarious, Little Orange Man offers both heart and thought. An enchanting, fantastical theatre dream." —E.G. Anderson, Culture Vulture Victoria


"Very entertaining" – CBC Radio
I've had the pleasure of knowing Ingrid Hansen since my son performed in Pretty Little Instincts in 2009, and co-created Ginger Ninjas with her in 2010.