Sin City, a live improvised soap opera, is in its second season in Victoria.  With Valentine's Day upcoming – why not celebrate by joining them for their 15th episode of Carnies! – the continuing story of travelling side-show performers in the Dust Bowl of 1931.
Doors open at the Victoria Event Centre at 7:15 pm, with pre-show entertainment from strolling accordionist Grayson Walker. The show begins at 8pm.
 The Carnies have left a trail of chaos in their travels across the prairies, but are currently distracted by a number of burgeoning love affairs. Doc Brighton is infatuated with Ava the Snake Lady; Orville the Shill has a crush on Purdy the Celestial Hypnotist, to the chagrin of Francois the Human Statue; Tallulah the Trick Shot artist is feeling her oats, and things are heating up between Alexie the Roustie and Delores the Cookie.

The website blog features "The Story so Far", and audience members receive a program that recaps salient plot points – newcomers will not feel lost – the laughs are guaranteed.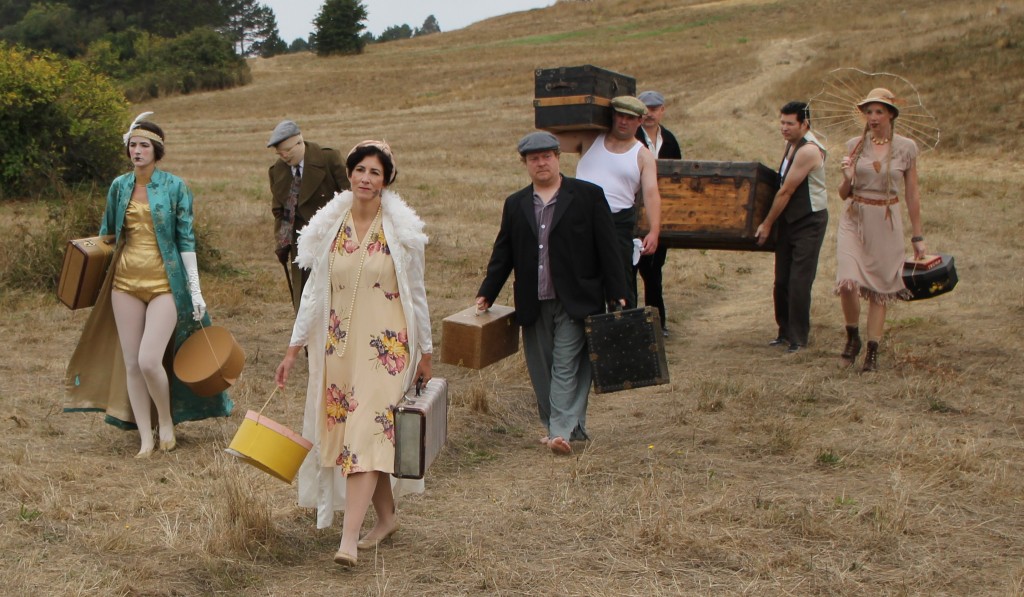 Karen Brelsford, Chris Gabel, Kirsten Van Ritzen, Wes Borg, Morgan Cranny, Alan Penty, Robert Conway, Christina Patterson
                                                                               Photo: Chris Boots Orchard  used with permission
I had the opportunity to attend the season opening of Carnies in late October.  Here are some impressions from the show.
It's fast, funny and completely entrancing to watch actors at the top of their game, veterans of vaudeville and improv, as they hurl themselves willing into situations demanding complete trust in the abilities of their fellow performers.  Whatever you thought you knew about improv – throw it out the window, erase it from your memory, and grab your tickets quick before other theatre patrons realize just what a treasure we now have in the city.
I'm sure the Valentine's Day episode will be just as entertaining, so plan on being there for Date Night with your sweetheart!
Tickets:  $15/12 cash only at the door OR $12/10 in advance from Ticket Rocket 
 Carny Punch Card  6 admissions, can be shared $60
Sideshow Season Pass (non – transferable) $120
Ticket Rocket 250-590-6291    www.ticketrocket.org
Show Hotline 250-480-3709    info@sincityimprov.com
Starring Kirsten Van Ritzen, Wes Borg, Morgan Cranny, Karen Brelsford, Robert Conway, Chris Gabel, Christina Patterson, Christine Upright, Charlie De Pape and Special Guests.
Directed by Ian Ferguson    Music by Grayson Walker      T.D.  Theodore R. Sherman
Produced by Broad Theatrics