Well the joint was hopping last Tuesday night at the Victoria Event Centre (VEC) as the good citizens of Victoria came out in full force for opening night of the very popular Sin City A Live Improvised Soap Opera – Season TWO: Carnies.
The actors in Sin City are well known to local audiences, having performed with Atomic Vaudeville, Giggling Iguana, Launch Pad, and other companies on stages all around town.  Season cast members include: Wes Borg, Karen Brelsford, Robert Conway, Morgan Cranny, Charlie DePape, Chris Gabel, Christina Patterson, Alan Penty,  Christine Upright and Kirsten Van Ritzen.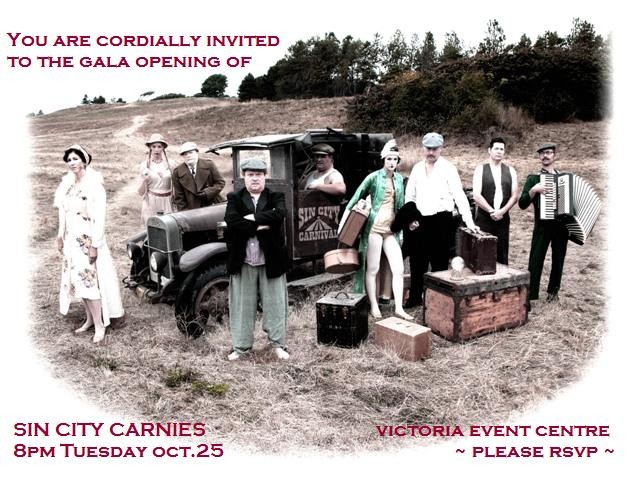 Photo: Chris Boots Orchard used by permission
What I didn't realize was that narrator/director Ian Ferguson and his wife, Van Ritzen, are no strangers to this type of fast paced, multi-character, vignette driven, completely improvised show.  Starting originally in Edmonton with Die Nasty (now in its 21st season) in the early 1990s then moving to Toronto with Sin City in the early 2000s, they came slowly westward  in 2010 to  Victoria.
Ferguson is a brilliant director.  From my position at the bar I was convinced, seeing him glance at his notes, that he had a series of scenes all lined up for the actors to step in to. But – I was wrong.  Ferguson assured me at the break that his crib sheet only contains notes on terms and language common to carnies  in the 1930s – "Carny Slang".  Once the season is well under way, he'll abandon even this.
How does he know who to bring together in a scene ?  He scans the assembled actors (sitting to the side of the audience near the front) and thinks "those two haven't been in a scene together tonight" then calls them up onstage to perform in one of several locations – the Boneyard, a trailer, the tent, a field.  What follows from there is the work of pure improvisation, and pure genius.
A travelling Carnival during the Dust Bowl of the 1930s.  Our Carnies have been abandoned near Esterhazy Saskatchewan by the Claresholm Brothers Carnival without a working jalopy.  The top acts are gone, leaving Ava Garter the Snake Lady, Tallulah the Sharpshooter, Count Christoff the Amazing Mentalist, Alexei Kalashnikov the Rousty, Francois Lapideux the Human Statue, Purdy Durvert the Celestial Hypnotist, Hans Versagen the Faceless Man, and Dolores Delisle the Cookie. They are joined by local physician Dr Thomas Brighton and Orville O'Donnell the Greenie.
Opening night featured a surprise revelation by the Amazing Mentalist *spoiler alert* – he declared himself  to be the long lost husband of feature guest burlesque star Miss Rosie Bitts.  It will be interesting to see how this plot point develops, for surely, Miss Rosie will return on a regular basis.
It's fast, funny and completely entrancing to watch actors at the top of their game, veterans of vaudeville and improv, as they hurl themselves willing into situations demanding complete trust in the abilities of their fellow performers.  Whatever you thought you knew about improv – throw it out the window, erase it from your memory, and grab your tickets quick before other theatre patrons realize just what a treasure we now have in the city.
Grayson Walker provides improvised musical direction and Theodore Sherman is technical director (sound and lighting).
Season Two runs until April 17, 2012 at the Victoria Event Centre.
Tickets are $15/$12 cash only at the door or $12/$10 in advance at Ticketrocket 250 590 6291
A carny punch card (six admissions to share) is $60. A sideshow season pass (non-transferrable) is $180
Disclaimer:  I was offered a complimentary ticket to attend opening night. I was not paid to write a review nor was I required to do so. As always, I retain editorial control over all the content published on this blog.