Cock by Mike Bartlett at Theatre Inconnu May 5-23, 2015. A review.
John is confused—but is it by his sexual orientation or by life in general, bound-up as he is in a general inability to make a choice? Theatre Inconnu tackles the Oliver-award-winning play Cock by Mike Bartlett, one of Britain's rising young stars in the theatrical firmament.
Director and designer David MacPherson, in his first production for Theatre Inconnu, sets the audience in the very middle of the action, surrounding a carpeted floor—the stage, as envisioned by the playwright. Lamp standards are slightly behind the seats and on the four corners, along with four stools—a visual interpretation of a metaphorical boxing ring. However, the actors are not bound by these limits, and at times conversations happen in corridors on the periphery, or hidden behind the curtains along the walls. The effect is one of great intimacy, as if spying on private conversations, of being personally—and rather disconcertingly—involved in the lives of the characters.
Music by Laurie Anderson from her performance album Home of the Brave is an integral part of Cock—jarring, disconnected, with keening melodies and dissonant harmonies, it mirrors the drama of a life in flux.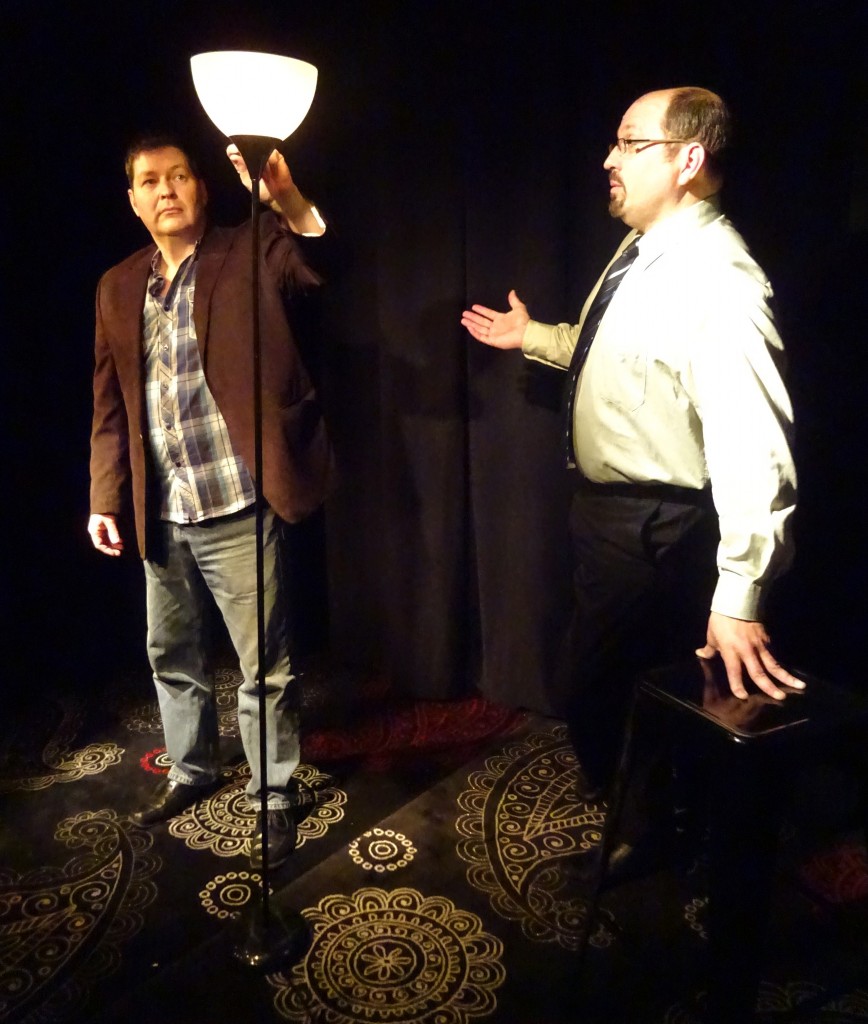 Robert Conway (John) and Cam Culham (M)
John (Robert Conway) is unhappy; no longer fulfilled with M (Cam Culham) his older lover, he decides to take a break. During this period of time, spent couch surfing with friends, he meets W (Melissa Blank). Intrigued at first, he later begins a relationship. Torn, he vacillates from one to the other—to each of their chagrins.
Robert Conway as John is maddeningly indecisive, an emotional dullard and blank canvas who has allowed himself to become the projection of another's desires, drifting along on the tides of life, a feather in the wind. At a time when gender confusion is more discussed, it would be easy to have sympathy for his plight, but as he continues to leave his partners dangling, this quickly fades. The tension in Cock lies in this inability to choose. No amount of pleas, or reasoning changes John's fundamental nature.
Trying to force the issue, M urges John to invite W to dinner—each is positively convinced of John's final decision. M's father F (Eric Grace) has been invited too—a surprise to John and W. As the gloves come off, and the battle for John's heart begins, the invective flows in litanies of snark. Bartlett's writing is sharp and pointed. One-liners and verbal jabs zing back and forth in a delicious word battle between Blank and Culham—temperatures and tempers rise. Throughout Conway remains unflappable. Grace as the solicitous father tries to smooth over the situation, appealing to the deeper human nature of both John and M. His pleas, inspired by love, ring true; of all the characters, his response is the least self-absorbed. Culham as M is prickly and unyielding, assured in the strength of the long-standing hold he has on John. Blank is siren-like in her ability to conjure the future—one impossible to John in his present situation—and not above diving head-on into a fight to keep the prize of her dreams.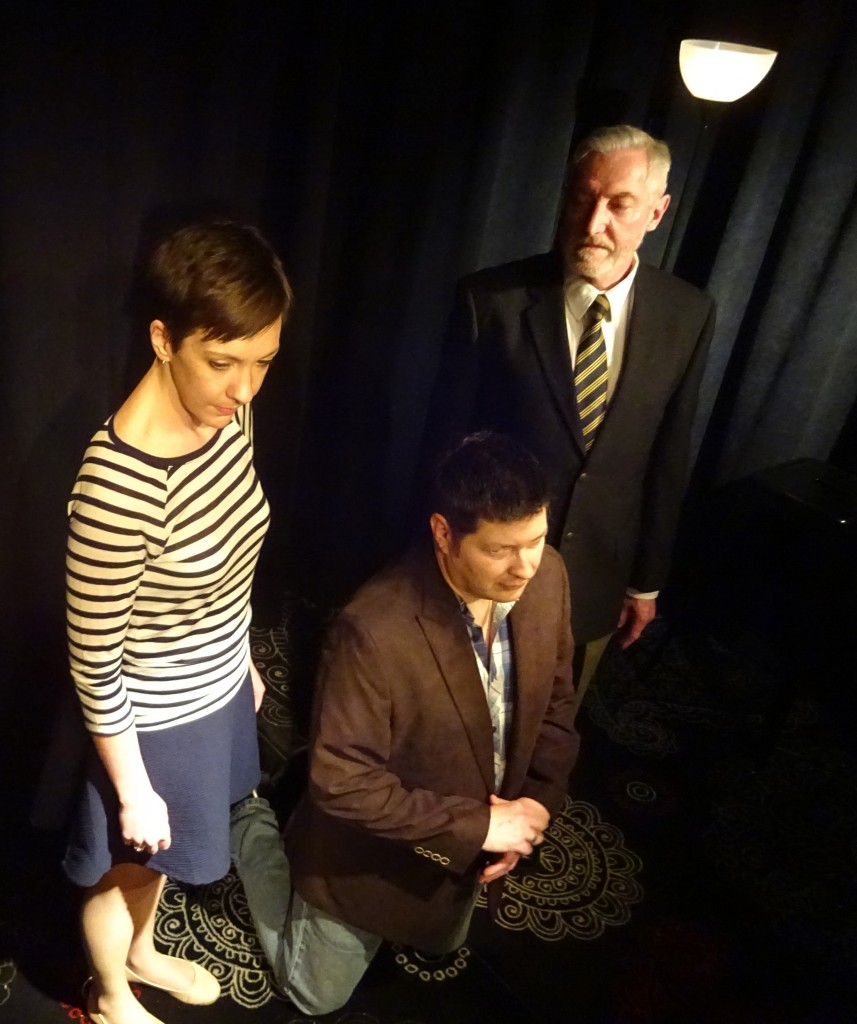 Melissa Blank (W), Robert Conway (John) and Eric Grace (F)
The title may be provocative but in the end, Cock is a drama of all-too-human relationships, of the choices made every day, and of commitment—kept or broken. Society sits on a cusp of relativism and Cock reflects this challenging perspective perfectly. Interpretations will vary depending on the audience's own lived frameworks. In this regard, Cock is both contemporary and compelling theatre. Conversations continued long after the play was over, something I have happily come to expect with productions at Theatre Inconnu.
Cock by Mike Bartlett, directed by David MacPherson
Theatre Inconnu, Little Fernwood Hall, 1923 Fernwood Road
May 5-23, 2015
Tickets ($14, $10 (seniors, students) at TicketRocket, online, in-person or by phone (250-590-6291)
Or through THEATRE INCONNU:Phone (250) 360-0234 Email: info@theatreinconnu.com
Complimentary tickets, special needs seating, and subscribers: need to reserve through Theatre Inconnu
Preview 8pm: May 5
8pm: May 7, 8, 9, 13, 14, 15, 16, 20, 21, 22, 23
2pm: May 9, 16, 23
Wednesday, May 13 is Pay-What-You-Wish admission
Directed by David MacPherson
Starring Melissa Blank, Cam Culham, Eric Grace, and Robert Conway
The show is about 2 hours long, including intermission
Theatre Inconnu is located at 1923 Fernwood Road (across the street from the Belfry Theatre).
Theatre Inconnu is handicap accessible
Disclaimer: I was offered a complimentary ticket to attend this production.