Dispatches from the Victoria Fringe 2014. Day Five. Reviews of For Body and Light, Unpossible! and Ode to Dyads.
More information at VictoriaFringe. Tickets through TicketRocket, at the Fringe Box office or at the venue.

The final week of the Fringe is extremely busy and I would highly advise getting tickets in advance for shows you don't want to miss (or be prepared to line up early). If you like to take your chances (and that is a vital part of the Fringe experience) there are over 50 shows in 11 venues for the final five days. From puppetry to dance, spoken word to drama, comedy to solo show, magic to theatre for young audiences—there truly is something for everyone.
Read my complete Victoria Fringe Theatre Festival 2014 coverage HERE.
The Victoria Fringe Festival—and others on the Canadian Association of Fringe Festivals circuit—offers surprises on a constant basis, and this year is no exception.  From the juggling wizardy of The New Conformity, to the dizzying word-artistry of The Anthropocalypse, or the improv mastery of IMPROV Club and, last night—For Body and Light.
Written by Ian Ferrier (who also composed and plays the live music soundscape), choreographed, directed and danced by Stéphanie Morin-Robert with performers Linnea Gwiazda and Allison Burns, For Body and Light is  an ephemeral and intimate communion with a "holy" tide.
Anyone raised close to the ocean who has spent time navigating the shore or venturing out on the water will immediately recognize the pull—the ebb and flow—apparent in word, music, dance and light.

Ferrier was inspired by the immensity of the tides of the Bay of Fundy—where 160 billion tonnes of water flows in and out daily, "more than the combined flow of the world's freshwater rivers!"—to write this spoken word tribute. It was further informed by ocean voyages to the north, on research ships, and to the south where "the sun sets at supper".
This cycle of ebb and flow, power and release, eternal light and endless dark, is illustrated with a single large floodlight. The performance opens with the floodlight flat on the floor. It then moves, via an intricate pulley and arm system, throughout time and space—at times providing tiny ranges through which to view the dance, at others to illuminate the entire stage.
Movements combine with words to form a hypnotic, entrancing experience.  Imagine an undersea diver, headed down, down, down, to a world lit only by the beam of flashlight—wondrous strange creatures revealed in flashes and glimpses. Move upward into the light where fishes and kelp intertwine. Finish in the littoral zone where barnacles, mussels and sea anemones play and feed.
Bathe and immerse yourself in the riveting experience that is For Body and Light.  Feel the call of the ocean tide written in your blood and cells. Surrender to the pull and allow yourself to be cradled and rocked, gently or in terror, by the eternal forces of water and tide, word and music. Beauty most wondrous strange.
Every evening, a different local spoken word artist opens the show.
Enthralling and magical. Suitable for all ages.
For Body and Light,written and created by Stéphanie Morin-Robert in collaboration with Spoken Word Artist/Musician Ian Ferrier.
Fairfield Hall, 1303 Fairfield, Venue 6
Upcoming performances:
Tuesday August 26-8:15pm
Friday August 29-8:15pm
Saturday August 30-7pm
Sunday August 31-9pm
For Body and Light will also be at the Vancouver Fringe. More information HERE:
Unpossible! written and performed by Travis Bernhardt.
Travis Bernhardt is the "sleeper car" of magicians—high performance and unassuming demeanour completely belie the incredible skill of his tricks and turns.
Bernhardt possesses a self-deprecating manner and easygoing way of interacting with his audience that immediately elicits the sympathy and buy-in necessary in feats of prestidigitation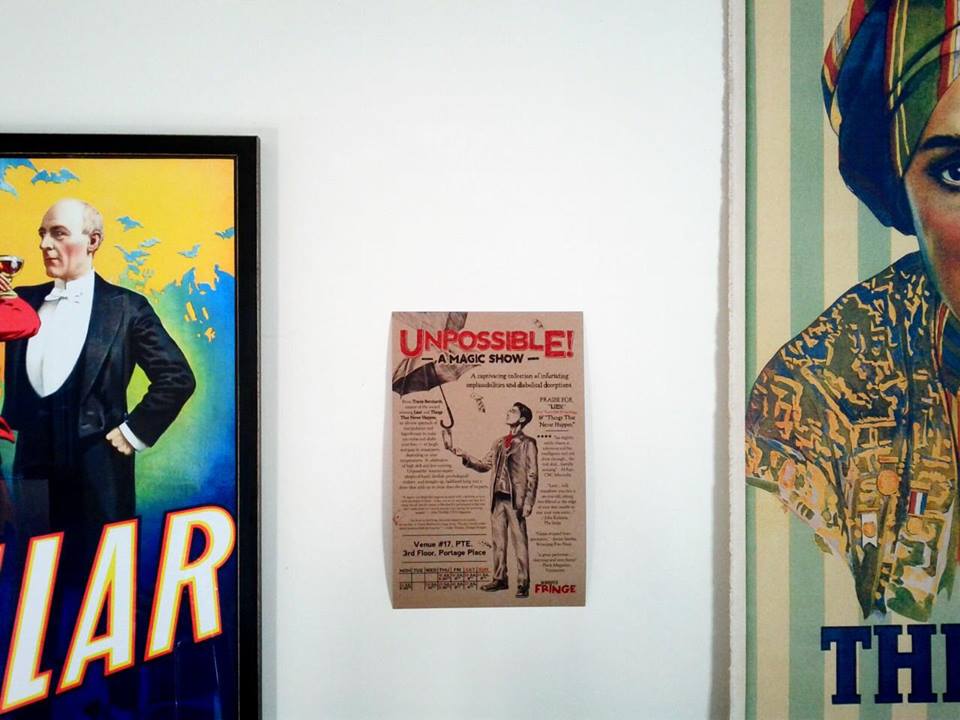 During shows like Unpossible! I'm happy to allow my inner sceptic some rest and remain gullible and naïve.  Although Bernhardt provides a written program that explains some of the history behind his "infuriating implausibilities" he admits it's best to be uninformed.
Moving quickly through newspaper, cards and bowl and ball, all with the help of willing audience members, he prepares for his final trick. Once revealed in all its complexity, he gets us to promise not to reveal the surprise(s).  Astonishing! Incredible! Baffling!
Along the way there is much good-humoured and complicit laughter as this consummate showman wins us over with alacrity.
A show for all ages and a pleasure to watch.
"A captivating collection of infuriating implausibilities and diabolical deceptions".
Unpossible! A Magic Show from Travis Bernhardt. 
Fairfield Hall, 1303 Fairfield Hall, Venue 6.
Upcoming performances:
Friday August 29-10pm
Saturday August 30-1:45pm
I'd advise tickets in advance for the two final shows on Friday and Saturday as the Monday night show was sold-out.
Ode to Dyads by Fishbowl Collective, written, created and performed by Hannah  Kaya & Connor Spencer.
Two beings, two chairs. Movement—originally minutely choreographed to musical allegory (Time is on My Side) and a kitchen timer before veering off into impulse, twitch, collision and embrace.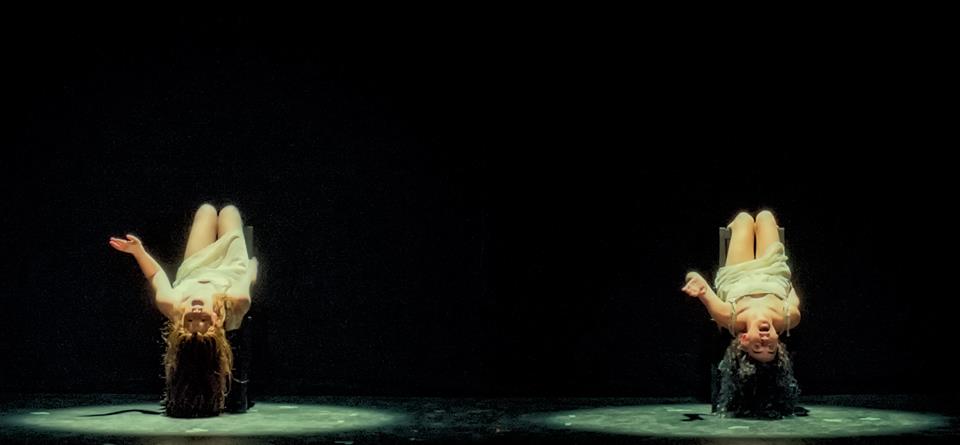 Watching Ode to Dyads I am reminded of tiny one-cell organisms under the microscope, pulled hither and yon by forces completely beyond their ken, yet somehow incredibly cute and endearing.
Sometimes as audience it's simply necessary to be, in the moment, and allow performance to pull emotion up from the subconscious. Ode to Dyads brought forth laughter and giggles at the quirks and foibles of the characters. And yes—at times—even heartbreak.
In a comic aside, French existentialism features.
Kaya and Spencer have expressive faces—eyes wide open and eyebrows raised as they smile into a sudden bright spotlight before resuming their dance.  Ode to Dyads was conceived and birthed over Skype from Toronto and Montreal since the two emerging artists reside in separate cities.
Compact in time at 30 minutes, yet delivering a complete emotional range, Ode to Dyads is a fun piece of physical theatre-dance-comedy that will appeal to fringers who would like to explore more of the world of dance and movement.

An Ode to Dyads by Fishbowl Collective, created and danced by Hannah Kaya & Connor Spencer
Fairfield Hall, 1303 Fairfield, Venue 6
Upcoming performances:
Wednesday August 27-9:15pm
Saturday August 30-noon
Sunday August 31-5:30pm
Disclaimer: I am attending the Victoria Fringe Festival 2014 on a media pass graciously provided by Intrepid Theatre.