Dispatches from the Victoria Fringe 2014. Day One-Lady Audley's Secret, Red Herring, Rope of Sand.
It's no secret—I love the Victoria Fringe Theatre Festival.  Over the course of 11 days audiences have the opportunity to view 300 performances of 55 shows in a wide variety of styles.  It's this aspect that pleases me the most—the exposure to improv, puppetry, magic, vaudeville, drama, comedy, spoken word, burlesque, dance, physical theatre and circus.
These "dispatches from the Victoria Fringe" will chronicle my theatrical wanderings during the festival. Please don't expect "stars"—my over-arching desire is to share my love of the fringe, in all its wonderful glory.  It's not often that audiences have the chance to see emerging artists alongside world-class and experienced performers.
Above all, please remember, these are my thoughts, and they might not be yours. The Fringe is all about taking chances—for performers and audiences alike.  Read all my Victoria Fringe 2014 coverage HERE.
Fringe tip: Things get busy during the final weekend of the Fringe. To avoid disappointment, I advise getting tickets in advance to shows you are determined to see.
Day One was devoted to local productions: Lady Audley's Secret by Dragon Monkey Theatre (director: Wendy Merk), Red Herring by Bill Adams (winner of this year's ACTivate One-Act Theatre Festival), (director: Chris Moss)—both at Venue 5 Langham Court Theatre and Rope of Sand by workingclasstheatre (written by Tristan Bacon and Alyssa Kostello) at Venue 2 the Downtown Activity Centre (755 Pandora).
Lady Audley's Secret is a musical melodrama originally written as a serialized murder mystery in 1862 by Mary Elizabeth Braddon. It was wildly successful for its scandalous themes of accidental bigamy and female treachery, and is loosely based on the real life story of Constance Kent.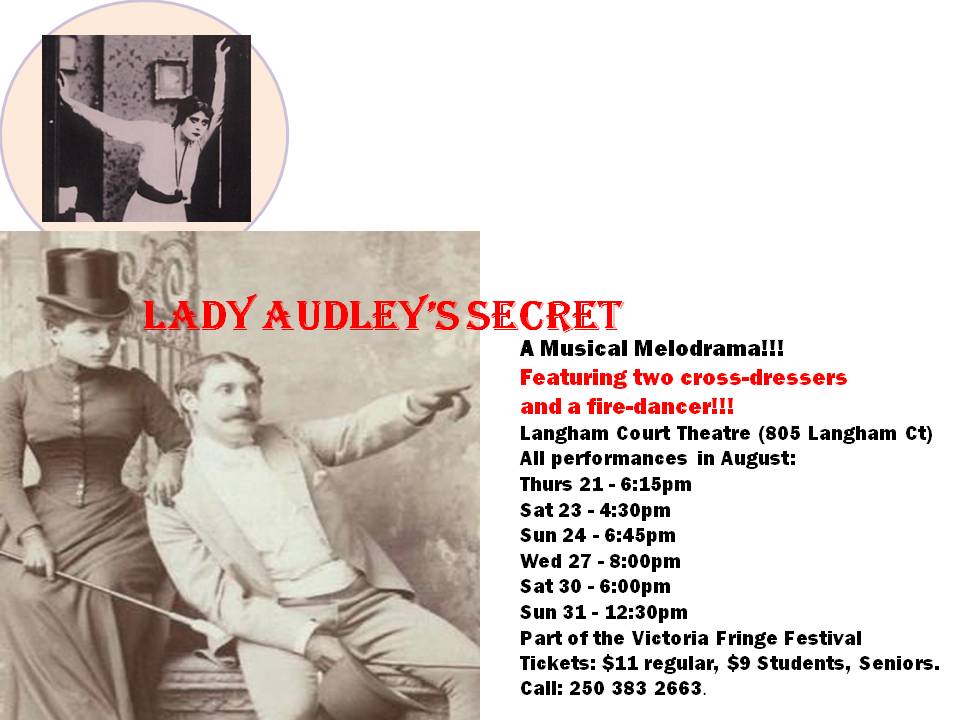 The stage adaptation (edited by director Wendy Merk to include references to Vancouver Island) heightens the drama considerably.  The audience is instructed by Janie Woods-Morris (who provides keyboard stylings throughout) in the fine art of "booing, hissing and cheering".
Did you grow up on the wonderful cartoon Rocky and Bullwinkle, featuring the evil villain Boris and his side-kick Natasha?  Or, perhaps you sat in the movie-house in the Old Town at the Royal BC Museum and watched flickering reels of heroines tied to train tracks by the dastardly bad guy. If so, you'll want to join the audience for some silly fun.
Merk directs her capable cast—actors well known for their many roles in Victoria's thriving community theatre milieu—in a precisely paced 65 minutes of perfectly pitched accents and asides, and has chosen to gender-bend a number of roles, casting G. Snider as a fussy, and smitten Lord Audley and C. Wrigley as his petulant daughter Alicia, who strides about, riding crop in hand.
The play opens with an bucolic epilogue by lady's maid Phoebe (J Doyle) and her drunken betrothed Luke (G Roebuck) that sets the stage for the action to come.
Lady Audley (L Cammiade), all smiles and caresses, hides a dark secret  beneath her pleasant manners, and her carefully woven world of lies is about to come undone with the arrival of young hero Robert Audley (M Creekmore), nephew to her husband, and his friend George Talboys (T.G. Kyle)
Costumes are resplendent thanks to the Langham Court costume loft. Scenery and staging is minimal but does feature some interesting special effects. I particularly enjoyed the closing song and the fine vocal blending.
Although the plot might be over the heads of smaller children, Lady Audley's Secret is listed as all ages in the Fringe program.
In the end, all's well that ends well; evil-doers receive their come-uppance and order is restored.
Lady Audley's Secret by Dragon Monkey Theatre
Directed by Wendy Merk
Tickets $11/$9 through Ticket Rocket, at the Fringe Box Office, or at the venue
(don't forget your Fringe Visa button)
Langham Court Theatre (Venue 5)
Thursday August 21-6:15pm
Saturday August 23-4:30pm
Sunday August 24-6:45pm
Wednesday August 27-8pm
Saturday August 30-6pm
Sunday August 31-12:30pm
Study guide for Lady Audley's Secret: http://www.bookrags.com/studyguide-lady-audleys-secret/
Don't miss this musical melodrama starring Lorene Cammiade (Better Living, Rabbit Hole—Langham Court, A Day in The Death of Joe Egg—Theatre Inconnu), Graham Roebuck (Awkward Hangouts of History—Victoria Fringe 2013), Jennifer Doyle (Elizabeth Rex—Langham Court), Gloria Snider (the Penelopiad, Rabbit Hole—Langham Court, Kafka the Musical—Theatre Inconnu), Michael Creekmore, Timothy Kyle (VOS, Victoria Gilbert and Sullivan Society, Variety Fare), and Corin Wrigley (Something Like a War—Victoria Fringe 2013, Henry IV part 1—Keep It Simple Productions). Directed by Wendy Merk (The Penelopiad, Better Living), keyboard stylings by Janie Woods-Morris.
Red Herring by Bill Adams (well known local writer, and set designer at Langham Court Theatre) recently won the 2014 ACTiVATE one-act play festival. It's a very fast-paced forensic cop-show spoof expertly directly by Chris Moss. Audiences will once again recognize actors from many community productions with Langham Court, Victoria's Shakespeare by the Sea and Kaleidoscope Theatre.  Playing eleven crazy roles—ranging from rather clueless Marcie (Fran Patterson) to the dumb cop (Ian Chaprin), forensic specialist (Katya Delancey) and Russian gangster (Mitch Barnes)—these thespians are quick on their feet, and even quicker at costume changes as they rotate their characters to keep the audience guessing.

The one-line zingers keep piling up along side the clues and "red herrings" on the search for the killer.  Remote control helicopters, gruesome cadavers, exploding boobs and chase scenes hold the audience's attention as our heroes pitch from one implausible situation to the other.  The humour in Red Herring is well-balanced between broad jokes and characters, and more realistic moments, making it delightfully off-kilter.  I particularly enjoyed the car scene as a speed-happy Gregor (Mitch Barnes) hurtles through city traffic with Mac the investigator (Fran Patterson) and policeman (Ian Chaprin) as rather reluctant passengers.
A lot of effort has gone into producing Red Herring—the costumes are beautiful, set design by Bill Adams helps to create the many locations and sound design by Alan McKenzie features twittering birds in the park, and screeching tires in the car scene (only some of the many effects)—and it shows. Director Moss is assisted by a stage manager (Nick Stull), assistant stage manager (Mary McFarland) and crew (Rosemary Henry, Erica Thomas). This may be Bill Adams' first attempt at writing a comedy, but we hope it won't be his last.
Red Herring by Bill Adams, directed by Chris Moss
Tickets $11/$9 through Ticket Rocket, at the Fringe box office, or at the venue
(don't forget your Fringe Visa button)
Langham Court Theatre, Venue 5
Thursday August 21-8:15pm
Friday August 22-6:15pm
Saturday August 23-8:30pm
Sunday August 24-5pm
Wednesday August 27-6:15pm
Saturday August 30-8pm
Featuring:
Mitch Barnes—Steele, Gregor
Ian Chaprin—Policeman, Perkins, Boris, Sharon
Katya Delancey—Skelly, Olga
Fran Patterson—Marcie, Mac, Brucie
An article on Red Herring: http://www.oakbaynews.com/news/271294761.html
Rope of Sand by Vancouver's workingclasstheatre, written by Tristan Bacon and Alyssa Kostello features the talents of UVic Phoenix Theatre students Bacon, Joanne James and Nicholas Yee.  Audiences will remember Bacon for his role as the young farm hand Michael in last season's Unity 1918. Yee recently performed in Kaleidoscope Theatre's War of the Eagles at Fort Rodd Hill and Thoroughly Modern Millie with VOS.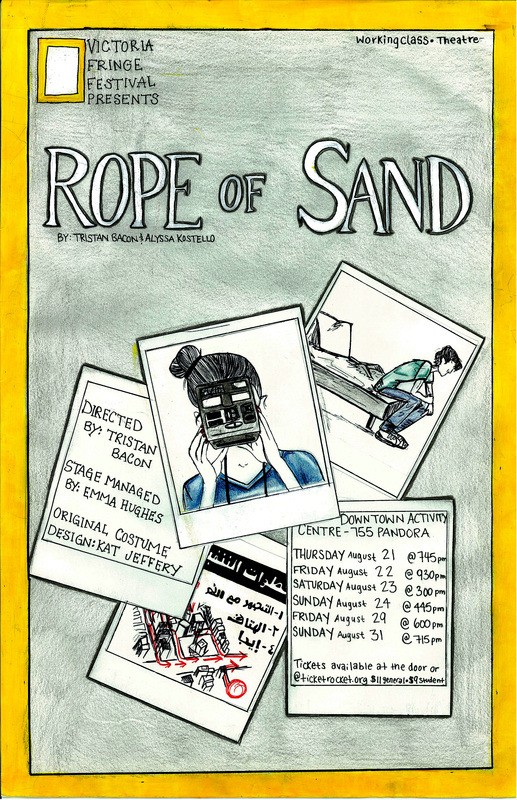 Rope of Sand, 2nd place winner of the IGNITE! Youth Playwrighting Festival 2012, is now in its 5th incarnation. It was originally presented as part of the SHIFT 1 Act Festival 2012 at The Cultch (Vancouver), Inlet Theatre (Port Moody) and then remounted in Vancouver and at UVic's Barbara Mcintyre Studio.
Tracey (Joanne James), a photographer, meets David (Tristan Bacon) as she's snapping pics at a comedy club where he's presenting at an open mic night.  Rope of Sand follows their romance, and the inevitable struggles of a couple of young twenty-somethings.  Tracey longs to build a career travelling, and David opts for the security of a regular job over the life of a comedian.  Clashes follow.
The script flows back and forth between a perpetually wet Vancouver (the sound design is particularly effective with the incessant dripping rain) and the searing heat of Egypt in a series of vignettes and flashbacks—the play opens with Tracey in the dessert, assisted by an enigmatic and mischievous stranger (Yee). How she happens there is slowly revealed as the action unwinds.
There are genuine moments of connection in this production. Our sympathies lie with the young couple as they search to make their way in the world.  The moments in the dessert and the importance of the mysterious stranger are less clear to me.
Rope of Sand is a cautionary tale that explores the consequences of our heedless and naïve actions when they come face-to-face with the reality of revolution. Life is not simply snaps and sound bites.
After two rather silly shows, Rope of Sand ended my first night with a dose of drama that still has me pondering.
Rated 14+
ROPE OF SAND, A workingclasstheatre production
Written by Tristan Bacon & Alyssa Kostello
Tickets: $11/9 through Ticket Rocket, the Fringe Box Office or at the venue
(don't forget your Fringe Visa button)
Downtown Activity Centre, Venue 2, 755 Pandora
Thursday August 21-9:30pm
Friday August 22-9:30pm
Saturday August 23-3pm
Sunday August 24-4:45pm
Friday August 29-6pm
Sunday August 31-7:15pm
Directed by Tristan Bacon
Stage Management by Emma Hughes
Costume Design: Kat Jeffery
Featuring:
Tristan Bacon
Joanne James
Nicholas Yee
Tear gas. Rubber bullets. Revolution. Against the backdrop of Egyptian violence in January 2011, Tracey Stoddard struggles against the age old question of financial security versus following your heart. Fast-paced and dream-like, ROPE OF SAND takes us on a whirlwind journey from the slick, wet streets of Vancouver to the scorching, arid desert in Egypt.
Disclaimer: I am attending the Victoria Fringe Theatre Festival 2014 on a media pass graciously provided by Intrepid Theatre.