Victoria Fringe Festival 2014 my "away" picks. The 28th annual Victoria Fringe Festival August 21-31 2014.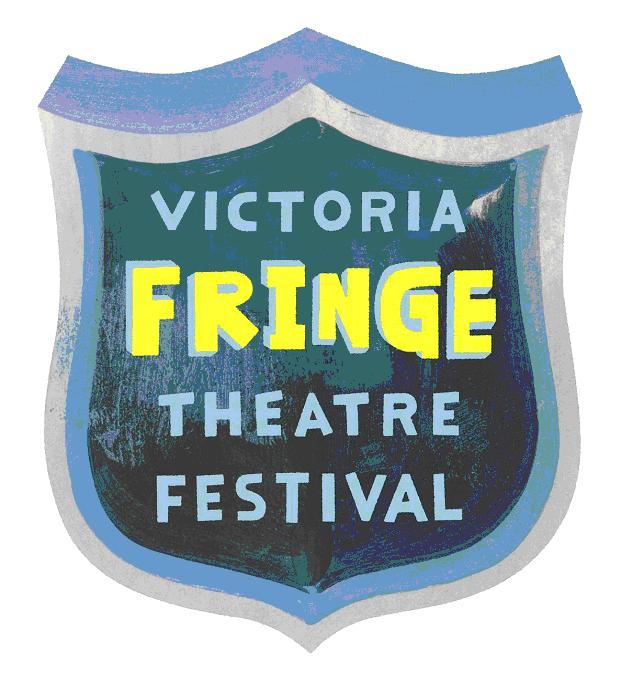 I love the Victoria Fringe Festival. I get to applaud visiting artists whose work I have come to know over the years, and am always on the look out for people who are, as yet, unknown to me. Since falling in love with the fringe in 2006, I regularly see between 30 and 40 fringe shows, and attend more theatre during the year.  In addition (for "away" shows) I've come to depend on the assistance of fellow fringe enthusiasts across the country for recommendations.
Fringe is all about taking risks—for performers and audiences.  These picks of mine do not represent the definitive list—my tastes might not be yours.  Take a chance and think outside the box.
While there is not a Kids' Fringe this year, there are a number of shows deemed "all ages" that will appeal to a younger audience.
I'm posting this two weeks (August 7th) before the Fringe starts and may add some shows based on impressions from the previews (held in Centennial Square from 5-7pm Wednesday August 20th and Tuesday August 26th at the Fringe Club 1501 Douglas Street from 10pm. 
The shows are as listed, by venue, in the Fringe program.
Venue 1: The Victoria Event Centre 1415 Broad Street
Confessions of a Redheaded Coffeeshop Girl by Rebecca Perry
Perry was in Victoria in 2013 in an off-Fringe venue, and I missed her show.  She comes recommended by Derrick Chua a theatre producer from Toronto, who sees more theatre than just about anyone I know and is a big supporter of emerging artists.  Plus—she's a friend of my son Elliott Loran!  Perry recently won a Backstage Dora for Confessions.
Features live music and tales of working in a coffee shop, complete with stories of co-workers and customers.
Jem Rolls ATTACKS THE SILENCE
Jem Rolls is a Fringe veteran and legend—a wordsmith of exceptional calibre with a torrent of words to amaze his audiences. There is only one Jem Rolls, and everyone should experience one of his shows at least once. Some will become fervent fans.
Venue 2: The Downtown Activity Centre 755 Pandora Street
Magical Mystery Tour by Gemma Wilcox
It's been a number of years since Victoria audiences had the pleasure of seeing Gemma Wilcox at the Victoria Fringe (The Honeymoon Period is Officially Over—Best Female Performer Victoria Fringe 2009).  She is an 11-time Best of Fest award-winner with the incredible ability to create over 23 characters in 60 minutes—animal, human and mythical. Lyrical body language and physical performance.
Pick of the Fringe Boulder 2012
Paleoncology by Kira Hall
Recommended by Brian Carroll from Ottawa, my cross-country Fringe buddy.  I'd already noted this show, featuring puppets and projection.  PG 14+
Paleoncology is a story about siblings, cancer and personal potential. Also, dinosaurs.
Best Solo Production-Montreal Fringe 2014
Venue 3: Metro Studio 1411 Quadra (at Johnson)
Selkie Tales by Voice Box Theatre Company
This show had me at "circus storytelling" and ancient Celtic myth. Long a fan of  The Secret of Roan Inish I'm very intrigued to see what this Scottish collective is all about.  Blending acrobatics, dance and puppetry. All ages.
The Middle of Everywhere by the Wonderheads
Victorians were introduced to the work of The Wonderheads with the award-winning Grim and Fisher at the 2011 Victoria Fringe, and again with Loon at this year's UNO Fest. They are 8-time Best of Fest Winners who devise intricate and accessible stories without words, using larger than life masks.  Pure delight! All ages.
Two strangers. One bus stop. Infinite destinations.
Venue 4: VCM Wood Hall 907 Pandora
James & Jamesy in: High Tea
The sleeper hit of the 2013 Victoria Fringe definitely had to be James and Jamesy's Two for Tea—sold out from the very first show which I was fortunate enough to see. Gifted physical performers with a penchant for the absurd, James and Jamesy have the unique ability to successfully involve a large number of audience members in their complex shows. Hilarious! Bring a teacup.  All ages.
Tea floods the entire world…

James & Jamesy must cling to their friendship and imagination to stay afloat. Award-winning British comedy duo James & Jamesy tackle complex questions of reality, and in the process sweep the audience into an adventure that highlights the value of imagination and the importance of playing together.
Outstanding Show—London Fringe 2014
Patrons' Pick—London Fringe 2014
Best Script—Montreal Fringe 2014
Pick of the Fringe Victoria 2013 (for Two for Tea)
Venue 5: Langham Court Theatre 805 Langham Court
Medicine by TJ Dawe
TJ Dawe is another award-winning Fringe legend crafting honest and at-times heart-wrenching tales from his life's adventures.  Over the years that he has been on a voyage of self-discovery he has never flinched from presenting the results to us—his audience—in the most authentic way possible.  Adults only.
A story about a retreat led by Dr. Gabor Maté, involving the shamanic plant medicine ayahuasca.
Venue 6: Fairfield Hall 1303 Fairfield at Moss
For Body and Light
Recommended by fellow Fringe artist shayne avec I grec who saw the show at VerseFest in Ottawa and said it "blew my mind". Spoken word, music and dance combine to take us on a journey between ocean tides. All ages.
Roller Derby Saved My Soul by Nancy Kenny
I've been a Twitter correspondent with Nancy Kenny for years now, following her theatrical adventures from afar.  Her show comes highly recommended by fellow Fringe fan Brian Carroll.
Billed as "an action-adventure comedy on wheels" this is a story of transformation through roller derby.  PG 14+
Patrons' Pick Winnipeg 2014
Unpossible! by Travis Bernhardt
Travis Bernhardt will look at you directly and challenge you to spot his legerdemain and dexterous card-tricks.  When he brought his last show Lies to the Victoria Fringe in 2012, he had the complete audience (supplied with cards) perform the card trick with him—flummoxing us all in the process and winning Pick of the Fringe as a just reward. This is magic like you have not seen it before.  It's a show you can take the entire family to as well.
Venue 7: St Ann's Academy 835 Humboldt Street
Mr and Mrs Alexander: Sideshows & Psychics
Recommended by both Brian McCarroll and Nancy Kenny, this vaudevillian theatre production has magic, danger, telepathy and more. Critics' Choice at the World Buskers Festival. PG 14+
Red Hot Mama: A Sophie Tucker Cabaret by Melanie Gall
Melanie Gall has a beautiful voice that will keep you entranced as she tells tales of the performers she creates. Her first Victoria appearance was as Edith Piaf and her sister in The Sparrow and the Mouse at the Victoria Fringe 2011. Here she recreates the life and times of the legendary Sophie Tucker—carbaret star and Ziegfeld Follies headliner.  Also recommended by Brian Carroll. PG 14+
Venue 8: Roxy Theatre 2657 Quadra Street
Magic Unicorn Island by Jayson McDonald
Since Giant Invisible Robot in 2009, Jayson McDonald has been wowing Victoria audiences with his complex tales (Boat Load, Fall Fair, Underbelly) featuring numerous characters in intricately shaded situations.  A man and a chair—a world. PG 14+.
N.O.N.C.E. by Steve Larkin
Steve Larkin brought a re-imagined Tess of the Dubervilles entitled TES to the Victoria Fringe in 2012 and I sat in an 11pm show, rapt and mesmerized by the images of urban decay, and a civilization slowly crumbling. His hypnotic litanies roll over the audience like waves.
N.O.N.C.E.  (not on normal courtyard exercise) recounts his time as an underemployed artist and "poet in residence" at a high security prison.
Dark, disturbing and highly recommended. Adults only
The Quitter by Al Lafrance
I know Lafrance best as creator of the popular Montreal arts and music blog Bloodyunderrated but he is also an accomplished storyteller and comedian.
Lafrance tells stories of giving of and messing up. All ages (coarse language)
Just For Laughs– Best English Comedy Montreal Fringe 2014
I'll also be checking out previews of ONI by Mochinosha Puppet Company from Japan and Vasilia by Ouroboros Shadow Pictures–the first featuring shadow puppetry, the second–shadow-theatre and dance.  Stay tuned for more information.