Dispatches from the Victoria Fringe 2014. Day Two–Vasilisa, The New Conformity, BITS, Mask Over Matter.
Read all my Victoria Fringe 2014 coverage HERE.
Fringe tip: Things get busy during the final weekend of the Fringe. To avoid disappointment, I advise getting tickets in advance to shows you are determined to see.
The Victoria Fringe Festival 2014 features a wide-variety of shadow puppetry, circus, dance, improvisation and vaudeville/comedy. Day Two offered some of each of these genres. (I'm posting reviews of Vasilisa and The New Conformity and will update BITS and Mask Over Matter later).
Vasilisa, by Ouroboros Shadow Pictures, is the re-telling of the popular (and dark) Slavic folk tale of Baba Yaga, a crone who lives deep in the heart of the woods.  Vasilisa the Beautiful is a Cinderella-like character, forced by her evil step-mother to work as a drudge once her mother and father die. Her heroine's journey begins when her step-mother casts her out to search for a flame at Baba Yaga's.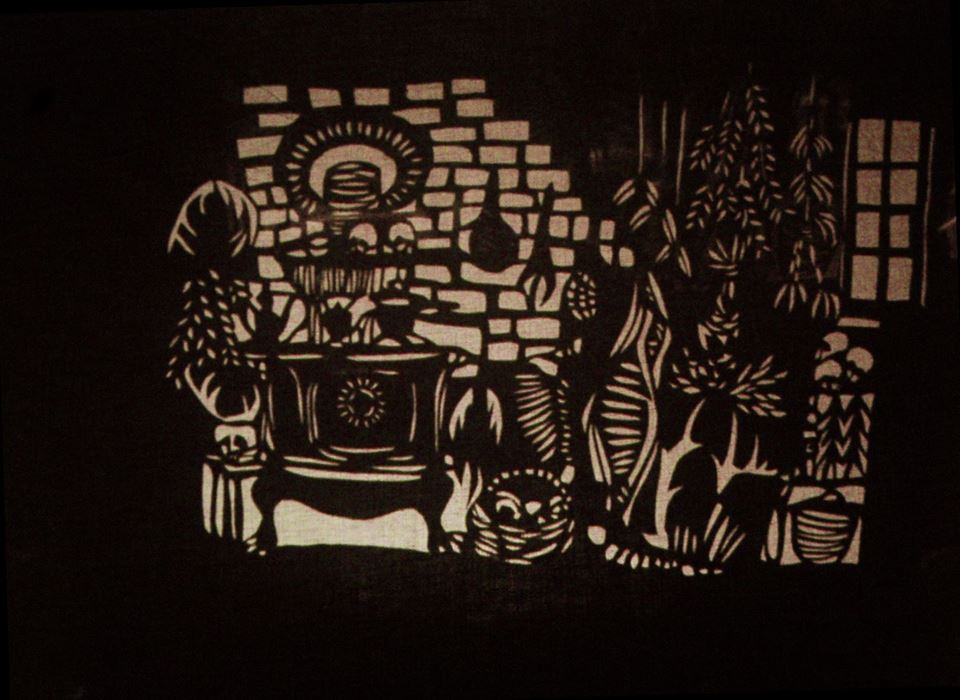 Vasilisa is a recently devised experimental piece that seeks to present the archetypes of the story in a more human fashion.
Intricate cut-outs are manipulated behind a large screen (audiences are advised to sit to the left in the theatre) while the two musicians intone the story.  Instruments include keyboard and cello, with chilling sound effects.
Dancers move dreamily among this shadow landscape.
What appears to be deceptively simple requires incredible co-ordination (the musicians are seated to the side of the stage and don't actually see the action on the screen) in order to manipulate the images and the improvised dancing with the storytelling and music.
Vasilisa is languorous and breath-taking, particularly when the dancers wander through a 3-D forest. Ominous and ferocious horses gallop without end in some of the most terrifying scenes.
Highly recommended as a wonderful introduction to the world of shadow-theatre. Contains dark scenes that might not be suitable for small children.
Vasilisa leaves early so don't delay in getting tickets if you would like to go.
Vasilisa by Ouroboros Shadow Pictures
Metro Studio Theatre Venue 3
Tickets $11/$9 through Ticket Rocket, the Fringe box office or at the venue
(Don't forget your Fringe Visa button)
Thursday August 21 9:30pm
Friday August 22-5:30pm
Saturday August 23-4:45pm
Sunday August 24-7:15pm
Monday August 25-8:45pm
Tuesday August 26-7pm
The New Conformity by Implied Intuition (Vancouver) is a fast-paced 45 minutes of juggling and acrobatic feats.  Four men (Sean Brossard, Sia Metta, Chris Murdoch and Yuki Ueda), almost robot-like in their demeanour, begin to juggle to the mechanical beeps, whirs and discordant dissonance of modems, dial-tones, traffic and medical monitors.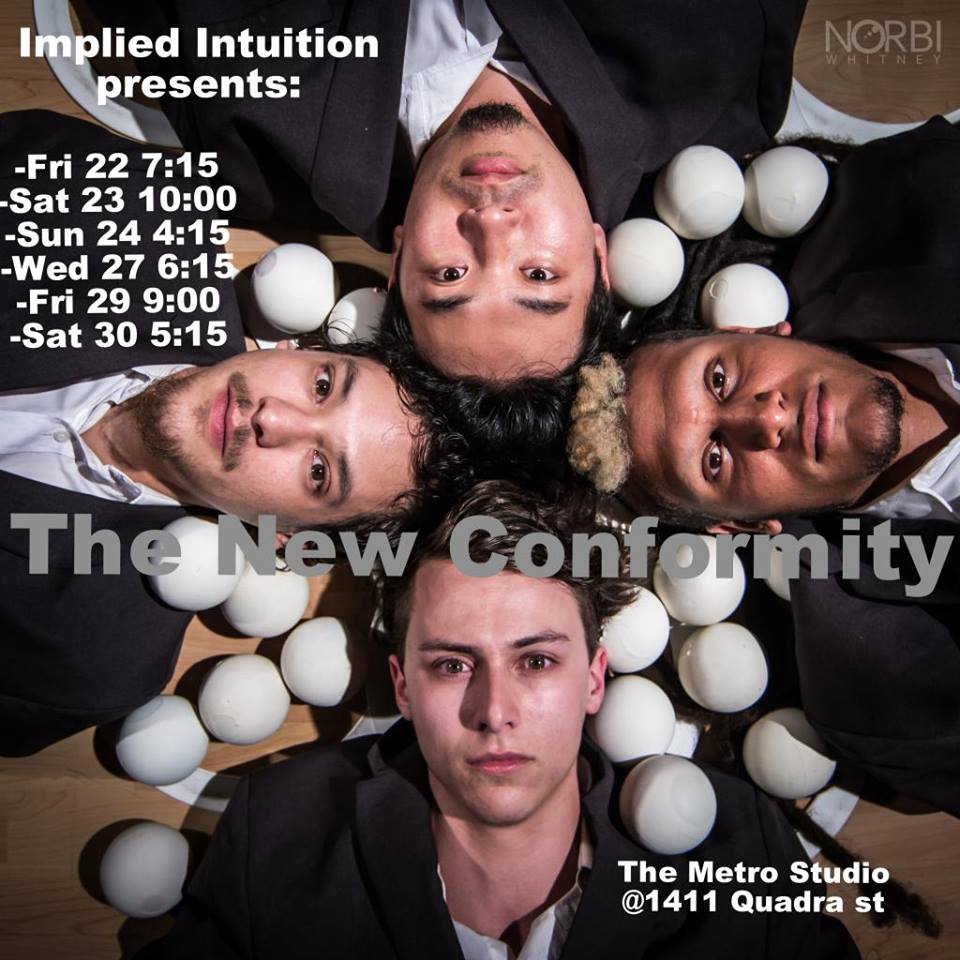 The juggling is impressive and well-choreographed, when one juggler decides to rebel against the restrictions placed on him, to the others' disapproval.  Physical struggles ensue as the pressure to conform builds.
Slowly, one by one, the rebel wins over the conformists, and they learn to collaborate in new forms that include multi-person juggling with cross-overs.
Dubbed "contemporary circus" The New Conformity is sure to appeal to a wide-audience. If you like juggling, acrobatics or martial arts, you'll be easily drawn into this world.  The modern sound track features music well-known to a younger audience, but at a suitable volume for older ears like mine. The fight-scene "violence" is low-key and nothing that younger children would not have seen on TV or in cartoons.
As one audience member said in the chattering crowd gathered on the sidewalk after the show "who could have imagined juggling as social commentary?"  Indeed!
The standing ovation was spontaneous and sustained.
Sean Brossard has returned to Victoria from his séjour in Vancouver where he trained in circus arts.  Chris Murdoch and Yuki Ueda are currently producing a new show called Cause and Effect, and have in the past, performed at the Victoria Juggling Festival hosted by the UVic Juggling Club.  I'll be keeping a closer eye out now for events featuring these multi-talented performers.
The New Conformity is a contemporary circus show being presented at this years Victoria Fringe Theatre Festival that looks at trends within society and the pressures put upon people to conform to social norms and the portrays them through juggling and theatre.
The New Conformity by Implied Intuition
Metro Studio Theatre, Venue 3
Tickets $11/$9 through Ticket Rocket, at the Fringe box office, or at the venue
(don't forget your Fringe Visa button)
Friday August 22 – 7:15pm
Saturday August 23 – 10:00pm
Sunday August 24 – 4:15pm
Wednesday August 27 – 6:15pm
Friday August 29 – 9:00pm
Saturday August 30 – 5:15pm
BITS, written and performed by Patrick Raymond Joseph Kearns
One of the advantages of the Fringe festival circuit is the ability for performers to present new work. For audiences it's a chance to see artists at the début of their careers.  It takes an incredible amount of time, talent and effort to craft a 60 minute piece of theatre. I can only applaud people who have the courage to risk the venture.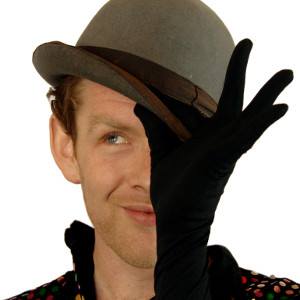 Patrick Raymond Joseph Kearns has an irrepressible spirit. Tired of living in "Downerville" and on the urging of friends who laughed at his "bits and pieces" of improvisation, storytelling and music—he has embarked with his solo piece BITS (so-named for its "little bit of this, little bit of that" nature).
Kearns possesses a beautiful natural voice. Despite avowing that he has never had any musical training and doesn't know how to play an instrument (save the prerequisite recorder), he writes songs that are catchy, full of innuendo and definitely hummable.
His first number My Instrument pays homage to this voice and is full of bawdy references. What definitely stands out in his storytelling is his ability to present dark comedy—the nature of which produces cringes as the audience laughs along and gives rise to the question "why are we laughing?"  It's an uncomfortable and all too human situation, one that Kearns highlights without mercy or malice.  His style owes much to the tradition of the bouffon—mocking both himself and us.
My Canada is a rant on society today. Depending on your politics (and it appeared the audience shared his sentiments) you will appreciate the strongly expressed opinions.
In Over the Top Kearns comes to terms with his life, his differences and singularities. It's always a pleasure to watch people claim their place in the universe and simply go for it.
If you love to applaud the underdog, and cheer when people reach for their dreams, you'll want to see BITS.  I look forward to many shows to come. Bravo on this Fringe début.
BITS, written and performed by Patrick Raymond Joseph Kearns
Metro Studio (1411 Quadra), Venue 3
Upcoming performances:
Sunday August 24-2:30pmThursday August 28-7:30pmSaturday August 30-10:15pm
Sunday August 31-2pm