Dispatches from the Victoria Fringe 2014. Day Nine. Reviews of Rosie Delight–the Amazing One Woman Burlesque Show, Roller Derby Saved My Soul, The Lion, the Bitch and the Wardrobe.
More information at Victoria Fringe. Purchase tickets at TicketRocket, the Intrepid Theatre box office, or at the venue one hour prior to the show. Don't forget—you'll need a Fringe visa button ($6).
The final weekend of the Fringe is extremely busy and I would highly advise getting tickets in advance for shows you don't want to miss (or be prepared to line up early). If you like to take your chances (and that is a vital part of the Fringe experience) there are over 50 shows in 11 venues for the final few days. From puppetry to dance, spoken word to drama, comedy to solo show, magic to theatre for young audiences—there truly is something for everyone.
Read my complete Victoria Fringe Theatre Festival 2014 coverage HERE.

Rosie Delight—The Amazing One Woman Burlesque Show, written and performed by Rosie Delight.
The Beaver Valley Players have failed to show. Here's burlesque performer Rosie Delight to save the day.
Flitting from burletta to burletta, Rosie performs at an energetic pace.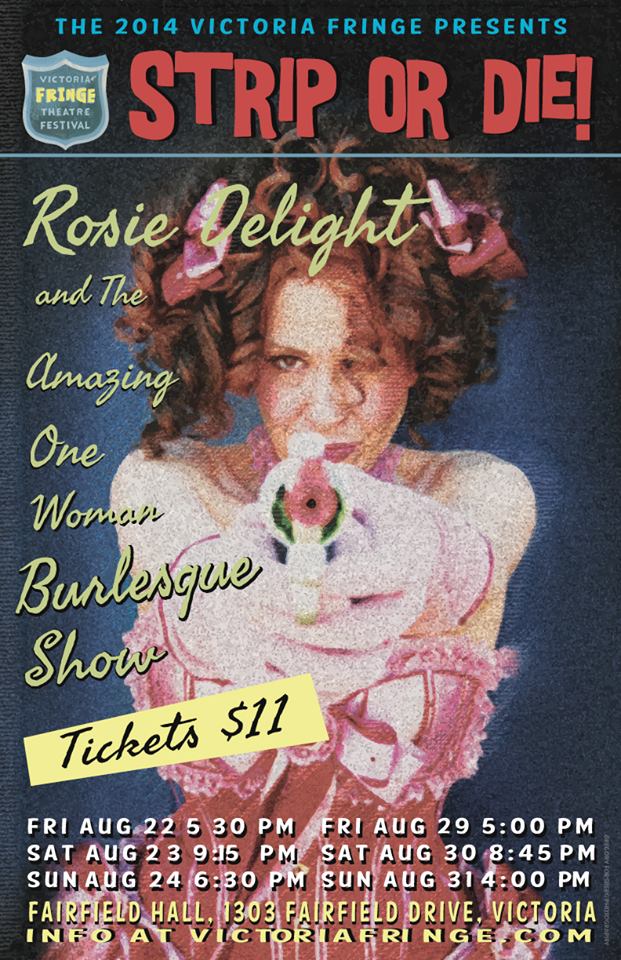 Rosie appears as a lovely young miss in It's Only A Paper Moon, is bedecked with bows in the Bull Moose Jackson blues classic I Want A Bow-Legged Woman, wields a chain saw in a particularly creepy blood splattered shadow dance, manoeuvres fans adeptly in a beautiful faintly Oriental mask sequence, under-goes a sex change in Tyrolean costume. I counted at least seven routines, and there may be more.  Local burlesque artist Vava Vunderbust has a cameo, as does the audience in several improvised numbers.
Fans of burlesque don't get to see Rosie Delight (Rosanna Wijenberg) very often (she was one of Vancouver's first burlesque artists who currently lives in the Kootenays) and will appreciate her unique style and personality.
Rosie Delight—The Amazing One Woman Burlesque Show
Fairfield Hall, 1303 Fairfield Road, Venue 6
Upcoming performances
Saturday August 30-8:45pm
Sunday August 31-4pm
Roller Derby Saved My Soul, written and performed by Nancy Kenny
Amy's a geek girl (studies in computer engineering) who knows the exact number of rings in Lord of the Rings (20) and is quite happy watching Buffy The Vampire Slayer re-runs.  Not so her alpha-female uber-competitive younger sister June who perfers roller derby.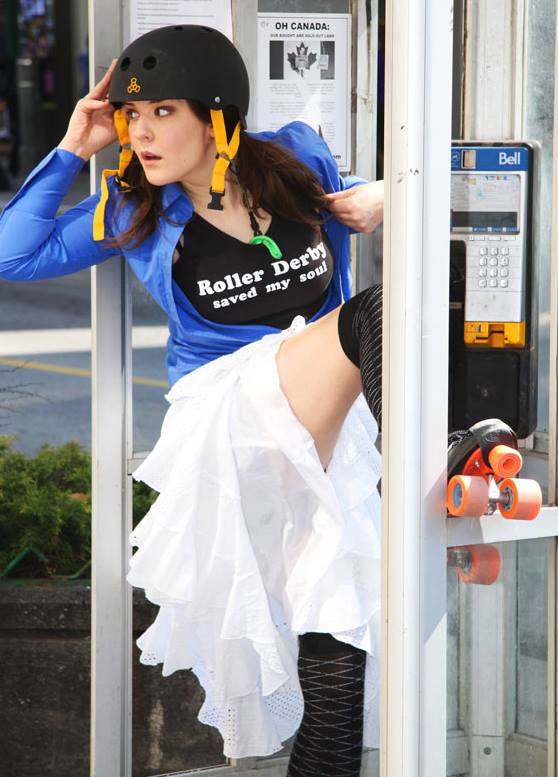 They don't have much in common so it's with some reluctance that Amy accompanies June to the roller derby rink as a birthday treat, and is immediately smitten with the strong, fierce specimens of trash-talking female power who speed and crash their way around the track. One, in particular (Diana) stands out, and encourages her to give roller derby a try.
With awkward fumbling Amy manages to don skates, slipping and sliding all the while, and show up for training.   Slowly her confidence builds.
The audience (which on Friday night included members of the local derby team Eves of Destruction) can only cheer these new developments as Amy slowly comes out of her shell, learns to appreciate her sister in new ways, and survives not only her skills tests but the initiation that follows (a drinking game to the tune Roxanne in which we participate) to find her true place on the team.
Throughout Kenny skates deftly around the room while switching easily between the various characters. Kenny's Amy is a lovable goofball and we want her to succeed in vanquishing her inner couch potato and find not only community but love.
Anyone who has ever stepped outside their comfort zone to take on a physical challenge involving team sports knows what a journey of self-discovery it represents.  Roller Derby Saved My Soul is a great life-affirming reminder.
Roller Derby Saved My Soul, written and performed by Nancy Kenny
Fairfield Hall, 1303 Fairfield, Venue 6
Upcoming performances:
Saturday August 30-5:15pm
Sunday August 31-2:15pm
The Lion, the Bitch and the Wardrobe, written and performed by Sharon Mahoney.
Sharon Mahoney knows audiences, having played to hundreds of thousands world-wide (from London to Melbourne and across North America) as the "Canadian" busker, even appearing at the famed Glastonbury Festival.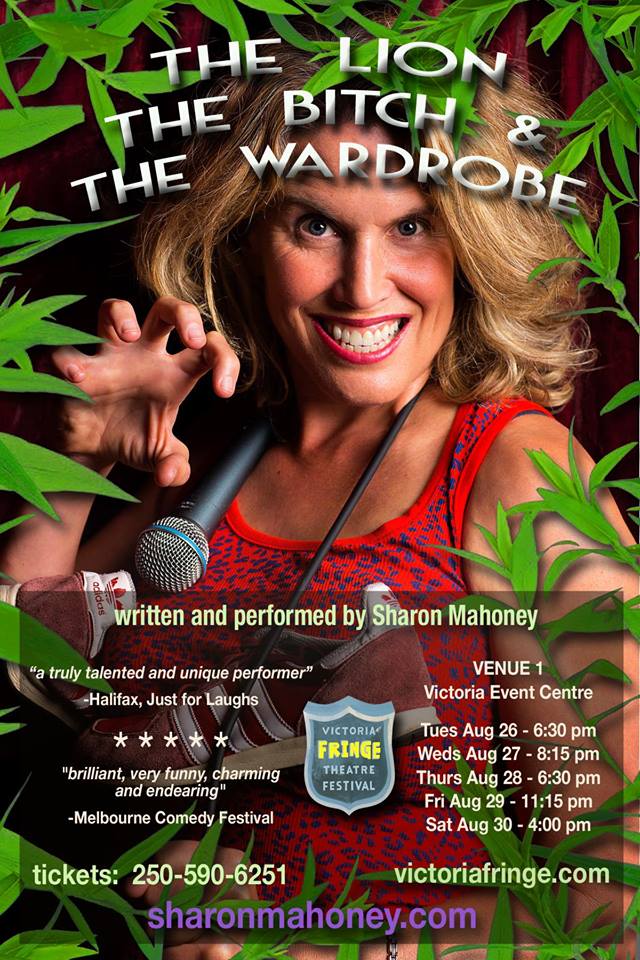 You would think, after having tamed rowdy crowds bent on interrupting, heckling and slut-shaming, that confronting an appreciative group of Fringe fans would be a veritable cake-walk.  Not so, for after more than 15 years touring, Mahoney found herself before a most terrifying nemesis—crippling anxiety she dubs "the lion".
What's an inveterate performer—on the edge of 40—to do to conquer this fear but write a Fringe show.  Assisted by director Trent Baumann (aka The Birdmann) and Atomic Vaudeville's Brit Small, Mahoney bares all.
With lithe grace, power and ferocious energy, she prowls the stage like her titular namesake and soon has us eating out of her hand.  "Cheer", she commands, and we obey. Anecdotes from her travelling show have us in stitches.  She relates how, slowly, with the assistance of health care professionals and cognitive behavioural therapy she got the lion under control—but it's not without a vicious whip-cracking puppet battle.
A cameo episode featuring a motivational speaker is particularly satirical and biting.
Fear conquered, and once again comfortable in her skin, Sharon Mahoney is a joy to watch. You'll cheer!
The Lion, the Bitch and the Wardrobe
The Victoria Event Centre, 1415 Broad, Venue 1
Final performance Saturday August 30th pm
Disclaimer: I am attending the Victoria Fringe Festival 2014 on a media pass graciously provided by Intrepid Theatre.