The second Économusée® in British Columbia launched recently at Hazelwood Herb Farm, in North Oyster near the Nanaimo airport, and I was honoured to attend as an invited guest.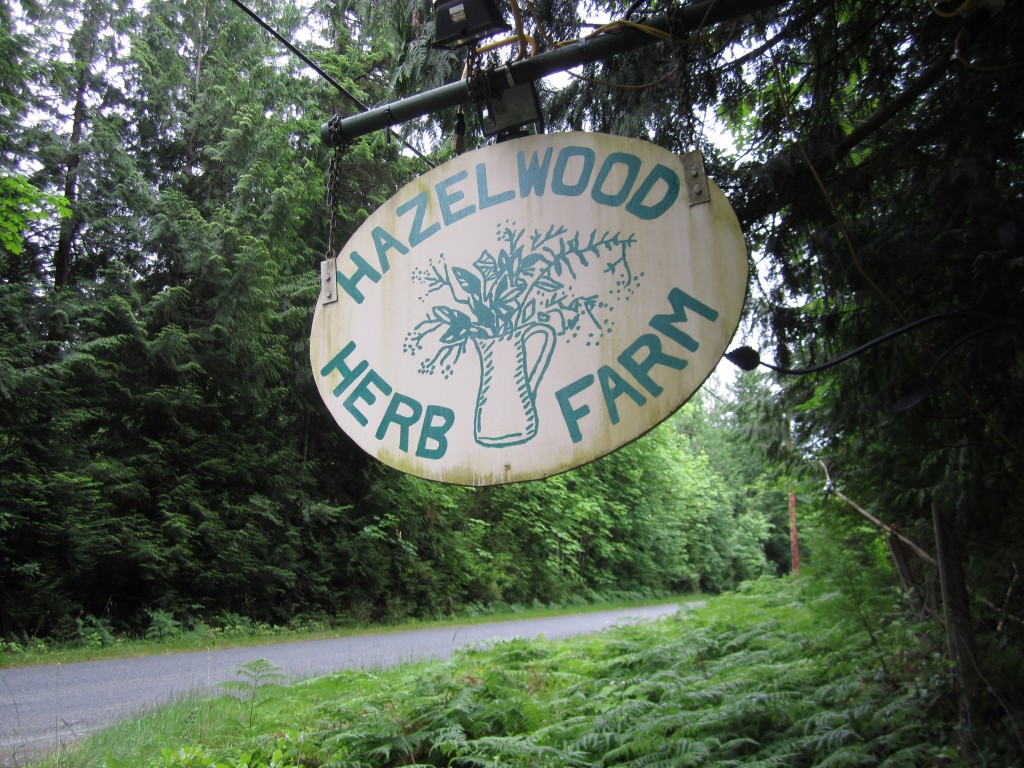 A concept well established in Québec, the Atlantic Provinces and Northern Europe, Économusée® seeks to value artisanal producers and bring them to the attention of the larger population by providing a framework and network for development, publicity and promotion. An Économusée® workshop is a craft or agri-foods business whose products are the fruit of an authentic technique or know-how. Économusée®  is trademarked and is also recognized by UNESCO as a model for the preservation of intangible heritage.
Craftspeople and enterprises admitted to the Économusée® brand undergo a rigorous selection process. In British Columbia Économusée® is administered by the Société de Développement Économique (SDECB).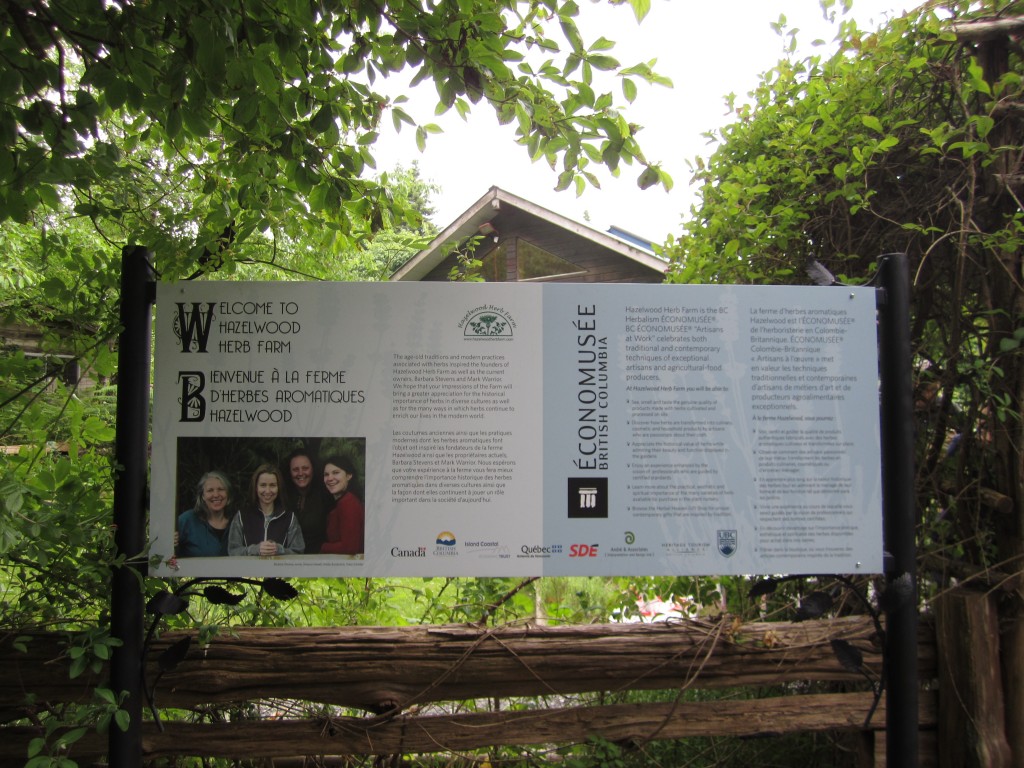 The Économusée® Promise…

A reception area where you will be greeted with courtesy
The interpretation of traditional aspects of the trade
The interpretation of contemporary aspects of the trade
A workshop where you will be able to interact with artisans at work
Access to a documentation area
The ability to purchase the artisan's product on site
The opportunity to taste, touch and smell a product of a very high standard of quality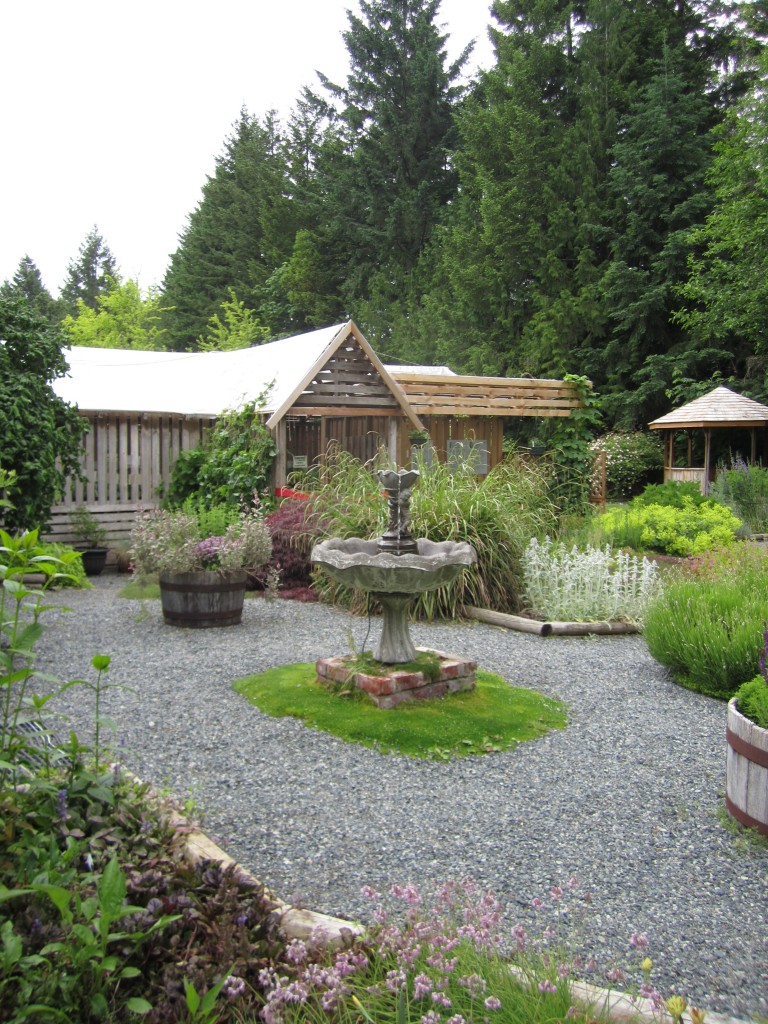 Hazelwood Herb Farm was founded by Jacynthe Dugas and Richard White and has provided plants and herb-based products for over 25 years. Current owners Barbara Stephens and Mark Warrior worked with André and Associates on the interpretive design and boutique makeover, uncovering the many unique stories behind Hazelwood Herb Farm, and displaying them (in French and English) in order to increase the experience for visitors. The beautiful iron work was crafted by Foggy Mountain Forge.  I was very interested to see how the interpretive aspects of the Herbology Économusée® project at Hazelwood differed from those of the Cidery Énomusée® at Merridale Estate Cidery.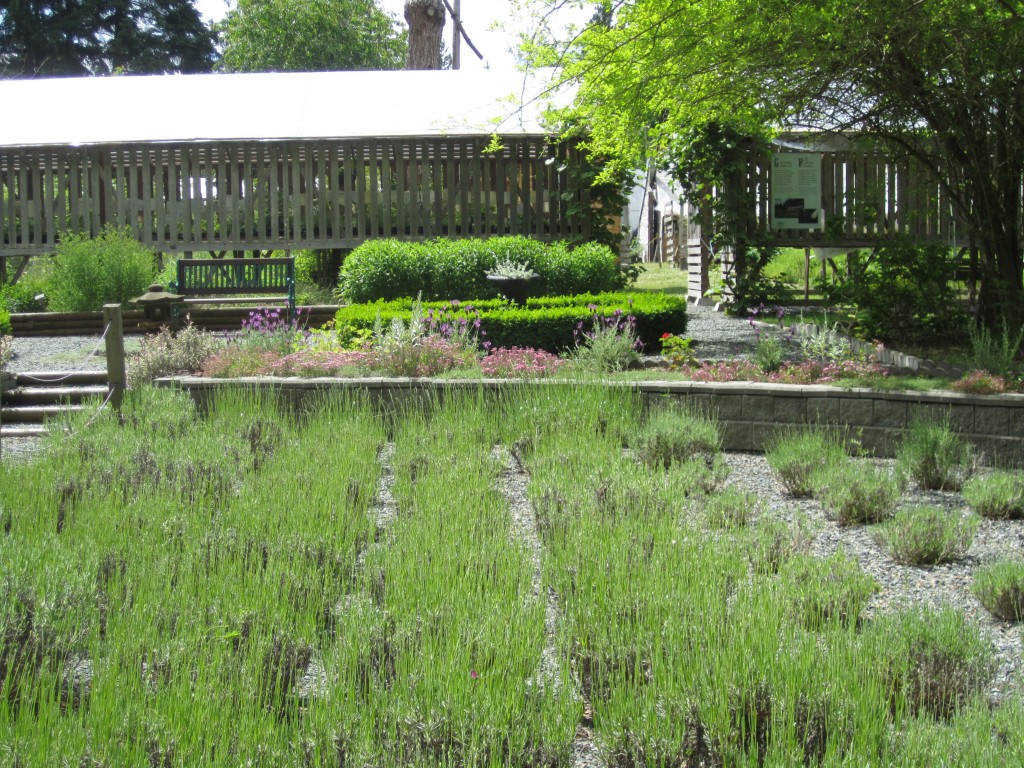 There are over 450 varieties of herbs in the production garden.  The boutique features herbal products from jellies, mustard, chutney and vinegars created in the farm's kitchen to salves, tinctures, soaps, homecare items, and more.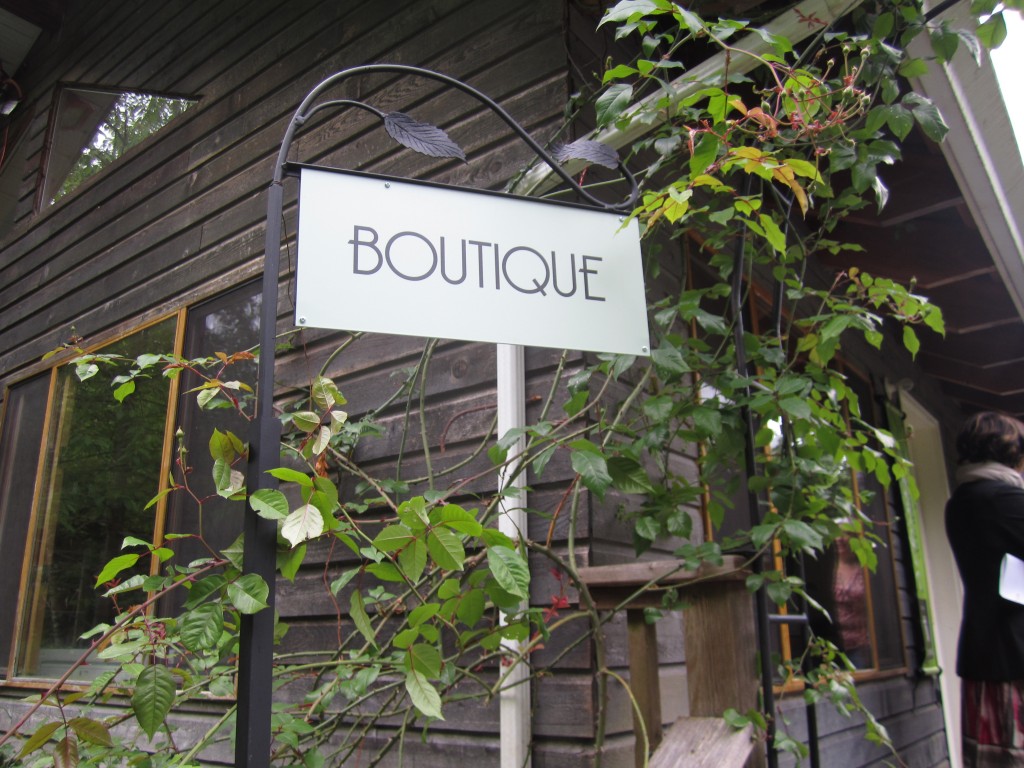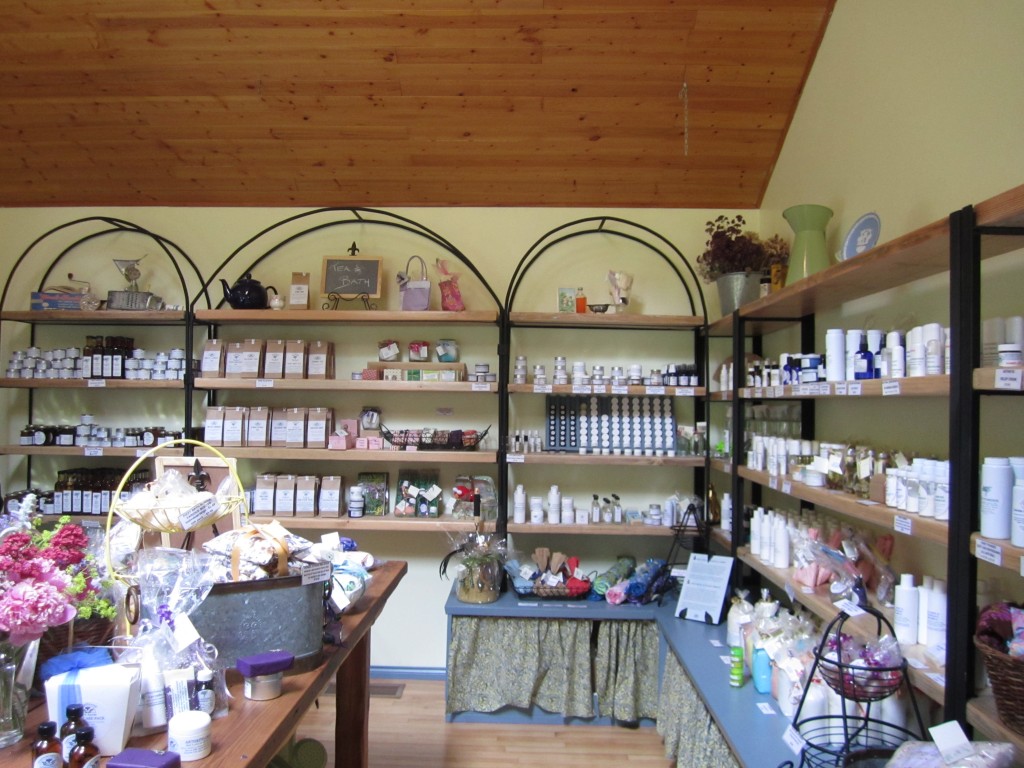 Although I'd occasionally travelled on the Cedar Road, I had never noticed the sign for Hazelwood Herb Farm, and had no idea of the scope of the business.  It will definitely be on my to-do list for future visits up-island, particularly when I'm looking for hard-to-find varieties of herb plants.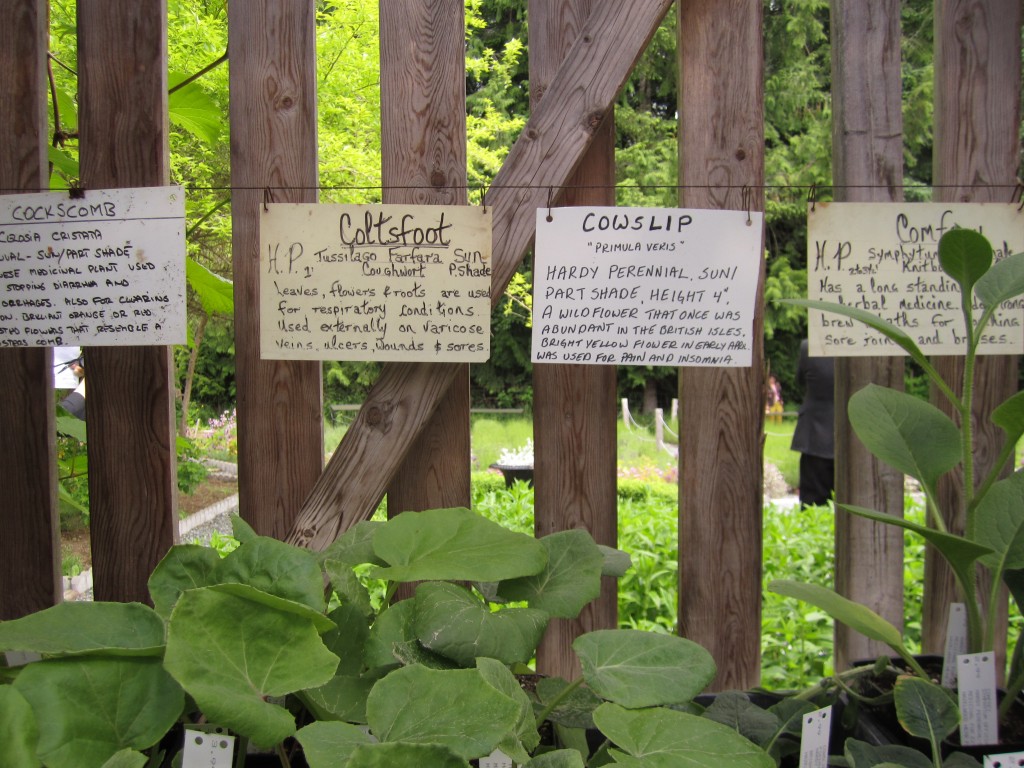 The second inauguration marks the conclusion of the first phase of the pilot project. Donald Cyr, Executive Director of the SDECB, declares "We are proud of the results obtained during the course of the implementation of the Éonomusée® British Columbia-Artisans at Work pilot project. This initiative enabled us to highlight and promote traditional trades, in an interactive manner and in the spirit of collaboration between several levels of government and provincial economic actors".
Congratulations to all involved in the launch of this second Économusée® at Hazelwood Herb Farm – it's very clear that an inordinate amount of time, effort and commitment went into crafting your submission and creating a "workshop" that matched your vision.
Économusée partners include:
Government of Canada
Province of British Columbia
Province of Québec
Economusée® Society Network
Heritage Tourism Alliance
Island Coastal Economic Trust
University of British Columbia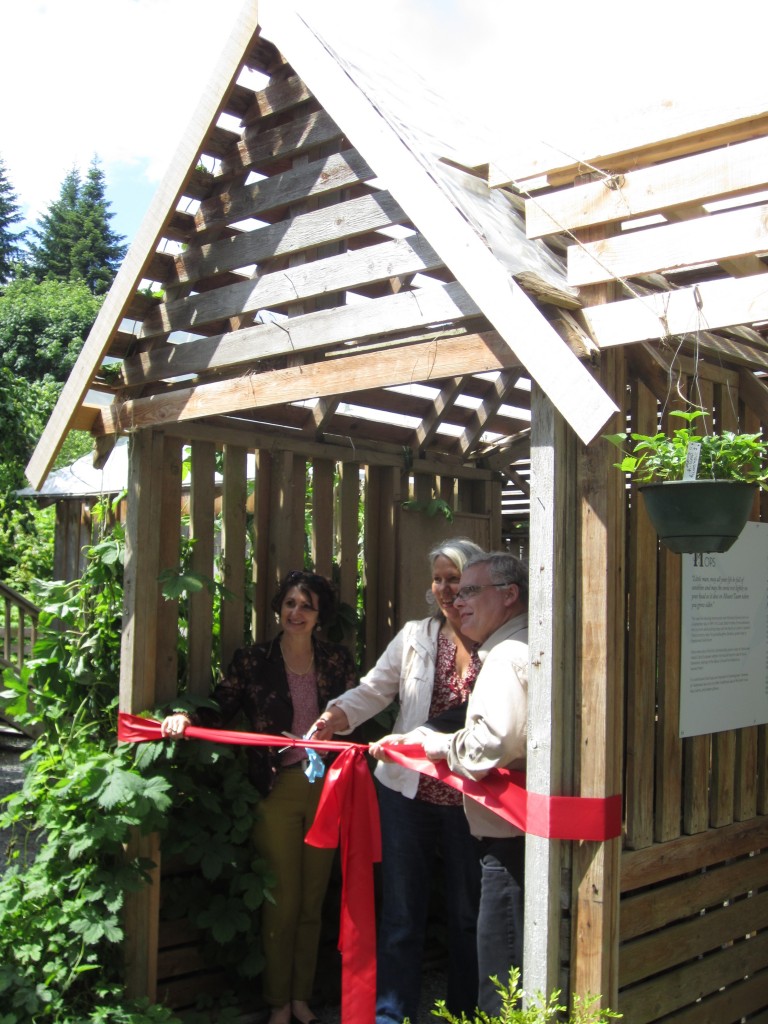 Hazelwood Herb Farm is open April 1 to December 24 from 11am to 5pm and is located at 13576 Adshead Road, Ladysmith, BC CanadaV9G 1H6
For more information:
Phone: (250) 245-8007
Email:

[vsw id="J5JWYsShnDk" source="youtube" width="425″ height="344″ autoplay="no"]
An Économusée® is a craft or agri-foods business whose products are the fruit of an authentic technique or know-how. The business showcases artisans and craft trades byoffering an area for interpreting its production and by opening its doors to the public.