"Coffee's for closers only."
"A-B-C. A-Always, B-Be, C-Closing. Always be closing, always be closing."
How many other lines can you quote from Glengarry Glen Ross?  You'll have the opportunity to find out when Island Repertory Theatre and Stellar Jay Productions bring David Mamet's ferocious drama about life in a real estate office to Victoria this November 16-27th at Metro Studio.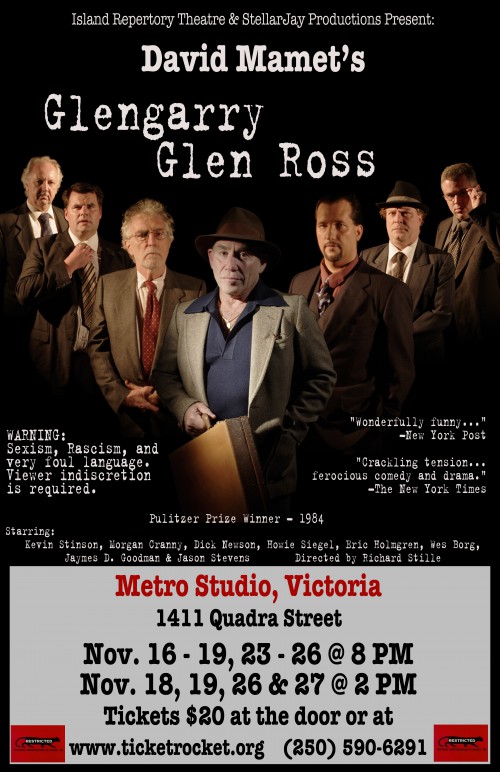 Written in 1984, winner of the Pulitzer Prize and nominated for a Tony, this play was made famous when Mamet adapted it for film in 1992.  The stellar cast of Alan Arkin, Alec Baldwin, Ed Harris, Kevin Spacey, Jack Lemmon, Al Pacino, Jonathan Pryce dropped F-bomb after F-bomb as the story wound to its tragic ending.
Island Repertory Theatre is committed to performing "Hard-hitting, well produced & entertaining theatre for Victoria audiences."
Founded in 1994, the company first produced Shakespearean plays, then shifted focus in 1997.
Following these critically acclaimed and well-received productions, the company, with Colin Plant and Dick Stille as co-artistic directors, felt the need, both personally and artistically, to shift focus to include new and exciting theatre that addressed directly issues we face both as a modern culture and as Canadians, while not abandoning traditional theatre when it could speak to modern audiences. Following this shift in focus, IRC has garnered a reputation in Victoria for producing hard-hitting, often hot-off-the-press, well produced and entertaining theatre.
The company went on to feature contemporary theatre from 1997 – 2004. In 2010, after a hiatus, they mounted The Boys in the Band, co-produced with Dandelion Theatre.
Director Richard (Dick)  Stile has an extremely talented ensemble of actors to work with, including: Wes Borg, Morgan Cranny, Jaymes D. Goodman, Eric Holmgren, Dick Newson, Howie Siegel, Jason Stevens and Kevin Stinson.  You will have seen them in roles with Atomic Vaudeville, Langham Court, Theatre Inconnu, Four Seasons Theatre, the Victoria Operatic Society, Sin City Season Two: Carnies, and on stage at the Victoria Fringe Festival.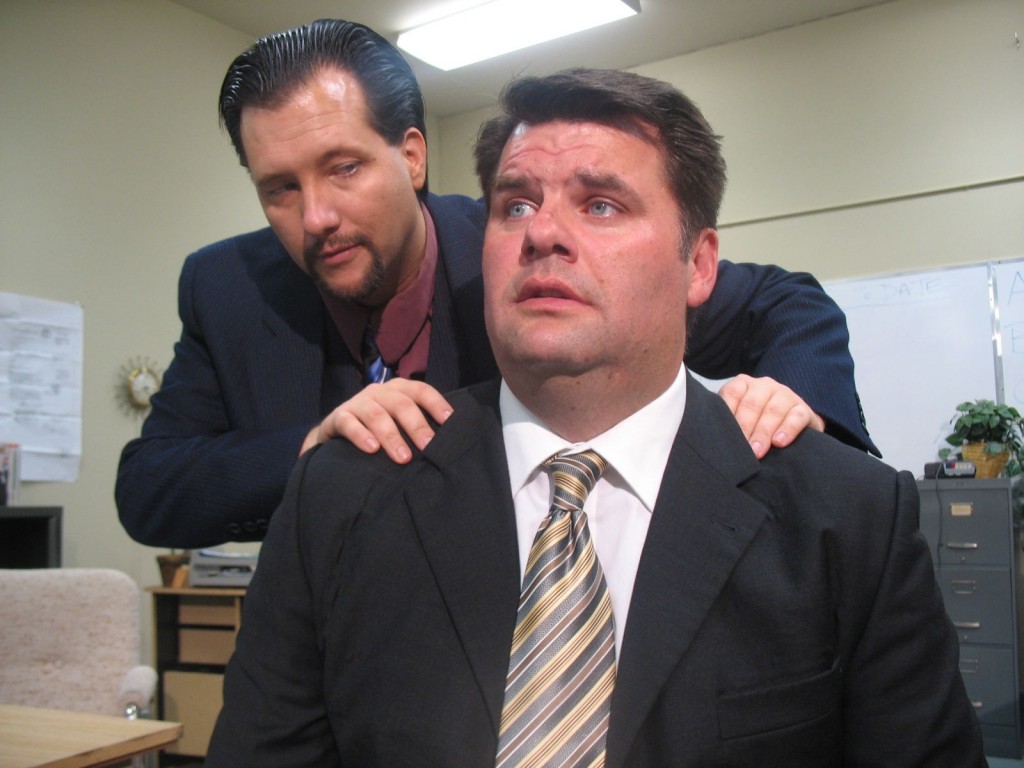 Eric Holmgren as Ricky Roma & Morgan Cranny as James Lingk. Photo submitted
I can't even begin to imagine the delicious scenes between legendary restaurateur, playwright, and former talk-show host Howie Siegel, and veteran funny man Wes Borg.  Older audiences will remember the audaciousness of Siegel's long running talk shows on CHEK and CJVI. Coupled with Borg's sly wit, this promises to be epic.
This is only one small example of the theatrical pairings I am eagerly waiting to experience when Glengarry Glen Ross hits the stage at the Metro Studio Theatre November 16th.
Glengarry Glen Ross runs:
Nov 16 – Nov 27, Wednesday through Saturday 8pm with matinée performances Saturday and Sunday 2pm
Tickets $22 available:
In advance through Ticket Rocket online or phone 250-590-6291
Cash at the door.