It's not often that Victoria audiences have the fortunate pleasure of experiencing a 23 person cast.  Good Person of Setzuan, currently at the University of Victoria's Phoenix Theatre until November 24, 2012 offers one such opportunity.  This highly entertaining, multi-element visual feast showcases the large talents of students and faculty.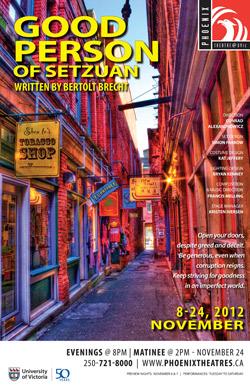 Brecht's morality play, originally written between 1938 and 1943, has been transported to modern day. The location, despite the exoticness of costumes and landscape, could be any city.
At the crux of the tale, a question – how can one be a "good person"?  In casting his heroine as a young prostitute, Shen Te (Véronique Piercy) Brecht confronts our perceptions of good and evil.
The gods (Robin Gadsby, Molison Farmer and Kieran Wilson) have been searching high and low for one good person.  They find her in Shen Te, who kindly offers to help them when everyone else is too busy.  As a reward, they bestow riches with which she buys a tobacco shop.  Yet, her inherent goodness and generous nature make her an easy mark for the demands of all her neighbours and friends.  To protect her interests, she invents a male cousin, Shui Ta.
Piercy toggles effortlessly between the two roles – to the degree that, at first, we do not realize they are one and the same person. And, while our sympathies might lie more with Shen Te, it's hard not to appreciate the considerable work Shui Ta must accomplish to ensure her alter-ego does not become destitute.
The massive scale of the set (designed by Simon Farrow) serves to underline the overbearing inevitability of the industrialized complex, and the desperate poverty of the city's citizens while offsetting it through the creation of more intimate spaces like the magnificently retractable tobacco shop. Lighting by Bryan Kenney plays against the skyline, from dark and cool, to warm and inviting.
Director Conrad Alexandrowicz is well known for his multi-disciplinary work combining dance, movement and theatre. His chorus of citizens moves with ballet-like precision across the stage and creates playful moments to lessen tension. The ensemble work during musical numbers is strong; Francis Melling serves double duty, as composer/musical director, and wandering musician.
Costumes (Kat Jeffrey) cover many periods, from vaguely modern to early 20th century, and the gods' headpieces hark back centuries.  To lend a more modern flavour, and reinforce Brecht's message, citizens wear armbands inscribed with the names of multi-national corporations.
The chemistry between Shen Te, and her lover, the unemployed pilot Yang Sun (Alex Frankson) is persuasive. It's easy to see why Shen Te falls for his advances and promises, time and time again, despite her best intentions.
I particularly enjoyed the annoying antics of Mrs. Shin (Christie Stewart), Shen Te's nosy and know-it-all neighbour.
This performance is a final one for many of the fourth year students, but Victoria audiences can look forward to several more years of excellence from the cast of first to third year students.
In a rich cultural climate, with a wide-range of possibilities open to theatre patrons, UVic's Phoenix Theatre delivers a high-quality artistic experience.  I look forward to Reasons to Be Pretty (February 14-23, 2013 and You're A Good Man Charlie Brown (March 14-23, 2013).
By Bertolt Brecht
Direction Conrad Alexandrowicz
Set Design Simon Farrow
Costume Design Kat Jeffery
Lighting Design Bryan Kenney
Composer & Music Direction Francis Melling
Stage Manager Kristen Iversen
Featuring
Unemployed Man, Shui Ta's Agent: Alex Carson
Mi Tzu: Amy Culliford
Grandfather: Kevin Eade
Second God: Molison Farmer
Mrs. Yang: Julie Forrest
Yang Sun: Alex Frankson
First God: Robin Gadsby
Wife: Alberta Holden
Nephew: Jenson Kerr
Musician/Busker: Francis Melling
Lin To, Waiter: Logan Mitev
Sister-in-Law: Michelle Morris
Niece: Kathleen O'Reilly
Wang: Kale Penny
Shen Te, Shui Ta: Veronique Piercy
Husband: William Reggler
Policeman: Levi Schneider
Boy, Ni Tzu, Priest: Ian Simms
Prostitute: Tea Siskin
Brother: Markus Spodzieja
Mrs. Shin: Christie Stewart
Shu Fu: Derek Wallis
Third God: Kieran Wilson
November 8-24th 2012
Evenings @ 8pm: November 8 (Opening), 9 (Preshow Lecture), 10, 13, 14, 15, 16, 17, 20, 21, 22, 23, 24
Matinee @ 2pm: Saturday, November 24
Tickets $22/24, $18 (seniors), $13 students
Seating Plan: Chief Dan George Theatre
Box office:  Call 250.721.8000
 Disclaimer: I was offered complimentary tickets to attend the opening of Good Person of Setzuan. I was not required to write a review. As always, I retain editorial control over all content on my blog.