Grease at the Chemainus Theatre Festival. A review.
With catchy tunes, toe-tapping rhythms and a story line seared into North American consciousness for forty years, Grease the musical is bound to be a sure-fire hit for any theatre company planning to take advantage of its cross-generational appeal.  Now playing at Chemainus Theatre Festival during the very popular summer season (June 8-September 1, 2018) under the direction of Barbara Tomasic, this production delves into nuances beyond the pastel hues ascribed by nostalgic memories to find the grit of every day teen realities—the struggle for acceptance, gender and societal expectations, coming-of-age.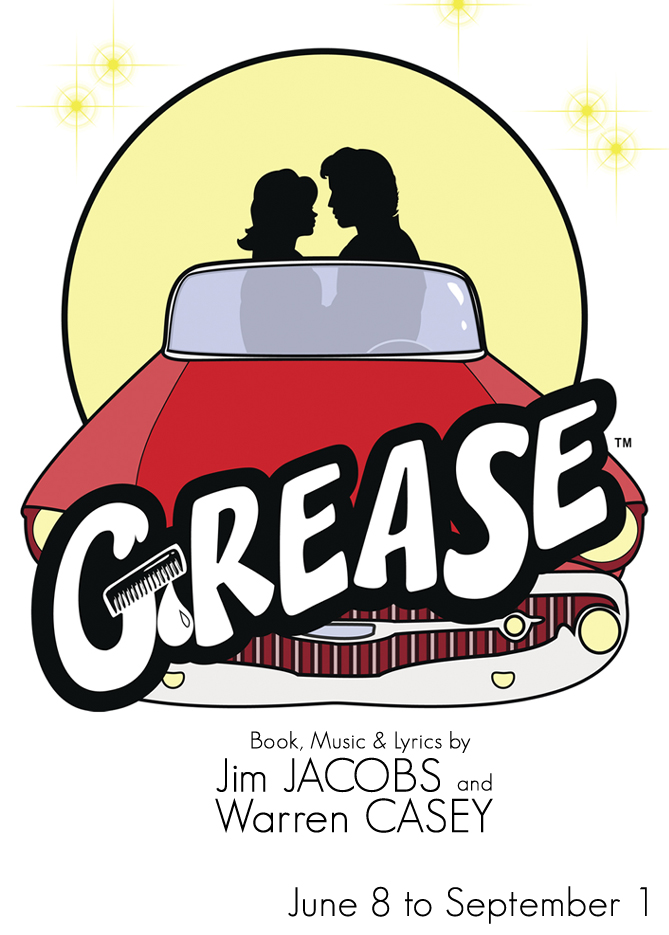 Chemainus Theatre is an intimate venue with a rake and stage that place the action front and centre and create interesting design challenges—which the professionals working here fully embrace in many intriguing ways.
Set designer Lauchlin Johnston (Once, Footloose) has decided to position the musical combo lead by Music Director Nico Rhodes (Legends of Rock and Roll, Twist and Shout) directly on the stage rather than on a balcony or behind a curtain, thus affording an easy transition in the second act to the high school dance scene where Rhodes becomes Johnny Casino, band leader, and also providing an intimacy and immediacy to the music which is so central to the lives of the characters.
To provide visual interest and height there is a staircase and upper floor on the opposite side of the stage, with an alleyway behind for entrances and exits.  Furniture is minimal—a few tables, a bed—wheeled in and out by the actors.  Large-scale graphics of teen heartthrobs and advertisements from the period—1959—are affixed to the upper walls.
Costumes by Crystal Hanson (Silent Sky, Pride & Prejudice) benefit from an ease and fluidity that was not available to teens in the late 1950s when polyester was still largely unused in clothing, and make Julie Tomaino's energetic and engaging choreography (Footloose) flow seamlessly  (assistant Lyndsey Britten).  The rainbow-hued dresses and slick tuxedoes worn during the high school hop were particularly effective in conveying the period.
Matt Alfano (Danny Zucko) has built a career in musical theatre, performing on Broadway, at Stratford for seven seasons and touring nationally—his slender frame moves with a grace more common in ballet dancers, his strength apparent in some of the incredible leaps he displays—at one point jumping over the head and shoulders of Makayla Moore (Cha-Cha DiGregorio) and performing the splits in mid-air.  It's a show-stopping move that takes place in the middle of a sequence, going almost unnoticed.  His portrayal of Danny is conflicted—full of brash posturing with his "gang" of guys—the T-Birds—yet oddly vulnerable as he attempts to break out of the mold and role set solidly before him, as he aims to change for Sandy Dumbrowski (Quinn Cartwright).  Likewise Cartwright displays a fragility that is appealing, more in keeping with the reality of teen lives than facile tropes. Their characters and romance develop at a truly believable pace, making the impact of their duet You're the One That I Want evident.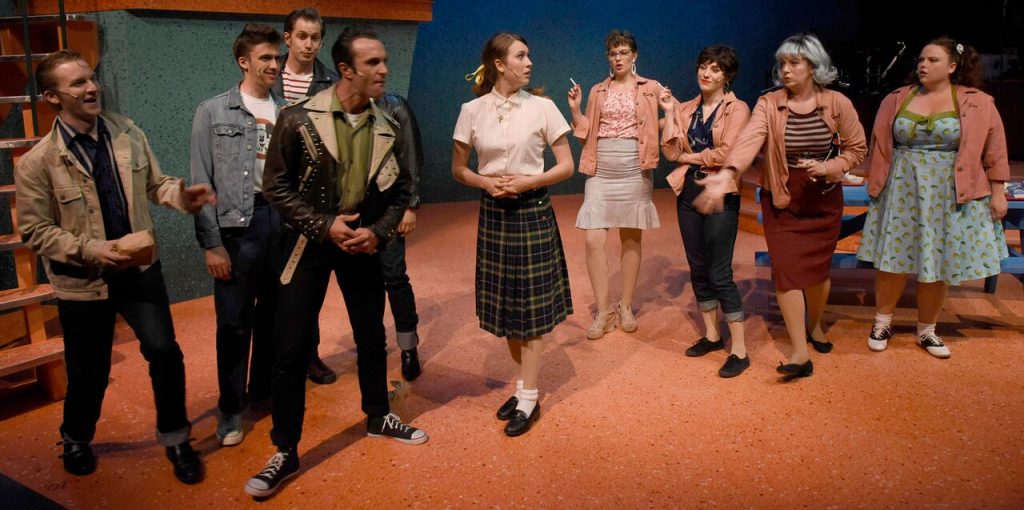 First day back at Rydell High. Grease ensemble. Photo: Cim MacDonald
Tomasic has not taken the easy route with this large ensemble cast—teasing out vignettes that are by turns humouristic (dorky Eugene Florczyk—Eric Dahlinger, goodie-goodie Patty Simcox—Ali Watson, bossy Miss Lynch-Sarah Carlé), aspirational (Doody—Henry Beasley in Those Magic Changes), wistful (Marty-Tessa Trach in Freddy My Love) and direct—Kaleigh Gorka as Rizzo channels an incredible amount of rage and defiance throughout, culminating in a magnificent rendition of There Are Worse Things I Could Do. The audience was treated to melodies that recalled the great teen crooners of days gone by, with Kevin McLachlan as Teen Angel in Beauty School Drop Out and Victor Hunter as Kenickie in Mooning. Full-cast numbers like We Go Together and Hand Jive convey a great spirit of youthful exuberance while solos by Cartwright (Hopelessly Devoted to You) and Alfano (Sandy) capture—perfectly—all the torment of youthful love and heartbreak.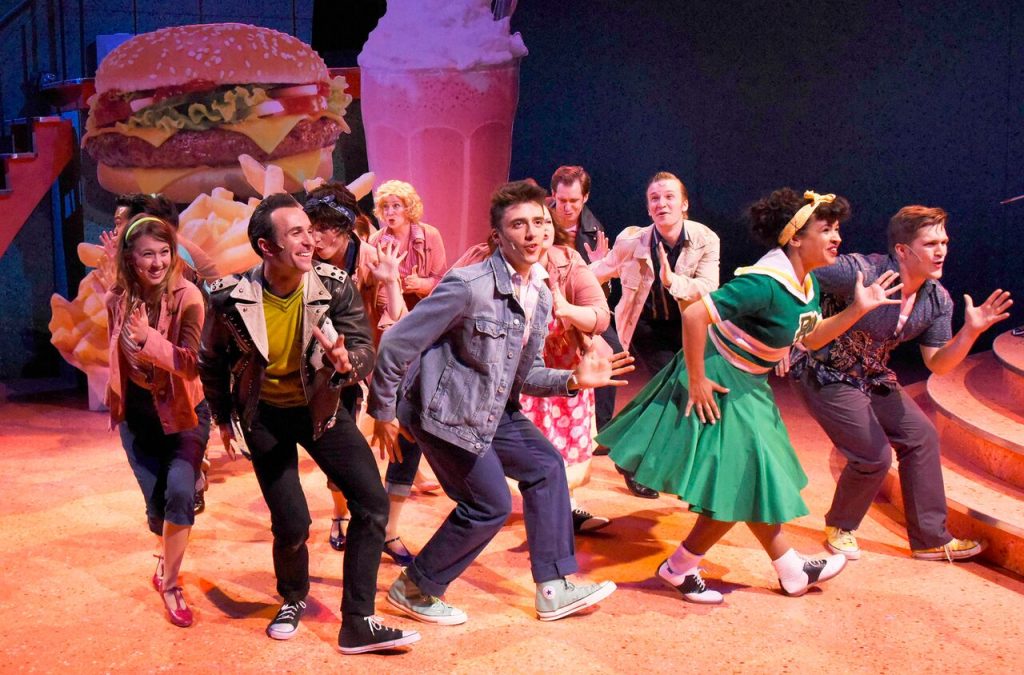 Hanging at the Burger Palace. Grease ensemble. Photo: Cim MacDonald
Craig Alfredson's harmonious and restrained sound design judiciously balances the band onstage (Daniel Deorksen-bass, Alicia Murray-drums, Nico Rhodes-keys/saxophone, Brad Shipley-guitar) with voices of the many cast members.
There is no credit noted for the construction of the vehicle, central to the story line—Greased Lightning is a full-size, gorgeous replica that takes pride of place in many of the scenes.
Grease at the Chemainus Theatre Festival is a gritty portrayal of an era—Tomasic underlines the culture of the casual insult endemic in so many of these teens' interactions, while reminding the audience of the tenderness lurking just beneath the bravado. This tug and pull creates tension most can hearken back to—whether teen oneself during the 50s, teen when the movie appeared in 1979 or teen now in 2018.  Grease is about "a time, and a place" and—most assuredly—"a feeling"—it's arguably this feeling that brings audiences back, time and again, to experience it.
Dust off your leather jacket, pull on your bobby-socks, and bop back in time as Danny and Sandy fall in love. This fun Broadway musical features all the comedy, drama, and unforgettable songs that has made it one of the most popular musicals in the world – including You're The One That I Want, Grease Is The Word, Summer Nights, Greased Lightnin', and many more.
Grease at the Chemainus Theatre Festival
Book, music and lyrics by Jim Jacobs and Warren Casey
Directed by Barbara Tomasic
June 8-September 1, 2018
Tickets: $26-$80. Buffet $24-38. Both depending on day and time
250-246-9820 / Toll Free: 1-800-565-7738
Creative Team
Director: Barbara Tomasic
Choreographer: Julie Tomaino
Assistant Choreographer: Lyndsey Britten
Musical Director: Nico Rhodes
Set Designer: Lauchlin Johnston
Costume Designer: Crystal Hanson
Lighting & Sound Designer: Craig Alfredson
Stage Manager: Angela Beaulieu
Assistant Stage Manager: Christopher Sibbald
Apprentice Stage Manager: Koh McRadu
Cast
(in order of appearance)
Miss Lynch/Frenchy: Sarah Carlé
Patty Simcox: Ali Watson
Eugene Florczyk: Eric Dahlinger
Jan: Steffanie Davis
Marty: Tessa Trach
Betty Rizzo: Kaleigh Gorka
Doody: Henry Beasley
Roger/Teen Angel: Kevin McLachlan
Kenickie: Victor Hunter
Sonny LaTierri: Justin Lapeña
Sandy Dumbrowski: Quinn Cartwright
Danny Zuko: Matt Alfano
Vince Fontaine: Daniel Deorksen
Johnny Casino: Nico Rhodes
Cha-Cha DiGregorio: Makayla Moore
Ensemble: Nicholas Bradbury, Makayla Moore, Ali Watson
Understudies: Nicholas Bradbury for Danny/Kenicke and Makayla Moore for Sandy/Rizzo
Musicians
Bass: Daniel Deorksen
Drums: Alicia Murray
Keys/Saxophone: Nico Rhodes
Guitar: Brad Shipley
Grease was first performed in 1971 in the original Kingston Mines nightclub in Chicago. American playwrights Jim Jacobs and Warren Casey created that original production as a raunchy, raw, aggressive, and vulgar show, intended to shake things up with its shock value.

The Broadway version was much less aggressive, becoming the musical we now know and love; an homage to the idealism of the fifties and a satire of the ages-old youthful urge to be rebellious and provocative. The Broadway production opened Feb. 14, 1972 and won nine Tony awards, including Best Musical. At the time it closed on Broadway, Grease had seen 3,388 performances, making it the longest running Broadway show at that time. It went on to become a West End hit, a successful feature film in 1978 featuring John Travolta and Oliva Newton-John, and enjoyed two popular Broadway revivals in 1994 and 2007.
Disclaimer: We attended Grease as guests of the Chemainus Theatre Festival and the Playbill Restaurant.