Rock Legends at Chemainus Theatre Festival. A review.
Alex Mustakas brings 25 years of experience helming Drayton Entertainment to the Chemainus Theatre Festival with this summer's blockbuster musical extravaganza Rock Legends (a sequel to his equally popular Twist and Shout seen in the 2015 season).
Over an exhilarating two hours and a half hours, the audience is treated to a window in time, framed by an interesting device—it's 1975 and TV host Roy Solomon (Ted Simonett) is retiring after twenty years in television. His last show is a retrospective of key moments in his career.
Mustakas has gathered a large thirteen person ensemble–comprised of artists from the inaugural production (Michael Clarke, Jennifer Kee and Michel LaFleche), and newcomers, as well as Chemainus returnees Jocelyn Gauthier and Justin Stadnyk (Footloose)–to tell the tales of some of the biggest names in rock 'n roll—Elvis Presley, Mick Jagger, the Beatles, Beach Boys, Monkees, Hollies, Everly Brothers, Four Seasons, Motown greats like Stevie Wonder and Ray Charles, women artists Petula Clark, Cilla Black and Aretha Franklin, Creedence Clearwater Revival, Canadian bands BTO, Crosby Still & Nash, and the Guess Who—in a record sixty song set.  The period is vast—historical research by Michael Bignell ensures the most authentic experience possible.
The stage itself (set and lighting design Jeff Johnston-Collins) is in constant motion with pedestals, revolving elements, fringed backdrops, and graphics, including two large screens featuring an array of period ads and projections containing information about the songs (Peter Conrad and Steve Kelly).
Adding to the visual elements are the exceptional costumes by Jenine Kroeplin—from poodle skirts to hot pants, button down shirts to lounge wear, with plenty of lamé, sequins and stretch, flared jeans and Pucci-style colour blocking—they range from playful to elegant, recalling signature periods of recent fashion history.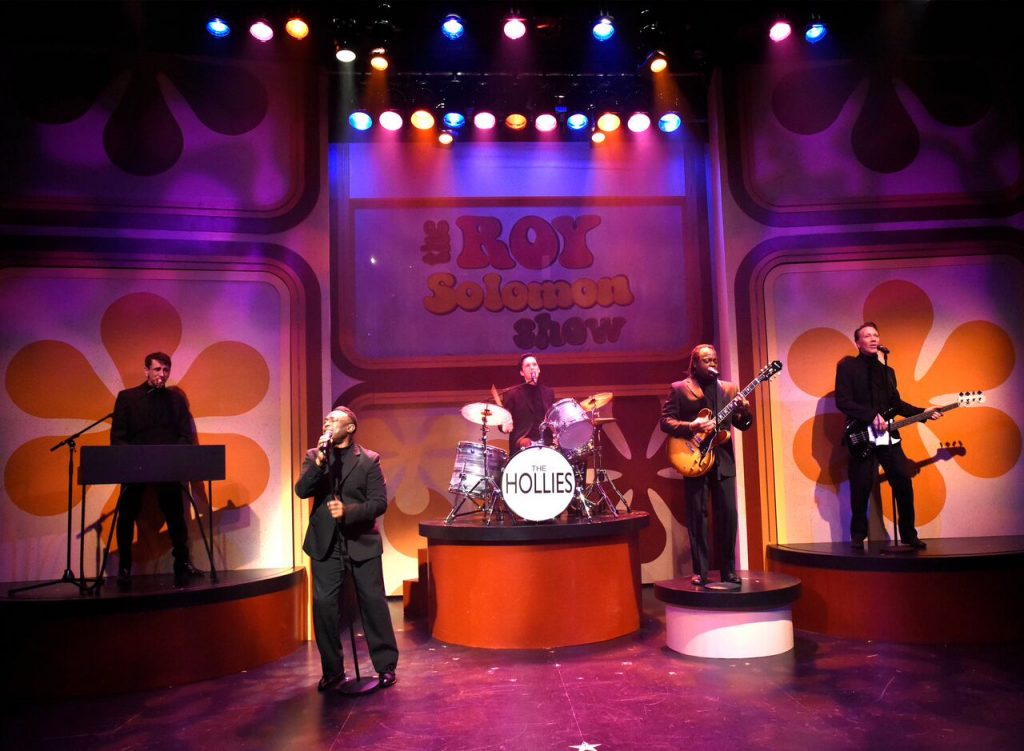 Duff MacDonald, Aadin Church, Justin Stadnyk, Michael Clarke, Michel LaFleche
As Roy, Simonett alternates between goofy–appearing in a shark suit to recall the movie Jaws in 1975, joshing when he sees "famous" past presidents in the audience, dressed in crazy snorkelling gear to introduce the Beach Boys, and singing Monster Mash with a cast of zombie–and dead-pan serious, with a tone that definitely mimics popular personalities of the time.
The entire ensemble is featured on show-stopping numbers like Let the Sun Shine, Happy Together, Do You Believe in Magic, where the skills of dancers Shae Bourne, Julio Fuentes, Caitlynn Miller and Braiden Stevenson and the choreography of Gino Berti are showcased (do you remember the Mashed Potato, the Twist and the Hop?)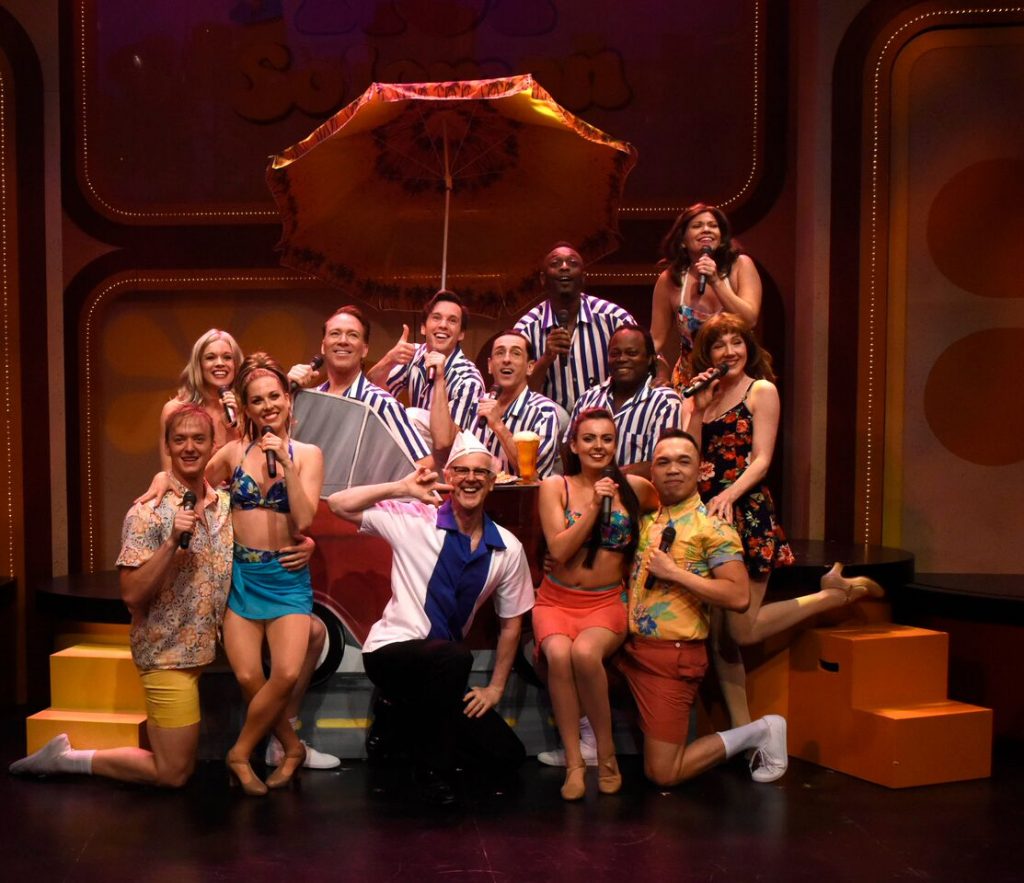 Rock Legends ensemble
Musical director Nico Rhodes (also keys) and musicians James Darling (keys), James McRae (drums) and Kraig Waye (bass) rock hard (Satisfaction) and soulful (He Ain't Heavy) sustaining an  incredible energy and beat.
Stage manager Christopher Sibbald, and apprentice Melanie Thompson ensure smooth transitions and co-ordination among the many elements.
Mustakas has been careful to craft a tightly executed show that allows ample opportunity to showcase each individual artist—a few of the many highlights include Duff McDonald as John Lennon (Imagine) and Elton John (Crocodile Rock), Jennifer Kee wailing as Janis Joplin (Me and Bobby McGee), an upbeat Jocelyn Gauthier (These Boots are made for Walking), Justin Stadnyk in a pouty impression of Mick Jagger (Satisfaction), Michel Lafleche hamming it up as Cher (You've Got Me Babe) growing taller and taller in each cameo, Aadin Church on the crowd-pleasing Bridge Over Troubled Waters, Stephanie Roth in a homage to the Supremes (Stop in the Name of Love, Ain't No Mountain High Enough) and Michael Clarke on Elvis' Hound Dog and CCR's Bad Moon Rising.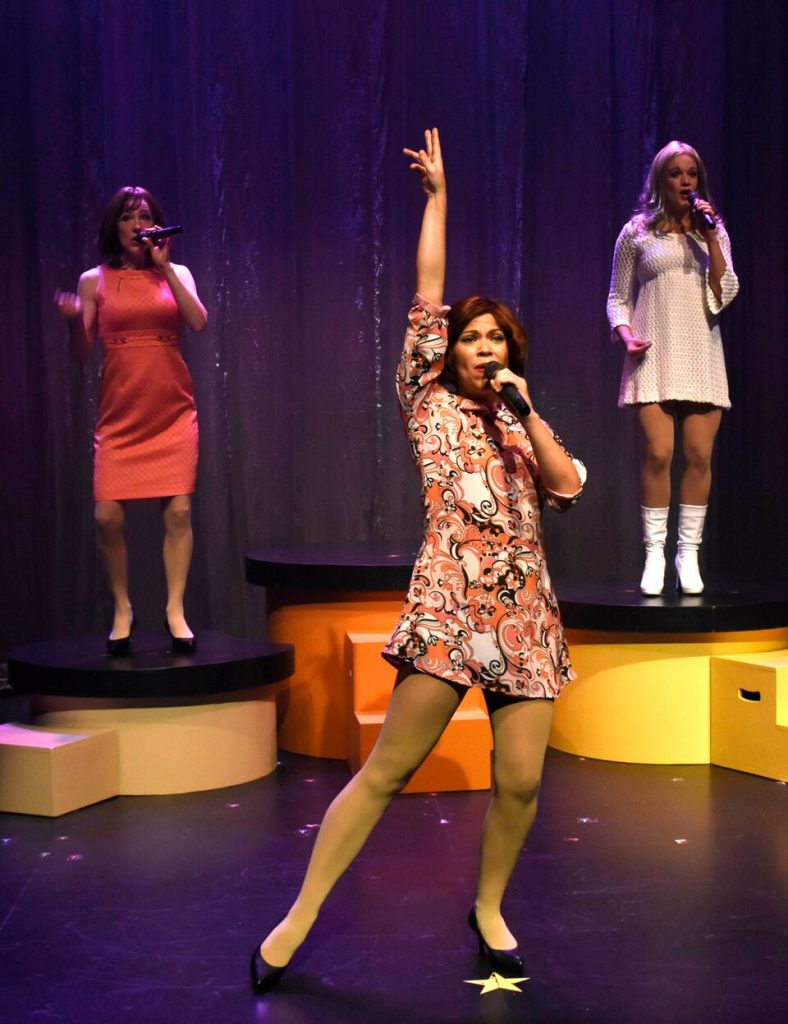 Stephanie Roth, Jennifer Kee, Jocelyn Gauthier
Both trip-down-memory-lane and compendium of rock history, Rock Legends is high energy and professional entertainment that promises and delivers a good time.
With The Beatles and British Invasion came two decades of rock-n-roll, transforming the music scene forever.

From the creators of the hit show Twist and Shout: The British Invasion, Rock Legends, the Sequel to Twist and Shout will have you snapping your fingers and dancing in your seats . . . this time to the beat of classic songs by rock and roll's musical legends.

Experience this most influential music in a live tribute to the incredible artists from the mid-1950's through the 1970's, including the Beach Boys, The Everly Brothers, The Monkees, Elton John, Simon & Garfunkel, Sonny & Cher, and many more incredible artists!

"Audiences are going to be blown away by the calibre of talent on stage." – Alex Mustakas

"Over-flowing with more great songs than I could count" – Phil Main, Classic Rock 94.5
 Rock Legends: the sequel to Twist & Shout, conceived and directed by Alex Mustakas
orchestrations and vocal arrangements by Robert Foster
The Chemainus Theatre Festival
June 20August 26, 2017
Tickets: $26-$69without buffet $38-98 with—depending on day and time
250-246-9820 / Toll Free: 1-800-565-7738
Email: info@chemainustheatre.ca
Website: http://www.chemainustheatre.ca
Disclaimer: We attended Rock Legends as guests of the Chemainus Theatre Festival and the Playbill Restaurant.