GRID A One-Man Grindr Play December 8 & 9, 2015. Interview with Jenson Kerr.
When Jenson Kerr emailed his media release, I was intrigued to read GRID described as "Filled with sex, dark secrets and socially awkward situations."
Kerr won the University of Victoria Theatre department's Student Alternative Theatre Company (SATCo) "best of season" award for GRID, a play that tells the story of 3 guys on Grindr – the jock, the bear, and the newbie—and explores what it means to be a gay man navigating the weird and wild world of Grindr.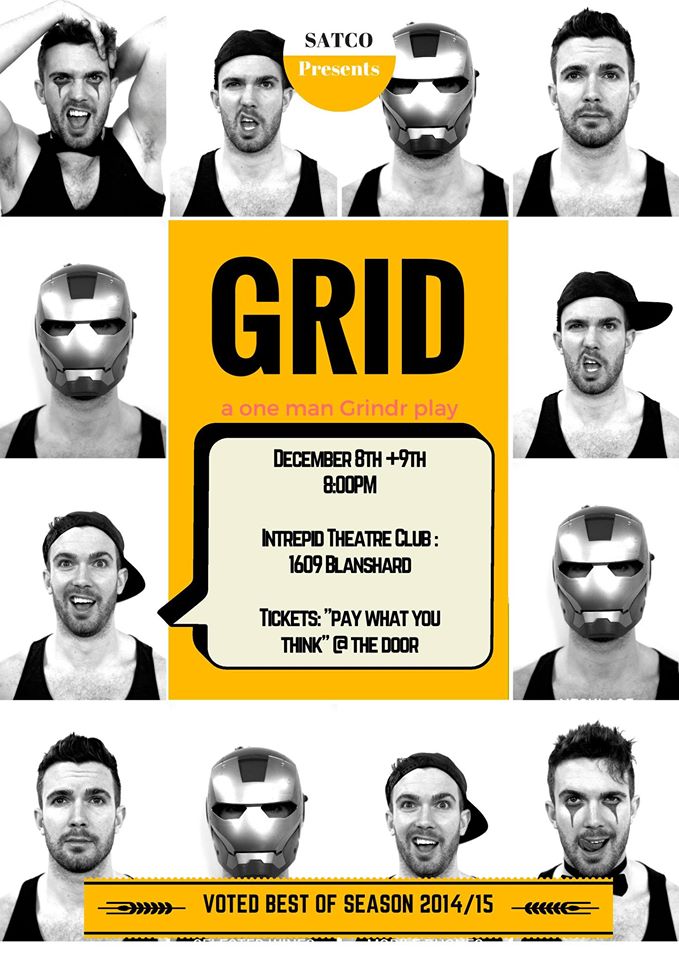 How do you think apps like Grindr have influenced gay culture? How is this way of meeting people any different from more traditional methods like steam baths, parks and bars/clubs?
Grindr can be a very useful tool. I have met several really good friends with the app – perhaps guys I would not have met in everyday life. But there is something to be said about meeting people in real life that just cannot quite translate to meeting someone in a chat box. The anonymity and the dehumanizing effect of Grindr and any online chat forum can lead to brash, rude, and just plain offensive interactions pretty quickly. I also cannot quite shake the feeling that it feels a little bit like hiding – and with all the progress we have made (albeit Canada is a very progressive and safe place for gay men and some parts of the world are not so lucky), it feels almost wrong that we as a community are hiding behind our iPhone screens instead of being a visible presence in the community.
Apps like Grindr are similar to Tindr in straight culture. What are the differences and specificities of each?
Tinder and Grindr are quite similar, except for the level of privacy and control. On Tinder you have to have "matched" with the person (you both said you are interested in each other) in order to chat with them – Grindr on the other hand is a wide open space where you can send a message to anyone of your choosing. It is this anonymity and openness that often creates awkward situations and bold, brash, behaviour.
Can you speak to the social isolation that motivated this play? You mention your peer group but do you think it is universal in today's society, across all age groups?
Many of the interactions I have had on Grindr always go the same way – a few chats back and forth – a suggestion for a coffee – and then nothing. My experiences were mainly that no one was actually interested in meeting a real person. I have many friends who use Grindr strictly for sex – they are safe, open, and upfront about it – and they have more luck with actually making a connection. Perhaps I was just using Grindr wrong haha. It can lead to an addictive cycle though – I spent many late nights just scrolling through profiles hoping to find "Mr. Right" – when I could have actually gone out with some friends and met real people.

It is a hard question that I don't think we know the answer to yet. Are all of these technological advances – iPhones, hookup apps, chat rooms – doing more harm than good? It becomes even harder to predict when it comes to the gay community and Grindr. It CAN be a useful tool to meet other guys and chat in a safe environment. But on the other hand – are we actually creating real connections with people? Or merely walking around with our heads down hiding in an app instead of celebrating our community and creating lasting real relationships with other gay men.

A personal take on it – my boyfriend and I had actually chatted on Grindr for many years and never once met or created any real connection. We lost touch after a while and hadn't spoken in about a year. It is only after we met in the real world that we realized our attraction and mutual interests that we created an amazing, real, relationship.
Is there an ideal audience for Grid? What aspects are universal?
The show does deal with some pretty sexually explicit material, so anyone sensitive to that should probably stay away. Although the show is centred around the gay community – the themes explored are universal and will be relatable to anyone who has ever navigated the long, winding (and sometimes bumpy) road of love.
If someone was on-the-fence about coming, what would you tell them?
I would ask them when else are they going to see Cher, Iron Man, and a drag show all in one night!?
Questions I haven't asked you that it might be important to have an answer to?
The show is "Pay What You Think" – I am aiming to pack the houses both nights and I don't want ticket price to be a deterrent for anyone. Also, half of the box office revenue is going to be donated to a local LGBTQ charity. I believe in a strong and supportive queer community here in Victoria and I want the theatre I produce to represent that.
GRID-A One-Man Grindr Play by Jenson Kerr
December 8/9, 2015 at 8pm
Intrepid Theatre Club 2-1609 Blanshard Street (at Fisgard)
Tickets: "pay what you think" at the door with CASH ONLY.
50% of all box office revenue goes towards AIDS Vancouver Island.