We've been very fortunate this summer (2012) to have three Shakespeare companies mount shows for Victoria audiences.  For me, it's been a case of too much theatre, too little time. I missed the opening weekend of Keep It Simple Productions Henry IV Part One at the Metro Studio due to holiday plans, so when KIS Artistic Director David Christopher contacted me with a request to come and see the show and write a review I was happy to oblige.
Let me admit that I am no aficionado of Shakespeare – I've seen some of the comedies and a few of the tragedies and even studied them at school, but the histories (other than Richard III) are new to me.  I wanted to be prepared and headed to Spark's Notes for a synopsis (which I would highly recommend doing as it added significantly to my enjoyment of the action).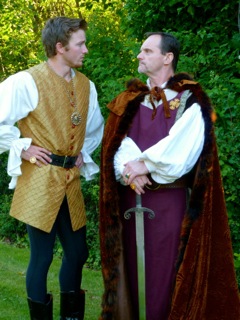 Ben Sutherland (Prince Harry) and Christopher Harris (King Henry IV). Photo by Paul J Gillan.
When I originally interviewed David Christopher in the spring, he said:
What's new about our company is that we're trying to do nothing new or innovative. Shakespeare is spectacular without spectacle and fantastic without innovation. We want to do it well – to stage professional level history plays. We hope to appeal to both an academic and entertainment audience.
The set is stark and the staging minimal – a few risers, chairs, the occasional table to indicate castles, inn, woods and battlefield. What I immediately noted was the incredible sound design by Mitch Cram creating the sense of foreboding that highlighted the opening sequence and was a portent of the action to come.  The stage fighting, choreographed by Andrew Axhorn, is equally impressive.
Using only a backdrop, and painting with simple lights, Karl Schoepp, Lighting Director, has managed to convey the transitions between the various scenes and acts with great care and artistry.
The costumes are rich and detailled; the actors inhabit them with grace and freedom giving free rein to their emotions and gestures.  They thrust and parry with ease, whether engaged in actual fighting or in verbal jousts and battles.
Avid theatre-goers will recognize many of the cast from UVic's Phoenix Theatre, Langham Court, St Luke's Players, Theatre Inconnu and Kate Rubin Studio, although Cameron Butt (in the dual roles of Lancaster and Glendower) is actually a Shakespeare scholar and a neophyte actor.
The running time has been trimmed to a taut two hours by Christopher.  Henry IV (Part One) has it all – honour, valour, love, treachery, intrigue – in worlds inhabited by heroes and rogues.  It's the timeless story of a king beset on all sides, struggling to maintain his kingdom, hoping his son will abandon his wastrel lifestyle and become the man he is meant to be.
There are many tender moments with strong female characters – Kate Harter counterbalances dual roles – a ribald and adventuresome Nell Poins and a much more subdued Lady Mortimer. In the latter role, her lilting and haunting Welsh lullaby to her husband serves as an all-too-brief interlude and counterpoint to all the male posturing. Amy Culliford (Lady Percy) stands imperious in her quiet and forceful entreaties to her liege lord.
Jo Barnes (Mistress Quigley, proprietor of the Boar's Head Pub), is, as her name suggests, lively of tongue and manner. Scenes at the pub with young Prince Hal (Ben Sutherland), Falstaff (Kevin Stinson), Bardolph (Brayden Reger), Poins and Peto (Lynne Yarmoshuk) provide bright contrasts to all the palace scheming.
It's hard to believe the young ages of many of the actors – their stage presence is commanding, language assured and characters fully realized.  Julian Cervello (Hotspur) is true to his name, plotting revolt and dashing about the stage; Ben Sutherland (Prince Hal) revels in drunken debauchery one moment, but finds his inner strength and transitions to his true royal role; Corin Wrigley (Blunt and Lord Mortimer) contrasts his roles easily, and is incredibly dashing as Mortimer.
The veterans dig deep – Christopher Harris (King Henry) by turns furious and tender; Kevin Stinson (Falstaff) twisting words and motivations to his benefit; Eric Grace (Worcester) maliciously plotting – a delightful villain. Andrew Axhorn (Douglas) is masterful in the battle sequences, and his Scots accent pleasing to the ear.
It is very evident that Director Wendy Merk, cast and crew have devoted countless hours of work to bring Henry IV to the stage.  If you have never seen a Shakespeare "history" before, I would highly recommend this production to you. It meets the criteria set by David Christopher – "to stage professional level history plays" – with ease.
I look forward to the next Keep it Simple Productions show – Henry V – at the Victoria Fringe Festival (details below).
Henry IV (Part One)
August 10th – August 18th, 8pm at the Metro Studio (corner of Quadra and Johnson).
Tickets $17.50, available through Ticket Rocket online, by phone or in person, or, at the door
Cast:
Amy Culliford – Lady Percy
Andrew Axhorn – Douglas
Ben Sutherland – Prince Hal
Brayden Reger – Bardolph
Cameron Butt – Lancaster, Glendower
Christopher Harris – King Henry
Corin Wrigley – Sir Walter Blunt, Mortimer
Eric Grace – Earl of Worcester
Jo Barnes – Hostess Quickly
Julian Cervello – Hotspur
Kate Harter – Nell Poins, Lady Mortimer
Kevin Stinson – Falstaff
Lynne Yarmoshuk – Peto
Mitch Barnes – Westmoreland and Northumberland
Creative Team:
Wendy Merk – Director
Michael King – Assistant Director
Gloria Snider- Stage Manager
Mitch Cram – Sound Director
Karl Schoepp – Lighting Director
Andrew Axhorn – Fight Choreographer
Upcoming: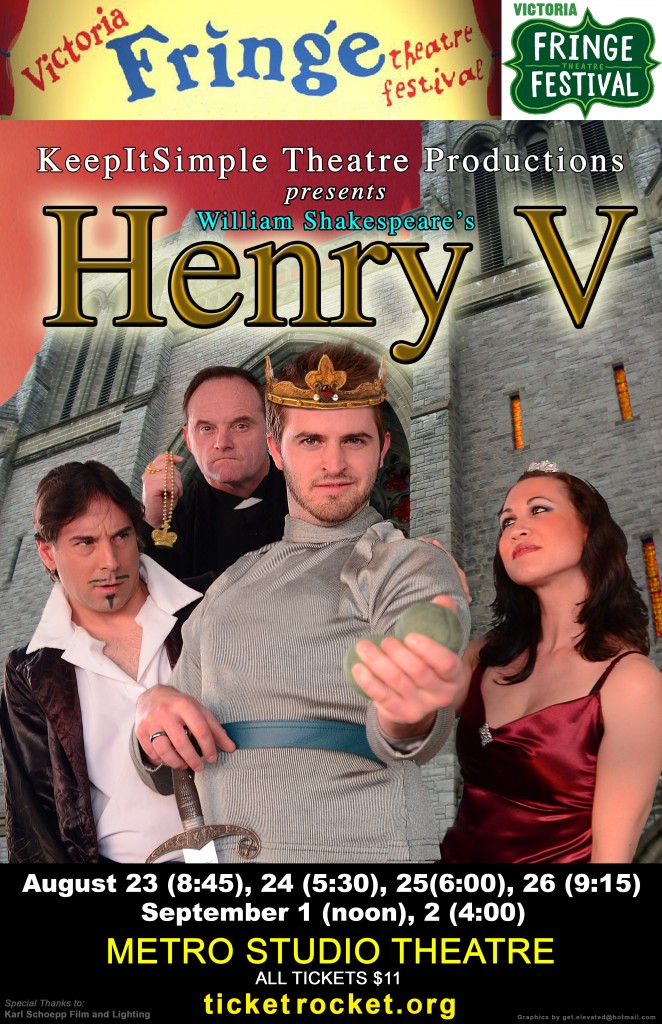 Henry V at the Victoria Fringe Festival
Metro Studio Theatre
August 23rd at 8:45pm
August 24th at 5:30pm
August 25th at 6:00pm
August 26th at 9:15pm
September 1st at noon
September 2nd at4:00pm
All tickets are $11 available through ticketrocket.org.
I was offered a free ticket to Henry IV, Part One, and asked to provide a review of the show. As always, I retain editorial control over all the content published on this blog.