Have you ever lived in another country, or had the experience of being "the other"?  I have – for six years in my twenties, I lived in France.  The sense of trying so hard to belong, while never truly fitting in remains strongly planted in my memory.
Canada is a multi-cultural country, but it is still a challenge for newcomers to integrate.  How do young people and teenagers cope?  The Victoria Refugee and Immigrant Centre Society (VIRCS) has an innovative program, the Enable Youth Theatre program, that allows youth an opportunity to give voice to their lives.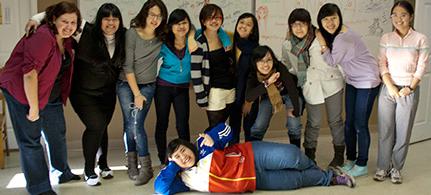 "In Transit" a Testament to the Resilience of Immigrant Youth

On March 17, the Victoria Immigrant and Refugee Centre Society (VIRCS) launched its third original theatre production, "In Transit," a striking new play created and performed by immigrant and refugee youth.

"I came to this country for freedom, but I'm trapped. Trapped between two worlds. That tears me apart," one of the young performers declares poignantly. This struggle to keep their home culture while adapting to Canada is something that all the performers deal with every day. These fearless youth, aged 13-18, share personal stories of gang violence, government oppression, the loss of family members, bullying, sexuality and struggles in school.

"In Transit" offers a rare chance to see inside the minds and hearts of newcomer youth. Their strength in the face of challenges in their home countries and in Canada is an inspiring testament to the resilience of youth and the universal human drive to find a home. All performances will be followed by an interactive discussion where the audience can delve deeper into the issues raised by these young performers.

The piece is filled with images, scenes and short skits that are brought to life with live music accompaniment. Each performance is followed by an open discussion session where you, audience members, get to engage with the youth about what the topics explored in the performance. This open dialogue provides feedback, awareness and a learning experience around issues such as racism, community inclusion, multiculturalism, immigration and diversity.

This new play is already riding on the success of last year's theatre project, "Where is Home?" It promises to be a deeply moving experience for performers and audience members alike.

Directed by Yasmine Kandil. Originally from Egypt, Yasmine came to Canada in 2003, working on a Masters in Fine Arts degree in Theatre Directing, and more recently a Doctor of Philosophy degree in Applied Theatre. This is Yasmine's third directing endeavour with VIRCS, and she is delighted to be collaborating with the young participants for yet another year of excitement and fun!

Music by Enrique Rivas and Youth.
Performance & Show times:
March 24th, 2012 @ the Intrepid Theatre Club
April 14th, 2012 @ the Belfry Arts Centre
Performances at 2pm and 7pm
Advance Ticket Purchasing Available
For Intrepid Theatre Club, book online: www.ticketrocket.org/event/
Or by phone: 250-590-6291
For the Belfry Arts Centre, book online: www.belfry.bc.ca/tickets/
Or by phone: 250-385-6815
Tickets are $12 or $8 for seniors/students
For more information contact:
Danny Tes, Enable Program Coordinator  at 250-361-9433 ext. 245 or enable@vircs.bc.ca.
Visit our website at www.vircsenabletheatre.com for the Theatre Project or www.vircs.bc.ca for information about our organization.
This project is supported by: The Government of Canada, The Province of British Columbia, The British Columbia Arts Council, the City of Victoria, the Fairfield Gonzales Community Association, Community Micro Lending and Saanich Parks & Recreation.