After an amazing fall and winter season of theatre, we enter spring and an incredible line-up of shows including the Intrepid Theatre 2012 Presenting Series, Theatre Inconnu's 2012 season opener, the YOU Show, SPARK Festival at the Belfry, the TD Performing Arts Festival with the Canadian College of Performing Arts, UNOFest, and the start of Blue Bridge Theatre's fourth year.
Paper Street Theatre brings improvised "film noir" to the stage, and Urban Arts Productions comes once again to the Maritime Museum.
I've itemized shows by month with a brief description, given the information I had as of the end of February. If you know about a production I've missed, please be sure to let me know.
Ongoing:
This is Twisted Theatre.  First Sunday of the month at the Victoria Event Centre. The brainchild of Theodore Sherman and Rod Peter Jr, featuring mostly sketch comedy.  March 4th experience This is Twisted Theatre IMPROV, Beyond Thunderdome.
Sin City Season Two: Carnies Tuesdays until April 17th at the Victoria Event Centre.  Live improvised soap opera featuring a fearless cast of talented well-known local performers. See my review here.  Even if you haven't attended up until now, there are plot synopses available on the Sin City  web site and at performances.
March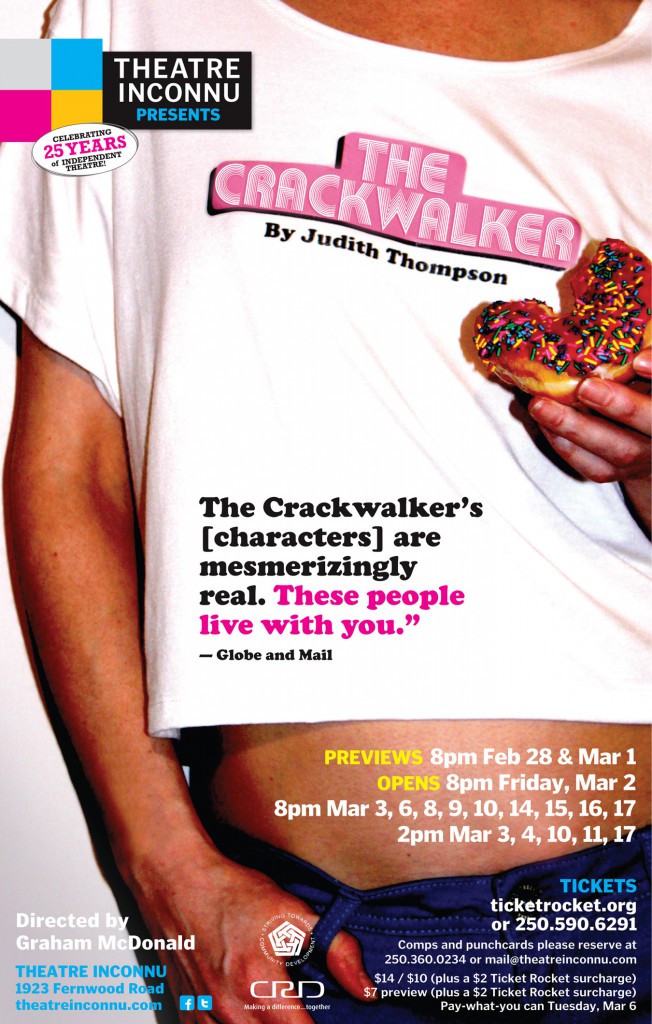 The Crackwalker by Judith Thompson at Theatre Inconnu March 2-17th.
UPDATE: See my review here: 
It's a pleasure to see Theatre Inconnu, Victoria's longest running alternative theatre company, present a complete season once again in 2012; bringing hard-hitting, and challenging contemporary pieces to the Victoria stage.
 Few plays have so honestly and empathically represented a level of social interaction that we as Canadians would rather ignore.  Thompson's four characters are lowlife misfits as far as respectable community is concerned, but their interaction demonstrates a symbiotic relationship that is every bit as rich and complicated as those in more "elevated" circles.  This is an exquisitely balanced piece of writing in which all characters equally drive the plot and equally share their lives with the audience.  While Thompson won her first Governor General's Award for a later play, this play – her first – is an achievement as impressive as anything that followed.

"The Crackwalker's [characters] are mesmerizingly real. These people live with you." —Globe and Mail

"Exudes vitality." —Toronto Star

"This play established a reputation for playwright Judith Thompson as a daring chronicler of the urban underclass." —Eye Weekly
Rabbit Hole by David Lindsay-Abaire Directed by Sylvia Rhodes   at Langham Court Theatre March 8 -24th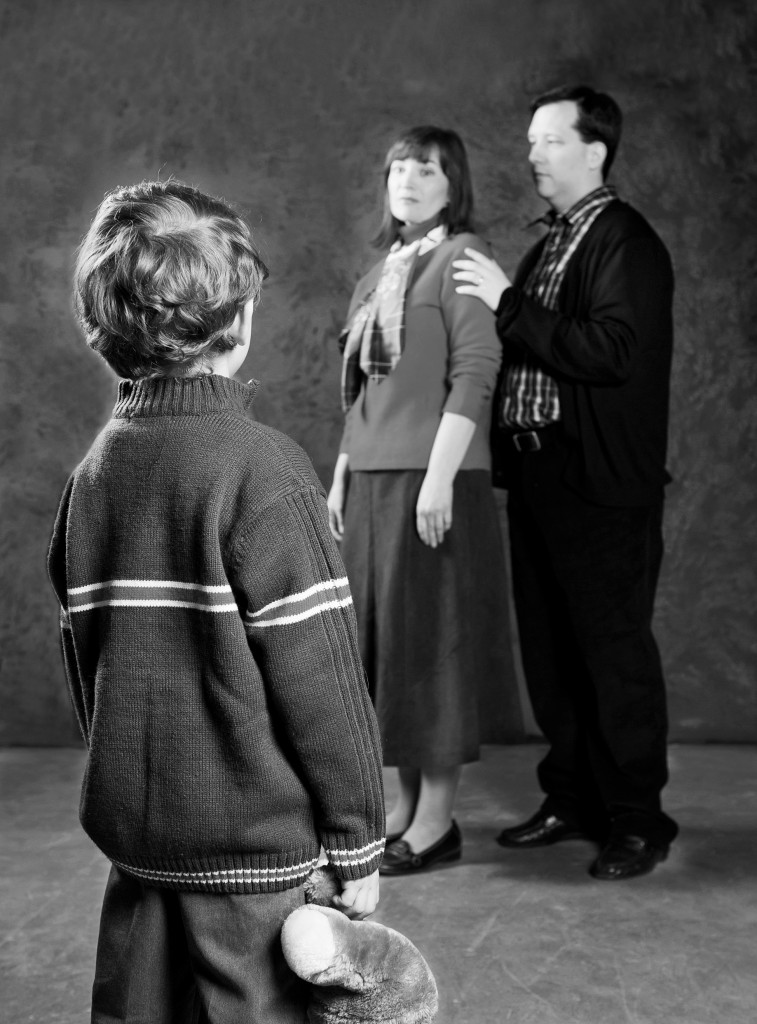 Lorene Cammiade as Becca,  Eric Holmgren as Howie. Photo: David Lowes
Langham Court celebrated 80 years of producing community theatre in 2009.  More recently they have tackled contemporary pieces that inspire dialogue and approach difficult themes, like The Laramie Project.  Rabbit Hole is another such play.
How can a family survive when the light of their lives has gone out? David Lindsay-Abaire's Pulitzer Prize-winning drama offers a view of personal tragedy that is at once mesmerizing and heart-wrenching, but full of compassion, humour and, finally, hope.
Script Tease at the Canadian College of Performing Arts March 10th. 
You'll want to be able to say "I saw their very first play" – talented newcomers present snippets of new works to an appreciative audience.
 "Script Tease", a component of CCPA's "Festival of New Works 2012" offers an opportunity for emerging playwrights to grow and develop their work with guidance from professionals. Support will also be offered from students of BC's top post-secondary performing arts college.

10 min plays will be selected from four separate categories:High Schools, General Public, First Nations, and Audience Choice from CCPA'S Emerging Artists Showcase. Once selected, each playwright will participate in Dramaturgy Sessions, initial readings, and revisions before their final works-in-progress are presented to an audience of their peers and community members.

Join the hunt for the next great playwrights of our time.
 The Wyf of Bath Scrumpy Productions and the YOU Show at Intrepid Theatre Club March 10th.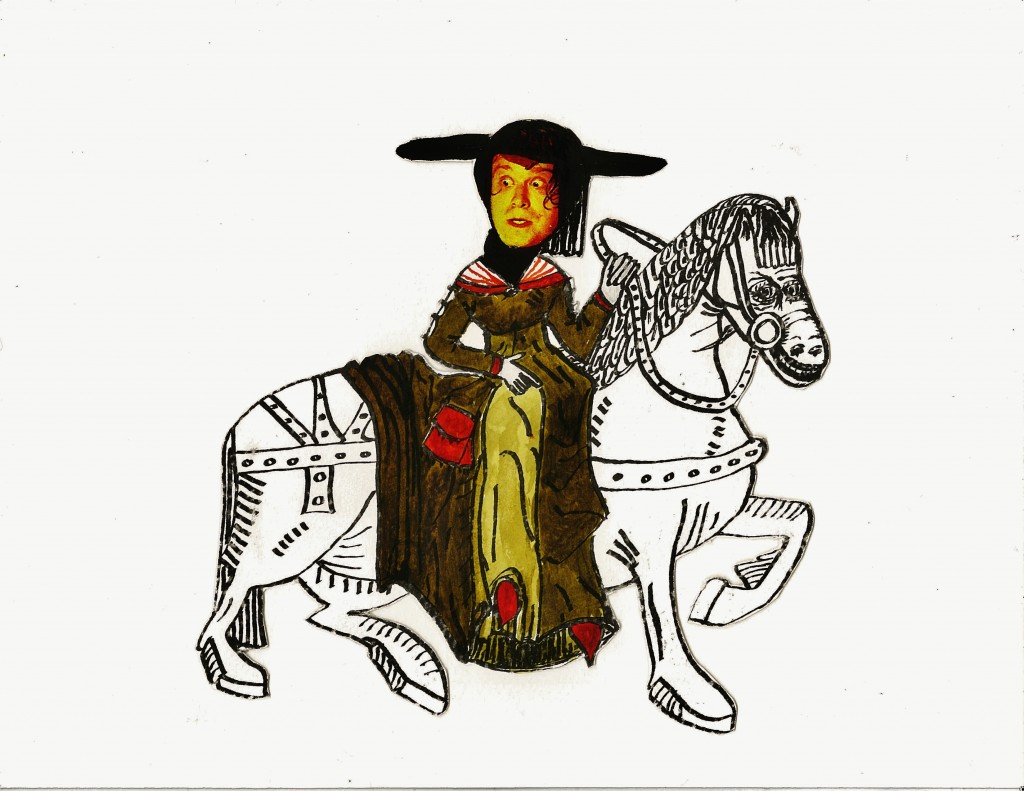 image provided
Julian Cervello's The Canterbury Cocktails, entirely in Middle English, was an unlikely hit at last year's Victoria Fringe Festival.  Who thought there were that many people who appreciated a unique take on Chaucer?  Now, Julian is back with another installment, focusing on the Wife (or Wyf) of Bath.  Cervello's physical presence and mime skills illuminate the text and draw out the meaning, even if you are not familiar with the story.  Presented as part of the YOU Show – Intrepid Theatre's gift to performing artists; a space to workshop new work.
 Of Chaucer's Canterbury Tales, none are more accessible than the Wife of Bath's. Performed entirely in its original Middle English, this raunchy and explicit yet deeply moving 600-year-old comedy about the life of a Medieval woman named Alisoun demonstrates how timeless the structure of a 'contemporary one woman show' really is. The original desperate housewife of the English theatre was written and acted by Chaucer himself, and she is still recognizable today.
SPARK Festival March 12-25th  Belfry Theatre
Now in it's 4th year the SPARK festival continues to grow. I've highlighted the main stage productions, but there are classes, workshops, readings and mini-plays (many of them free) as well.  If you are a theatre-going neophyte, and want to grow your audience muscle, this is the festival for you.
Goodness (Michael Redhill / Volcano, Toronto) part of the SPARK Festival at the Belfry Theatre March 13-18th
Winner, Best ofEdinburghAward, 2006
"Explosive… I doubt if there will be a more gripping theatrical experience…" The Independent,UK

"Extraordinary… one of the top ten shows of the past decade…a passionate, enthralling production, not to be missed."NOWMagazine

"Searingly intense… Knitted together via a series of role-playing flashbacks… with some spine-tingling choral singing derived fromSouth AfricaandEastern Europe, a serious and profound rumination on the weight of moral responsibility…" The Herald, Glasgow

"An incredibly moving piece of theatre… miss it at your peril" UK Theatre Net "

Why do good people rush to do evil? And what do they become?" A chance meeting in a bar sends a writer on a global journey to explore what it means to tell, or even know, the truth. A series of concentric stories, each enveloping each other, Goodness lifts the veil on genocide, the madness of humanity and how things are not always as they seem. Goodness has played Toronto, Edinburgh, New YorkandRwanda, stunning audiences at each theatre.
Kitt and Jane    Snafu Dance     Belfry   SPARK Festival March 14-18th        
I am not un-biased.  Ingrid Hansen, Kathleen Greenfield and Rod Peter Jr are a very talented trio of performers.  Kitt and Jane is the continuation in the saga of Kitt, last seen on stage in Little Orange Man at the Victoria Fringe Festival.  Here are my impressions.
Belfry Incubator Project 2012 – Premiere
"Kitt is the sort of girl that director Terry Gilliam might have dreamed up."CalgaryHerald

Fourteen-year-old social rejects (and possible geniuses) Kitt and Jane host an interactive survival guide to the post-apocalyptic future. Kitt & Jane is a sequel to their highly acclaimed production Little Orange Man, seen at the 2011 Victoria Fringe Festival, and is our 2012 Incubator Project.

SNAFU's work has been described as fresh and daring, provocative and engaging – and, at times, wonderfully silly.
AV Spring Caberet  Nosferatu presents: Digital Sunshine.  CCPA and Atomic Vaudeville March 15-17th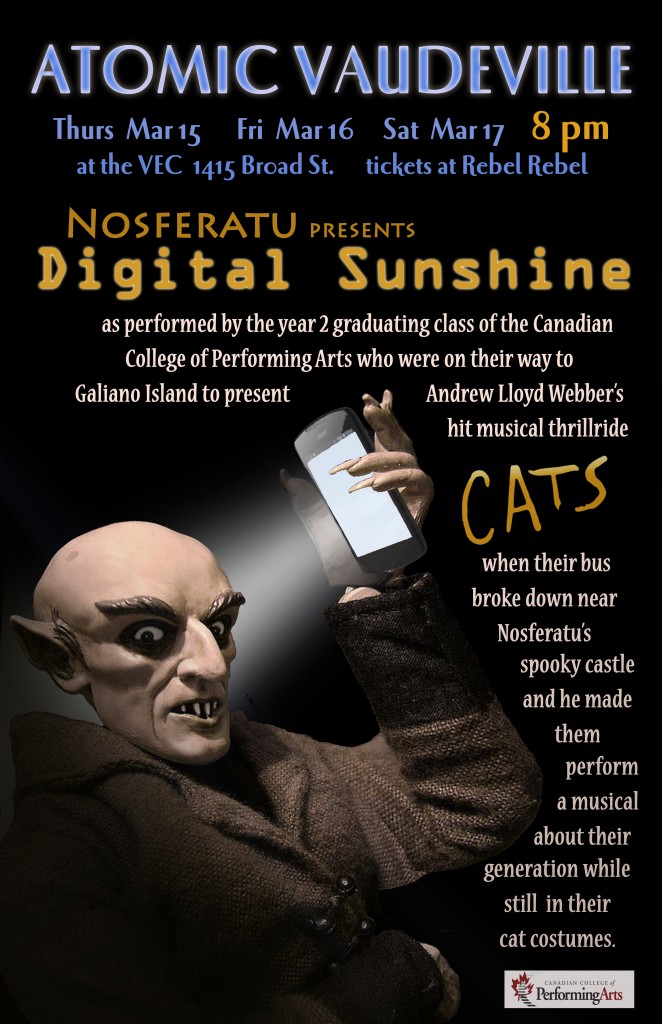 WOW! We've been waiting for this. There will be an incredible energy at the Victoria Event Centre for the first in what one can only hope will be many more cabarets combining the talents of students of the Canadian College of Performing Arts (CCPA) and the cast of the award-winning performance company Atomic Vaudeville. Be prepared for much craziness and hilarity
NOSFERATU presents DIGITAL SUNSHINE
(as performed by the year 2 graduating class of the Canadian College of Performing Arts who were on their way to Galiano Island to present Andrew Lloyd Webber's hit musical thrillride CATS when their bus broke down near Nosferatu's spooky castle and he made them perform a musical about their generation while still in their cat costumes.)
The Marowitz Hamlet Phoenix Theatre Marowitz directs March 15 – 24th
What an amazing coup for the Theatre Department of the University of Victoria to have the renowned director himself work with the students. We'll be talking about this production for many years to come. Thank you Phoenix Theatre for consistently taking chances in your work, to the benefit of Victoria audiences.  If you don't regularly attend "student" productions, I urge you to make an exception for what will be one of the highlights of the theatrical year.
What if one were to cut Shakespeare's masterpiece up into individual lines and piece it back together to tell the story anew? This would be a Marowitz play. Synonymous to a contemporary "mash-up," Marowitz doesn't re-write Shakespeare, but uses the existing lines to bring new insight and humour to speeches and characters' motives. Notorious for his Shakespearean collages, the acclaimed Broadway andWest Endplaywright, director, and critic presents his radical reinterpretation on thePhoenixmainstage. Marowitz has worked closely with the Royal Shakespeare Company, co-founded Encore Magazine and is a regular contributor to The New York Times, The London Times, Theater Week, and American Theatre.
Joséphina Compagnie Chaliwaté Intrepid Theatre 2012 Presenting Series   March 20th -21st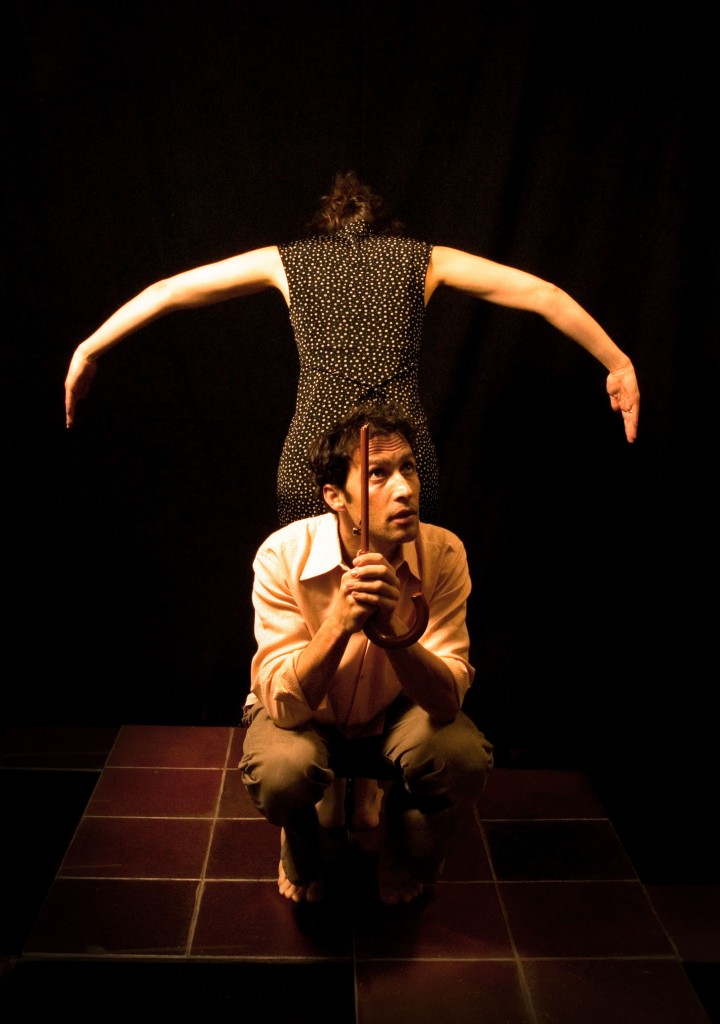 Joséphina (Sicaire Durieux and Sandrine Heyraud)
It's delightful when Fringe productions grow to become part of a regular season.  If you would like to begin to think outside the box in regards to theatrical enjoyment, don't miss Joséphina!  Thanks to Intrepid Theatre for searching beyone Canada for gems to present.
"The Chaliwaté Company combines verbal poetry and poetic movement that never ceases to surprise" (Voir, September 2008)

"A playful and poetic little jewel" all the way from Belgium, La Compagnie Chaliwaté's Joséphina is a shockingly beautiful, sexy, funny, and mysterious piece of physical theatre about Alfredo, a man alone, and the mysteriously absent woman whose memory infuses everything he touches.  This Amsterdam Fringe hit treads the line between reality and fantasy in a moving and mysterious story of obsession, love and loss.
Check for discounts on tickets if you are also a SPARK Festival pass holder.
Shayne Koyzcan  "When I was a Kid" Belfry SPARK Festival March 21st – 24th
You'll remember "We Are More" from the Olympics. Here's a chance to see Shayne Koyzcan up close and personal. It's sure to be a hot ticket.
 [vsw id="BQbQGn_rqTw" source="youtube" width="425″ height="344″ autoplay="no"]
 "There'll be comparisons aplenty -… Leonard Cohen,NickCave, John Cooper Clarke – but Koyczan is staking out his own literary acreage for himself. Koyczan employs a mysterious light touch to rip open your ribcage. Allow it." Esquire

"He makes you feel the depth of love, joy and pain in everyday life." The Guardian

"Electrifying… this is a writer who will break your heart then heal it." Val McDermid (The Grave Tattoo)

Accompanied by his band, The Short Story Long, Shane explores what it means to grow up – what we learn, what we forget, what we gain and what we give up. When I Was A Kid is a quest to rediscover our silliness and to embrace our wonder, to let go of our fear and spark our imaginations. Yes, he's the the poet from the 2010 Olympic Opening Ceremonies.

Hear Shane live once and you'll be hooked. He is humane, furious, sexy, political, tragic and so funny you'll be laughing through your tears.
Fish Eyes    Anita Majumdar  Belfry Theatre  SPARK Festival March 21st-25th
Image provided
"Seriously funny" Toronto Star

"Deliriously Canadian… always buoyant… I defy you not to laugh" Georgia Straight

Fish Eyes, complete with Bollywood dance moves, will have you laughing. Anita's piece tackles imperialism and cultural misappropriation with a sly wink as she struggles to find herself and her cultural identity. This comedic "east meets west" story celebrates the joy of youth and heritage.
L'Orchestre d'Hommes-Orchestres      Tom Waits Intrepid Theatre 2012 Presenting Series March 25th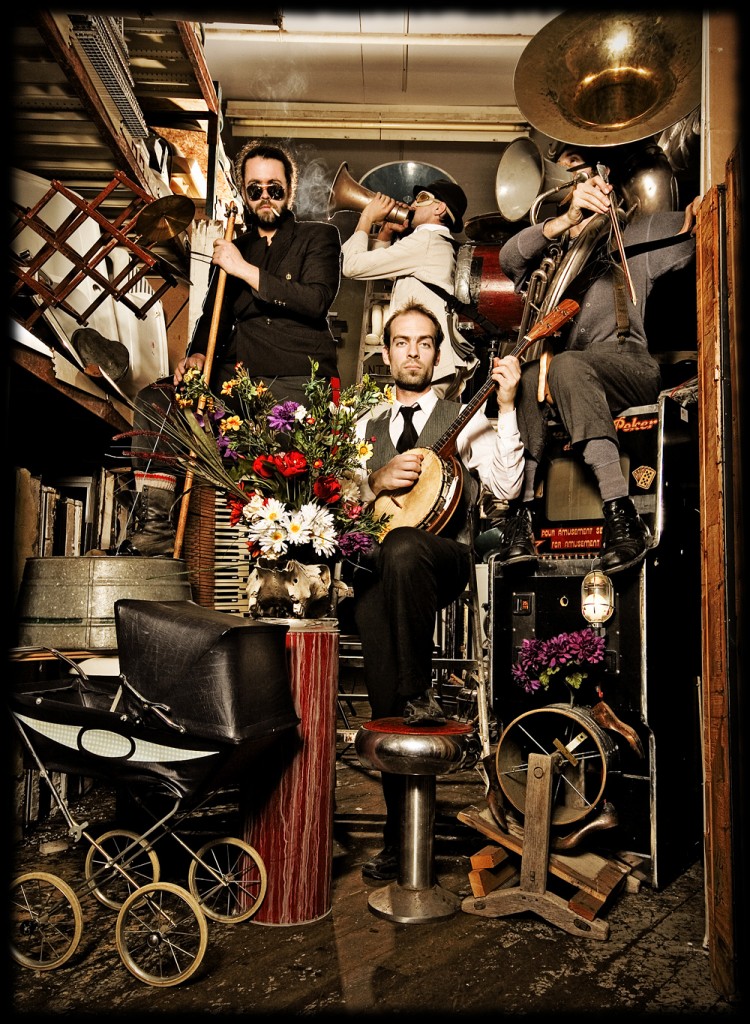 One Man Band Band. Photo: Guillaume D Cyr
It will be an unbelievable evening of virtuosity.
[vsw id="ZiFRaYUK2p0″ source="youtube" width="425″ height="344″ autoplay="no"]
A powerful tribute to the world of Tom Waits, in which six frenzied musicians use nearly 100 objects and invented instruments – from teacups to turkey-basters – to create madcap scenes of unbridled energy. This is more of a carnival show or musical circus than just a concert. Believe us, you've never seen Tom Waits performed like this before.

"A grandiose spectacle of audacity and multidisciplinary magic." – Voir Estrie

"L'Orchestre d'Hommes-Orchestre's highly theatrical experimental exploration into Waits' madcap music stylings ain't nothing but a rollickin' good time." – Avenue Magazine Calgary
Paper Street Theatre Improvised Film Noir   March 29th – 31st at the Intrepid Theatre Club.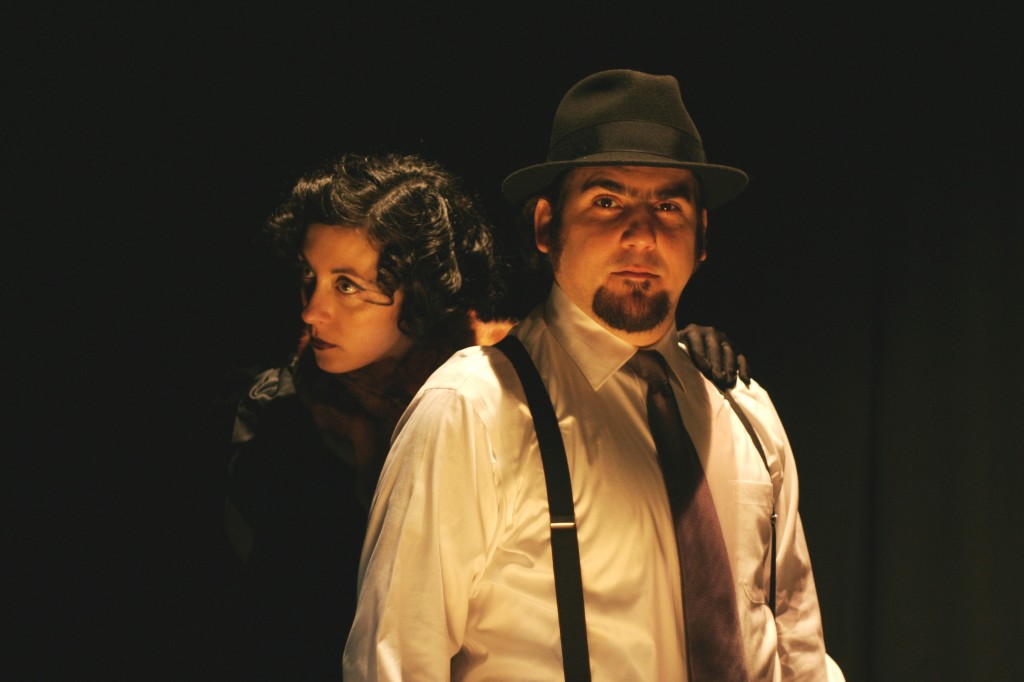 Missie Peters & Dave Morris  Photo: Steven Ray Orr used with permission
I love film noir and one winter watched all the old classics while doing research for a new project. It will be interesting to see what the company at Paper Street Theatre improvises for us!  Their two previous shows, An Improvised Tennessee Williams, and An Improvised Beckett were masterful demonstrations of trust and ability.
CCPA performs with the Victoria Symphony March 30 to April 
The Canadian College of Performing Arts has become a recurring part of the Symphony's  programming with their crowd-pleasing Broadway hits.
 Back by Popular Demand! Two of BC's greatest performing arts institutions together for three amazing performances of music, song and dance from the best of Broadway.Victoria's Royal Theatre: Get tickets early!
April
Mad Actress    Marina Lagacé Intrepid Theatre Club The You Show April 21st
Marina appears regularly on Victoria stages, most recently in Love Kills, a Theatre Inconnu  and Phoenix Theatre Focus on Alumni production, and Blue Bridge Theatre's Fire.
An intimate look into the private life of a performer; one who struggles to distinguish between fantasy and reality, with an inclination towards madness.
1959 Pink Thunderbird Langham Court Written by James McLure Directed by Paul Terry, Heather Jarvie April 26th to May 12th
 Two One Act Plays in One!

Lone Star
Outside a small townTexas bar,Roy regales his brother, Ray, with stories about his three loves: his country, his wife, and his beloved 1959 pink Thunderbird convertible.

Laundry and Bourbon
Bourbon and gossip flow freely whileElizabeth waits for her wayward husband, Roy, with friends Hattie and Amy Lee. As the bottle empties, past indiscretions and present fears bubble to the surface.
God of Carnage by Yasmina Reza at the Belfry Theatre April 27th to May 20th        
With the release of the film version, Carnage,  God of Carnage is top of mind. Here's the perfect opportunity, if you are so inclined, to contrast the film and play.  Yasmina Reza is a French playwright who has successfully bridged her work to English-language audiences.
 "Hilarious… crackling wit and raucous physical comedy… it's perfect." Newcity, New York

"Evenings in the theater don't get any funnier than… Yasmina Reza's romp through the weed-filled garden of modern marriage…" The Record, New York

"There's much to be said for intelligent entertainment, and God of Carnage fills that bill with more than enough room to spare." Wall Street Journal, New York

"A triumph!" Daily Express

"Never underestimate the pleasure of watching really good actors behaving terribly." The New York Times

"A brutally comic dissection of bourgeois values… she [Reza] holds the mirror up to bourgeois hypocrisy with the savage indignation of a born satirist." The Guardian

2009 Tony Award for Best Play

A comedy of manners, without the manners. From the author of Art, this Tony and Olivier Award-winning play begins as two power couples meet to amicably resolve a playground fight between their sons. Lines are drawn, allegiances are made and broken, and the evening quickly turns into a laugh-out-loud train wreck, served up with clafouti and espresso.
Footloose CCPA the TD Festival of the Performing Arts April 27-28th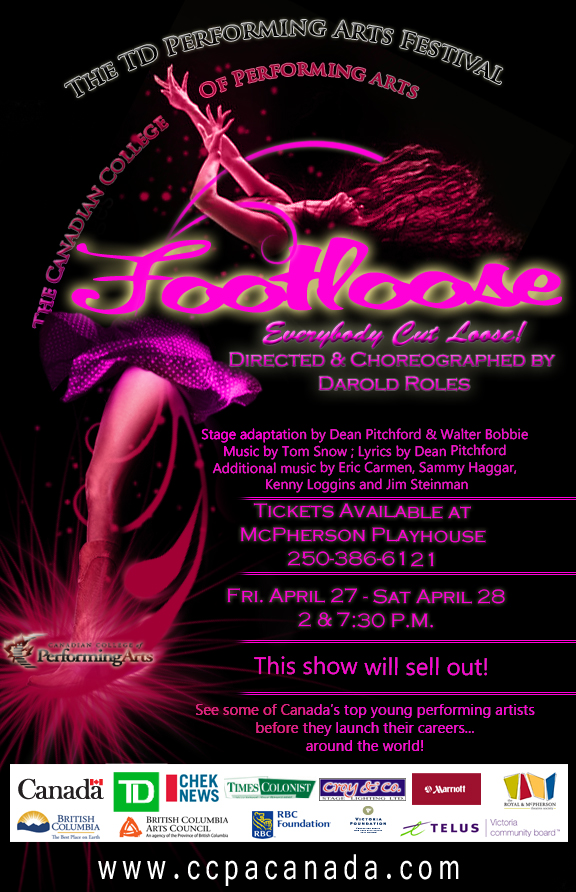 The ever-popular end-of-year production from the Canadian College of Performing Arts is an audience-pleasing spectacle of Broadway classics.  It is well advised to get tickets early as CCPA has a very loyal following.
 CCPA is offeringVictoria audiences an opportunity to cut loose with modern pop anthems, reminisce with some classic characters and revel in dancing that will burn up the floor.

While the story line and some of the songs are definitely consistent with the classic 80s movie and recent remake (they've kept all the classic hum-along pop hits), there are several fresh new songs helping to propel the story forward.  Some of the key characters are further developed in the musical.

"We're going to show audiences why CCPA has some of the hottest triple-threat talent inCanada", says Roles. "We also want audiences to engage in these great characters. At the heart of this pop-infused musical are characters that we ultimately care about as they come to terms with important losses in their life".
May

The Romantics by Andrew Wade Intrepid Theatre Club the You Show May 12th
Audience participation is crucial to the development of new work. It's one way for a playwright and actors to measure the effect of their words.  If you have never participated in a staged reading before, here's your chance.
A script-in-hand staged reading of Andrew's first full-length, two act play, The Romantics.  Andrew is becoming a well know local Fringe performer and this script won the Vancouver Young Playwrights award. This presentation will be the first time the public will see the work and feed back is welcome after the reading.
Shirley Valentine by Willy Russell with Nicola Cavendish, directed by Roy Surette,  Blue Bridge Theatre May 15 – 20th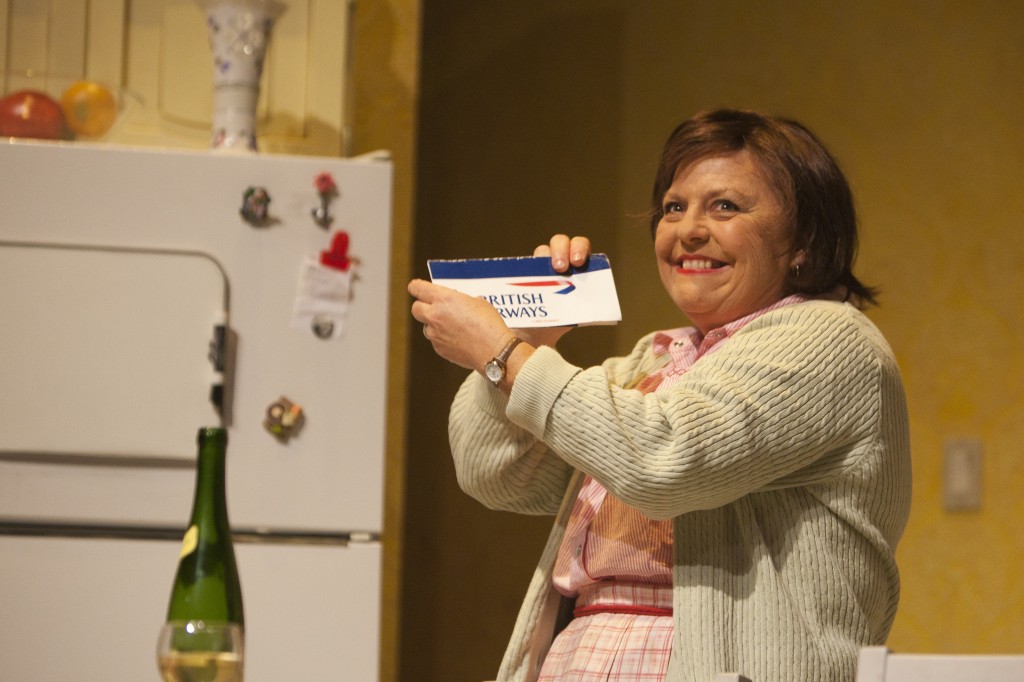 Nicola Cavendish in Shirley Valentine. Photo: Barbara Zimonick.
I still remember, from many years ago, Nicola Cavendish onstage frying her dinner whilst delivering her monologue. I can smell the odours, and imagine the familiar space of the theatre transformed into her Liverpool kitchen.  Shirley Valentine is her signature piece with over 6oo performances to date.
Cavendish displays a generosity of spirit in her roles, and is a delight to watch.  Don't miss this return.
Shirley Bradshaw (nee Valentine) is a middle-aged, Liverpoolhousewife who is trapped in an unhappy marriage, taken advantage of by her children and ignored by pretty much everyone.

When her best friend wins a trip for two  to Greece, she jumps at the chance to escape.

With wit and a colourful vocabulary, Shirley commits subtle anarchy and embarks on the adventure of a lifetime. This heartwarming and inspiring comedy proves it's never too late to live the life of your dreams.
The Secret Garden Urban Arts Productions May 23th – June 3rd
Congratulations to Urban Arts Productions on their second season.  It takes courage and tenacity to start a theatre company today.  These young artists chose not to wait for someone else, and have partnered very successfully with the Maritime Museum of BC, using this historic space to great advantage.  The Secret Garden is a family-friendly show.
 A dark spell of sorrow and mystery hovers in the air as the young orphan, Mary Lennox, arrives at Misselthwaite Manor. Mary comes upon a secret walled garden, locked up and shut away from the outside world for over ten years. Inside the manor, another secret lurks. At night, strange, haunting sounds echo down the empty corridors – is it the wind howling or a child crying? This mystery is so deep that is will take all Mary's determination and courage to solve it.
Uno Fest Intrepid Theatre May 24th – June 3rd
The line-up for Uno Fest will be released in April. Stay tuned for more details.  A celebration of the solo performer.
 Live! 10 days of brilliant solo works: comedy, drama, spoken word, dance, new media and physical theatre.

North America's longest-running solo performance festival returns for a 15th year, featuring great one-person shows from acrossCanadaand beyond. Catch your Fringe favourites, local emerging talents and world renowned solo artists over ten days in two live theatre venues. Plus, don't miss a range of theatre workshops for professionals and emerging artists.