Jocasta Regina by Nancy Huston at Theatre Inconnu May 2-20, 2017. A review.
Wendy Magahay (Jocasta) and Monty Bjornson (Oedipus) light up the stage with their sexy frolicking in Jocasta Regina, Nancy Huston's female-centric retelling of the Oedipus myth, currently at Theatre Inconnu until May 20th.  Not in recent memory has there been such a passionate, believable, down-to-earth depiction of a fervent long-term loving marriage. The fact that Jocasta is entering menopause while Oedipus is still in his prime has not slowed their frank ardour—director Clayton Jevne has drawn incredibly realistic performances from this pair of accomplished and fearless actors.
Backed by tight performances from Geli Bartlett as Eudoxia the nurse, Autumn Antonsen and Amber Landry as daughters Ismene and Antigone and Catriona Black as Coryphaeus, the androgynous leader of the Greek chorus, Jocasta Regina resonates with crackling intelligence.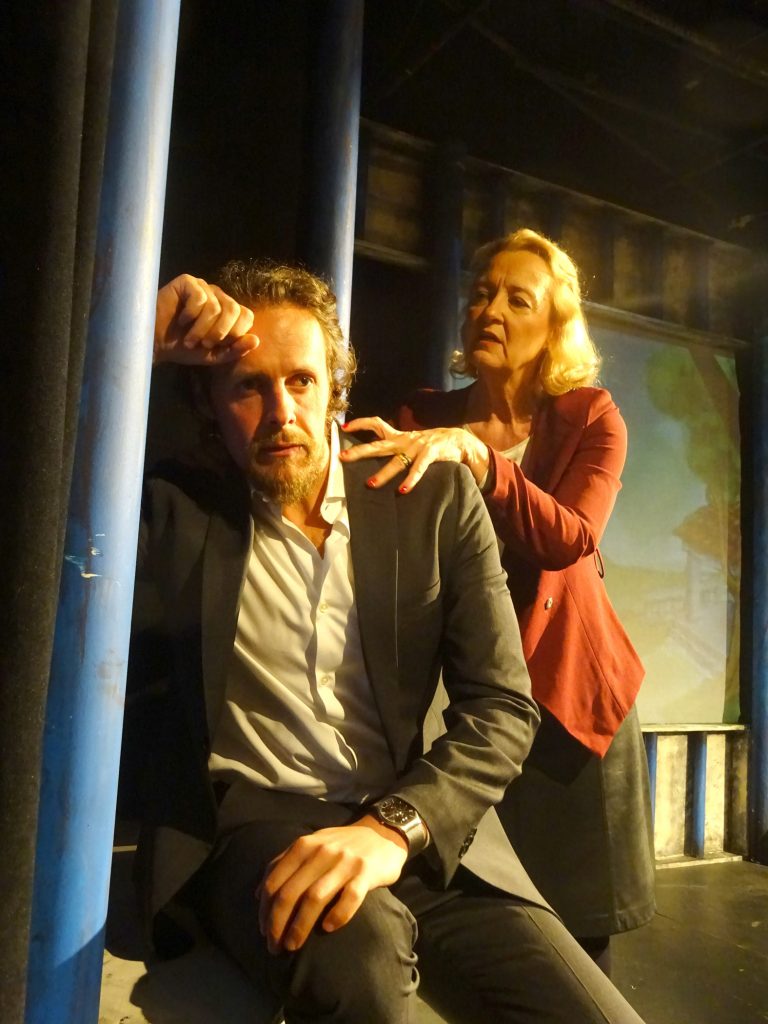 Montgomery Bjornson as Oedipus and Wendy Magahay as Jocasta
Huston's academic rigour (she was a student of famed French theorist Roland Barthes) is evident in the text, originally written in French and translated by Huston herself.  Long passages of exposition provide much of the back story and serve as counterpoint to familial wrangling—Antonsen and Landry adeptly convey the tensions between two very different daughters—Ismene, the model of compliant young women and Antigone, the tomboy who yearns for the freedom offered men. (In this version, although they are mentioned, the sons are never seen onstage).
Expanding the narrative beyond the confines of men's battles, Jocasta Regina navigates territory familiar to women—maternal love, the exigencies of the female body, housekeeping duties.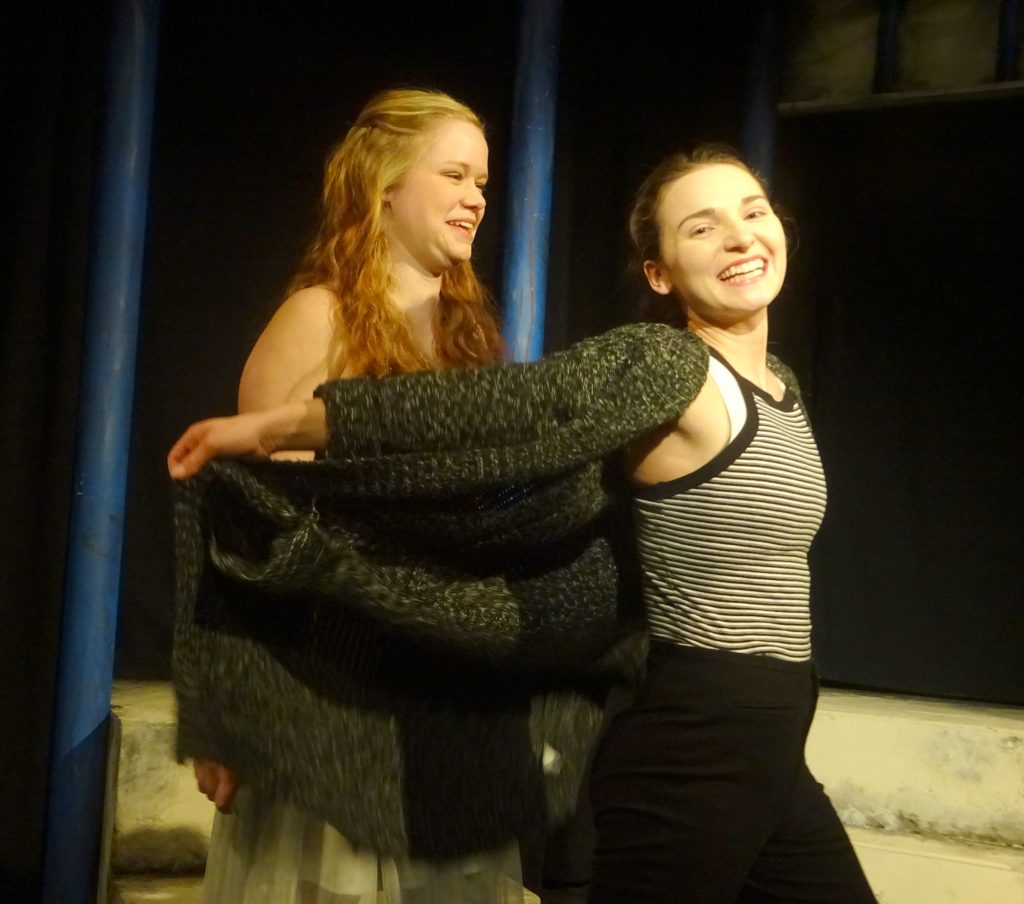 Autumn Antonsen as Ismene and Amber Landry as Antigone
Black excels (and provides much-needed comedic relief) as the all-seeing narrator Coryphaeus who does not hesitate to ask the hard questions—how could Jocasta not see the scars on Oedipus' feet?; why did Jocasta and Oedipus never have a conversation about the day her first husband was killed?  She jabs and needles and worries away like a terrier after a bone, strolling the aisles and calling out to the audience.  This insistence on pointing out willful blindness is key. What will we do for love?  To whom do we owe our loyalty? How closely will we hew to the roles society has laid out for us?
Oedipus cannot break free—bound by tradition, he marches dutifully down a path bound for disappointment and tragedy. Bjornson's portrayal of this downfall is sobering—his Oedipus reduced to a horrified, slobbering mess as the entire framework of his existence cracks, revealing nothingness. As he slithers across the stage to escape the clutches of a frantic wife, the couple fall into a furious and physical battle, at the heart of which is not only their relationship, but the very city they command, in a scene that was, quite simply, magnificent in its despair, creating a theatrical moment to remember.
Under Clayton Jevne's audacious and keen direction, the cast leaves no corner unexplored in this highly intellectual and stylized play, which has the audience hoping to the very end for a different outcome.
Jevne's simple set recreates the elegance of Greek architecture with columns, archways and a wide window, backed by Robert Randall's gorgeous and evocative paintings of the countryside.  Coryphaeus' first appearance, backlit through this window, almost as if a ghost, is startling. Costumes (Clara Van Horn-Foy) are firmly modern, making the central dilemma all the more uncomfortable for its immediacy. Music (also Jevne) is melancholic, at times almost funereal.
Jocasta Regina demands much of its audience, something we've come to expect from Theatre Inconnu—it's a treat to have bold writing that challenges frameworks and pre-defined notions, boldly interpreted by excellent thespians with assured direction.
This is a story about love: the love of a mother and the love of a wife. And how one woman – Queen Jocasta – must do all she can to bury the secret that threatens to destroy that love. Through a modern retelling of the classic Oedipus story – from Queen Jocasta's perspective – Governor General Award winner Nancy Huston succeeds brilliantly in challenging the norms of moral authority. In a fight to preserve the life she cherishes, Jocasta is prepared to accept the "unacceptable," encouraging us to question our own traditional notions of right and wrong. Jocasta Regina is a play that celebrates our human need for joy, passion, and love, but above all, it is a play that begs for a societal return to rational thought.

"Enhanced by refreshingly ironic commentary…the story has been deconstructed,
reshaped and widened." Montreal Gazette (2013)
Jocasta Regina by Nancy Huston, directed by Clayton Jevne
Theatre Inconnu, Paul Phillips Hall, 1923 Fernwood Road
May 2-20, 2017
$14/$10 (seniors, students, unwaged); Wednesday May 10th is Pay What You Can
Tickets via Ticket Rocket online or by phone 250 590 6291 ($2.50 surcharge); or directly through Theatre Inconnu by phone 250 360 0234 or email tinconnu@islandnet.com  (please do not reserve through Facebook)
Directed by Clayton Jevne
Costumes by Clara Van Horn-Foy
Stage Managed by Jessical Alford
Cast (alphabetically):
Autumn Antonsen as Ismene
Geli Bartlett as Eudoxia
Montgomery Bjornson as Oedipus
Catriona Black as Coryphaeus
Amber Landry as Antigone
Wendy Magahay as Jocasta.
Preview: May 2 @ 8pm
8pm shows: May 4, 5, 6, 10, 11, 12, 13, 17, 18, 19, 20
2pm show: May 6, 13, 20
Complimentary tickets, special needs seating, and subscribers: reserve directly through Theatre Inconnu.
The show is about 2 hours long, including one intermission.
Further reading:
http://modernlanguages.sas.ac.uk/centre-study-contemporary-womens-writing/languages/french/nancy-huston
http://auteurs.contemporain.info/doku.php/auteurs/nancy_huston
Disclaimer: I received a complimentary ticket to attend Jocasta Regina.