Warning
: Undefined array key "width" in
/home/janislac/public_html/wp-includes/media.php
on line
1622
Warning
: Undefined array key "height" in
/home/janislac/public_html/wp-includes/media.php
on line
1623
Falstaff by Clayton Jevne at Theatre Inconnu – a review.
Clayton Jevne of Victoria's Theatre Inconnu is a true master of the solo show. Since his signature piece, Hamlet, was first produced in 1991, he has gone on to perform it over 600 times, most recently in the summer of 2011. Other solo works include Moscow Stations (2011), Diary of a Madman and Dream of a Ridiculous Man (2008) and A Christmas Carol (performed regularly since 1997).
His latest adaptation, a world premiere of Falstaff, takes the text of Robert Nye's expansive, 464 page, Guardian Prize winning novel, and condenses it to a tight and captivating 2 hour storytelling extravaganza.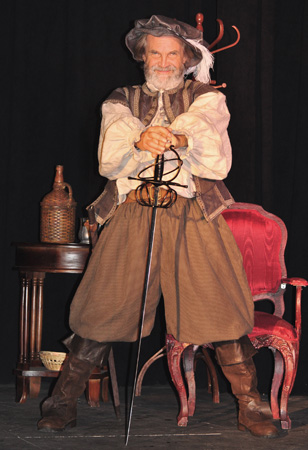 Photo provided
Falstaff is a rogue, a larger than life braggart who appears in Shakespeare's Merry Wives of Windsor, and Henry IV (part one and two). He's the quintessential fat man, and the butt of many jokes.  His character even inspired an opera. Verdi's Falstaff is being presented by Pacific Opera Victoria this October.
Jevne worked for over a decade to obtain the performance rights to Falstaff, and in the time it took to do so, the actor he had ear-marked for the role, John Cope, passed away. Not to be deterred, Jevne took his place.
Jevne's approach to Hamlet – it should be accessible to viewers without previous knowledge of the play – holds true for Falstaff as well.  I've had the opportunity over the last 2 years to see Henry IV part one and part two (Keep it Simple Theatre) and Merry Wives of Windsor (Greater Victoria Shakespeare Festival) and was thus familiar with many of the references in this script, but audience members who aren't will find extensive program notes to assist them if they wish to read-up beforehand.
Jevne commands the stage from the moment the lights go up. Clad in linen night shirt, with back turned, Falstaff begins to confess all, and set the record straight.
From his conception, to birth in a family with humble but proud origins, to the sweep of Black Death through the countryside, Jevne paints picture after licentious picture of life in the Middle Ages.  It's dirty (in more ways than one), grimy and rowdy. As for smutty – modern novelists have nothing to teach the denizens of this epoch.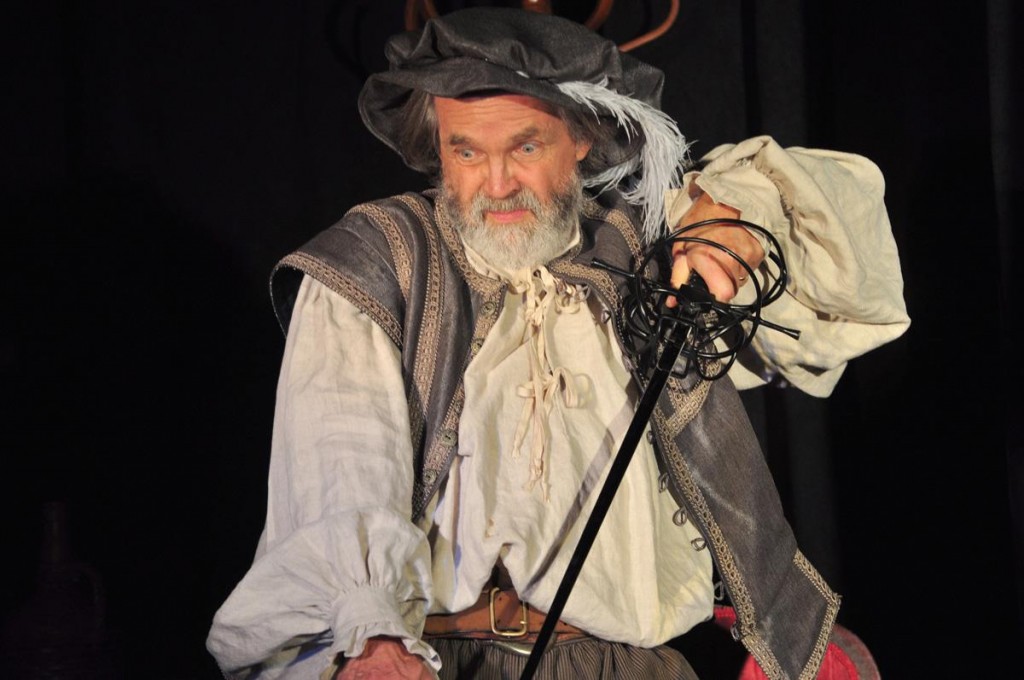 Photo provided
With little more than sly rascally wit, a grin and a glint in his eye, Jevne's impish characterization takes hold of our imaginations, and whisks us back over 600 years.  Listening to him weave the tale of the Battle of Agincourt, made famous in the St Crispin's Day speech from Henry IV, I can fairly believe myself to be seated on a hillock overlooking the field of battle. Sexual escapades are recounted in great joyous detail – the program advisory is well-warranted – with a wonderful appreciation for the many experiences of a life well-lived.
This comprehensive portrayal is a mesmerizing delight for lovers of story-telling, the solo show and Shakespeare.
With nothing more than a table, chair and sword, and clad in Margaret McKea's beautifully designed finery, Jevne illuminates hidden corners of Shakespeare's greatest rogue.
Falstaff
Directed and performed by Clayton Jevne
Costume by Margaret McKea
Previews: 8pm: Oct 1, Oct 3
Then: 8pm: Oct 4, 5, 9, 10, 11, 12, 16, 17, 18, 19
2pm:  Oct 5, 6, 12, 13, 19
Regular priced tickets are $14 / $10 Students, Seniors, and the unwaged
Previews (Oct 1 & 3) are $7. Wed Oct 9 is pay-what-you-can
Tickets & Reservations
Through TICKET ROCKET: Get your tickets online, over the phone, or in person. 250-590-6291 (price will include a $2 Ticket Rocket surcharge)
Or
Reserve through THEATRE INCONNU: Leave information on answering service  at 250-260-0234 or reply to this email.
Subscribers and complimentary admissions: please reserve directly through:
Theatre Inconnu at 250-360-0234.
Tickets purchased at the door must be paid for by cash or cheque
Disclaimer: I was provided with complimentary tickets to Falstaff for the purposes of writing a review. As always, I retain full editorial control over all content published on my blog.