Judy, the Judy Garland Story, written by gifted Canadian playwright Paul Ledoux in 1980, continues to fascinate.
"Judy Garland said she wanted to give her audiences blood", declares Tracey Moore of her role in Blue Bridge Repertory Theatre's upcoming summer production (July 15-27). "She was brilliant in her ability to present her bare heart—and people loved her for it. Today's musical environment presents us with stylized sound bites but doesn't dare go to the place that is dangerous".
Moore appeared, as Judy, in the Victoria Pride Parade recently and was overwhelmed by participants' reaction "the love that was there for Judy, the person, was amazing".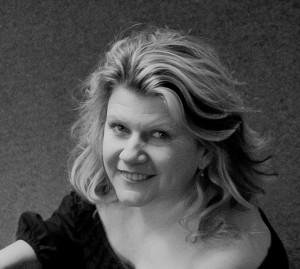 Speaking to the popularity of the one-person musical extravaganza (The Buddy Holly Story, Hank Williams—the Show He Never Gave, A Closer Walk with Patsy Cline—all extremely popular shows presented by Blue Bridge), Moore believes that "certain performers resonate a particular human condition that is a note for the era, and our human psyche hears that and responds.  Marilyn Monroe was the vulnerable sex goddess, Garland—the little girl lost; plucky and able to overcome everything".
Moore, who admits to being a "real prepare" actress, has accepted the challenge of stepping into a role late in the rehearsal process (Sarah-Jeanne Hosie was originally slated but became ill), trusting the "instrument"—her body and voice—and being completely in the present.  Professionally she is not only an accomplished voice-over artist with credits in Strawberry Shortcake, the Care Bears and Sailor Moon, but also a jazz singer—well versed in performing with a live band.  More recently, Victoria audiences will remember her for roles in Lágrimas Crueles (Blue Bridge), Home is a Beautiful Word and Helen's  Necklace (Belfry Theatre).
Ledoux has taken a collection of vignettes and the circumstances of Garland's life—complete with musical stylings from the different periods— to produce Judy! "There are 26 songs, and the audience will know every one" states Moore.
Co-musical directors are well-known Victoria pianist Jan Stirling and Al Vance who has also created all the orchestrations. They are joined by Damian Graham on drums, Brendan McGuigan on bass, Kiaran McMillan on brass, strings and guitar and Matt Mclean on trumpet and synthesizer. "It's auditory sculpting. The sense of longing and a yearning is not what we hear in music any more.  I miss it" says Moore.
Moore creates the illusion of being Judy by applying make-up and costume on stage. At that point, as the audience we are "all on the same dream, all in the same illusion.  The material and the augmentations inform you and you fill it in", she says.
Today's fans would judge Garland in a very different fashion, Moore believes. "She innocently became addicted (to "diet" pills) in order to do the work that people loved her for."
Judy! The Judy Garland Story is "entertainment from the heart. Audiences will hear all their favourite hits, done the way she did it.  It's lovely to get back to that point of reference."
Other members of the creative team include director Brian Richmond, choreographer Sylvia Hosie, set and costume designer Patricia O'Reilly, lighting designer Brian Kenney.
Judy! The Judy Garland Story
July 13-27, 2014
Blue Bridge Repertory Theatre at the Roxy (2657 Quadra Street)
Tickets $26.25-$42 through Ticket Rocket online, in person or by phone 250 590 6291
Ample free parking in QuadraVillage. Valet service available.