Judy! The Judy Garland Story currently playing at Blue Bridge at the Roxy (July 15-27) is an exuberant retrospective covering the beloved star's career from child vaudevillian to tragedy-laden adulthood.
Written in 1980 by pre-eminent Canadian playwright Paul Ledoux, Judy! has been produced a dozen times on stages across Canada since its debut at Stages Theatre in Halifax, and it's easy to see why with its infectious rhythms and stories that give us glimpses of the reality behind the glamour.
Described on Ledoux's website as a "musical biography", Judy! The Judy Garland Story ties together vignettes from the singer's life with a plethora (26 in total) of songs from all periods of her career.
Set on a small regional stage—for which The Roxy doubles marvellously—designed by Patricia Reilly (who also created costumes) and featuring a behind the scenes view of the star (Tracey Moore) backstage preparing for her show—Judy! offers an incredible retrospective and is a definite crowd-pleaser.
Moore, first seen onstage at Blue Bridge as Flora in Làgrimas Crueles (Cruel Tears), is gifted with a beautiful voice, capable of morphing from energizer-bunny youngster to bitter and disillusioned adult, who somehow, through it all, remains unvanquished.  "I sing for MY pleasure!" she screams in one particularly poignant scene.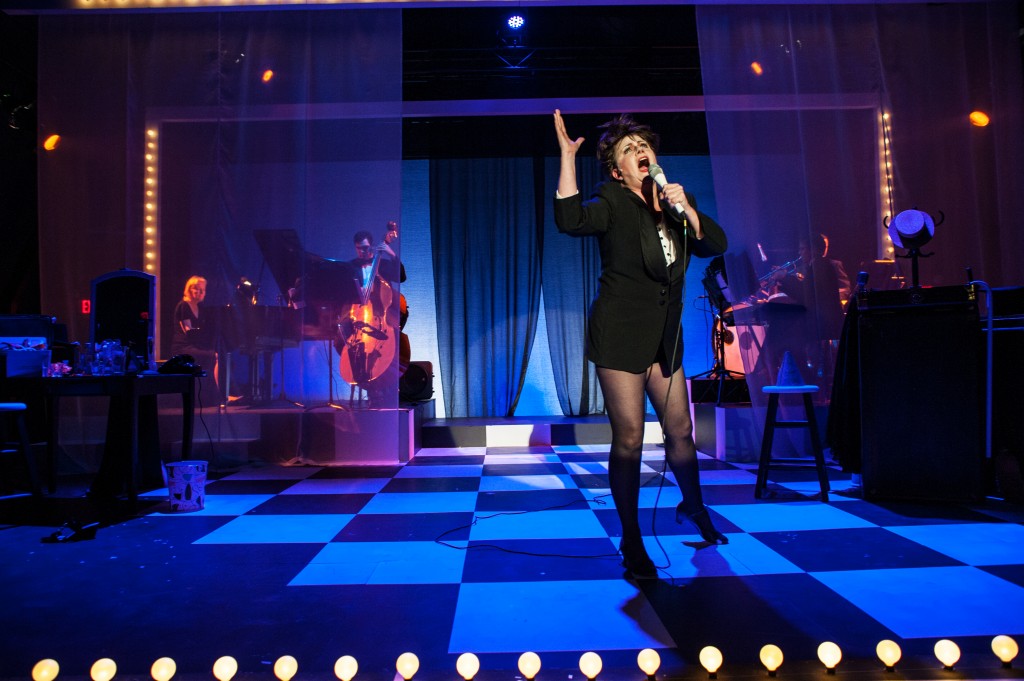 Tracey Moore as Judy Garland. Photo: Ilijc Albanese
Projections and lighting by Bryan Kenney do much to capture the mood of the eras covered (from the early '30s to mid-'60s) and feature grainy black-and-white photos with glorious backdrop washes of colour in every hue (including green for The Wizard of Oz scenes) imaginable.
From horn-rich large-scale numbers like Chicago to intimate a cappella songs such as Stormy Weather Moore takes us on a journey of discovery as she charts the rise, and ultimate fall, of the person Fred Astaire called "the greatest entertainer who ever lived".
Moore's own background in dance and vaudeville is evident in the choreography (Sylvia Hosie) as she plays clowns (Be A Clown) and bums (We're A Couple of Swells) to the delight of the audience.  It was the later number that particularly struck me—Moore channelling Judy and strangely reminding me of Liza Minelli all at the same time.
Music is provided live by the talented quartet of Jan Stirling (piano), Damian Graham (Drums), Brenda McGuigan (bass) and Matt MacLean (trumpet/synth), working with lush arrangements created by Al Vance. 
Cast and crew worked to tight deadlines as Moore was pulled in when original cast member Sara-Jeanne Hosie was unable to perform due to illness. Director Brian Richmond's large-scale vision and true professionalism is apparent in the company's ability to successfully mount this production given the restrictions at hand.
Judy Garland was not really of my era yet, as Moore told me in an earlier interview, I knew every song in the show. That alone is testament to Judy's enduring power over audiences young and old.
Judy! The Judy Garland Story
July 13-27, 2014
Blue Bridge Repertory Theatre at the Roxy (2657 Quadra Street)
Tickets $26.25-$42 through Ticket Rocket online, in person or by phone 250 590 6291
Ample free parking in Quadra Village. Valet service available.
Cast and Creative Team
Judy Garland Tracey Moore
Playwright Paul Ledoux
Director Brian Richmond
Music Arrangement Al Vance
Set and Costume Design Patricia Reilly
Lighting and Projection Design Brian Kenney
Choreologist Sylvia Hosie
Dialect Coach   Iris MacGregor Bannerman
Stage Manager Sandy Cumberland
Assistant Stage Manager Rebecca Marchand
Music Director/Piano    Jan Stirling
Bass Brendan McGuigan
Trumpet/Synth Matt MacLean
Drums  Damian Graham
Manager Andy Liu Chang
Disclaimer: I received a complimentary ticket to attend Judy! The Judy Garland Story. As always, I retain complete editorial control over all content published on this website.