Langham Court Theatre Presents ~ "Here's to You, Mrs. Robinson" Group Art Exhibition and Sale
Langham Court Theatre has invited 30 artists of various backgrounds and mediums to produce work inspired by the 1960's iconic coming-of-age story, The Graduate. The art show concept is to connect the art work to the theatrical production allowing the theatre audience to experience a unique opportunity of visual expression through the eyes and minds of the artists.  The lounge gallery will exhibit a wide range of mediums from oil, acrylic, photography, sculpture and fabric art. Thoughts of social commentary, abstract feelings and emotions, along with just a touch of naughty will all be on display.
30 local artist works inspired by Langham Court Theatre's production of 
The Graduate
will be on display and for sale during the show run – March 5 to March 22, 2014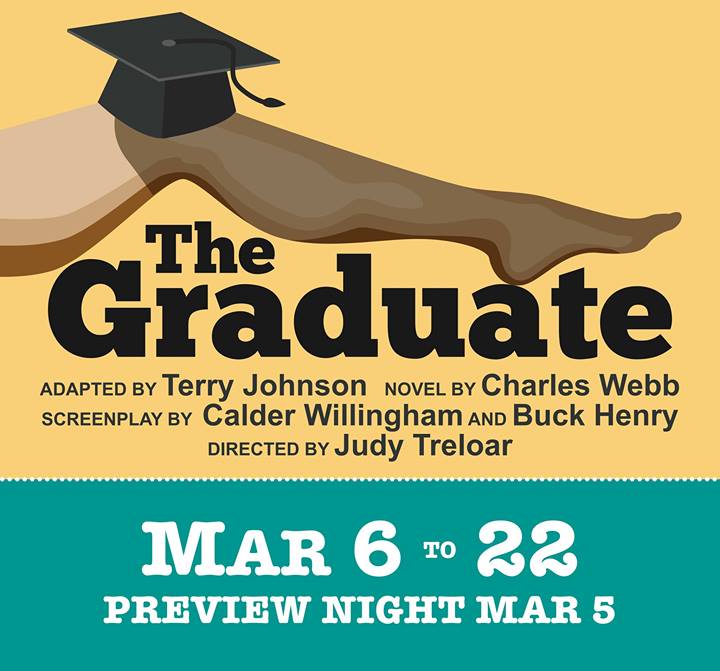 Come meet the artists and view the art exhibition at the admission-free reception Sunday, March 9th from 1:00 to 3:00pm in the lounge at Langham Court Theatre – 805 Langham Court (off Rockland Ave).  Light refreshments will be served.
Artist List
Adam Lloyd Cook-graphic painting
Andrew Niemaan-photography
Brenda Binnie-"Coo Coo Cachoo" oil painting
Caprina Valentine-graphics
Caroline Waelti-fabric art
Charles Dool-"Alpha to Omega" watercolour on canvas
Dawn Joy Ritchie-"Take a Bite" digital original
Deanna Storey-felting
Diane Adolph-3D
Dick Newson-"Elaine is that You?" photography
Ella Lapidus
Fran Baskerville
Frances Harber
Haley Marshall-digital art
Helen Byres
Jeani Reynolds-"Here's to you" painting
Jessica & Rick Reynolds-collaborative painting
Jim Gerwing-"TG-14"-mobile
Judee Doyle-"Keep your Hat on" mixed media
Ken Horn-painting
Laura Mitbrodt
Lisa Preston-digital collage
Merina Rael-"Mama Mia" digital print
Monika Reekie-3D
Monique Haze-"Peek a Boo" acrylic painting
Nirmalla Greenwell-painting
Paul Shepard
Sheri Welsford
Veronica Stewart-jewellery
Verna Linney-painting
For more information, contact Langham Court Theatre
:
805 Langham Court (off Rockland Ave)
Victoria BC V8V 4J3
Box Office/Admin: 250-384-2142
Art show Coordinator/Jeani Reynolds: 250-727 8708
Tickets to The Graduate:
$21 for Adults
$19 for Students / Seniors (Seniors ages 65+)
2 for $20 Preview (Wed, Mar 5)
2 for $30 Tuesdays (Mar 11 & Mar 18)
Student Rush Tickets $10 per ticket (At 15 min before curtain, Student ID required)The Graduate Performance Schedule (Mar 5 to Mar 22, 2014):
Mar 5 to Mar 8–Wed thru Sat nightly show time 8:00pm
Mar 11 to Mar 15–Tues thru Sat nightly show time 8:00pm
Mar 18 to Mar 22–Tues thru Sat nightly show time 8:00pm
* Plus two Saturday matinees March 15 & March 22-show time 2:00pm
* Friday, March 7 performance includes a post-show talk-back with the director and cast