Lovely Lady Lump by Lana Schwarz. Victoria Fringe 2017. An interview.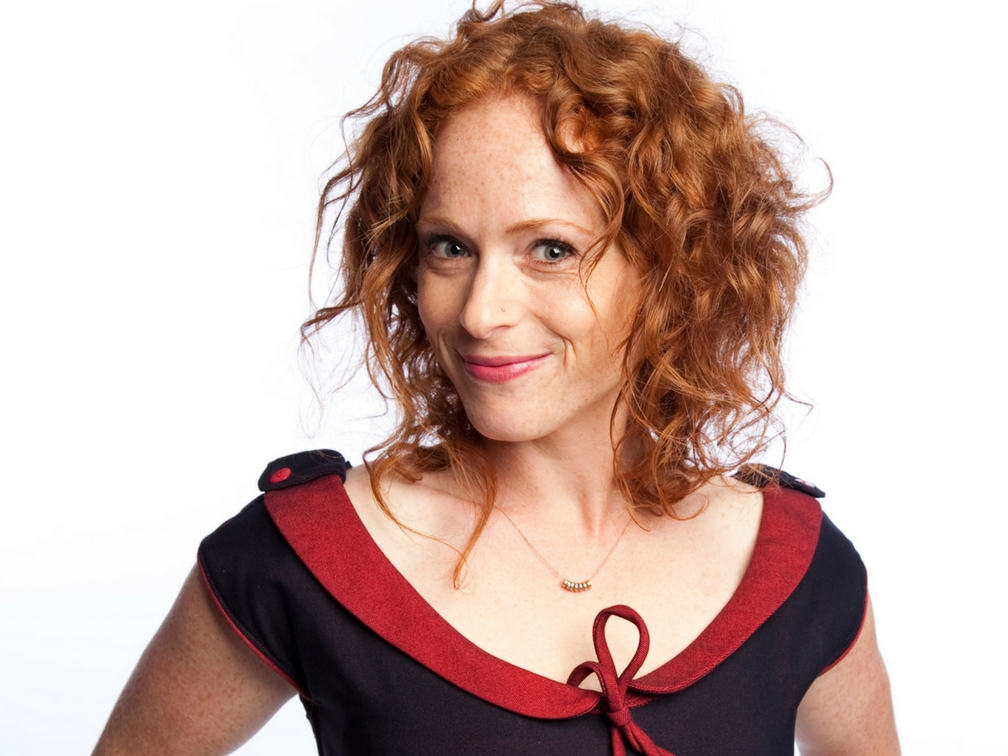 Aussie Comic Lana Schwarcz takes her personal experience with breast cancer and turns it into award-winning comedy, teaming up with Dense Breasts Canada to simultaneously raise the roof and raise awareness at Victoria Fringe Festival with Lovely Lady Lump.
NB: Lovely Lady Lump is coming from the Edmonton Fringe and will not be in Victoria for the first weekend; there are only five shows.
How long have you been producing work on the Fringe circuit?  As an artist/company?
My very first Fringe show was Melbourne Fringe in 1996. However my first Canadian Fringe circuit was in 2009, also the last time I was in Victoria, with a puppet and prop heavy show, Grandpa Sol and Grandma Rosie.
Is this your first visit to Victoria?
No… I was honoured to be in your gorgeous city in 2009 for the Fringe.
Have you been (or will you be) taking the show to other Fringes?
This show has been successful around the world – Melbourne, Adelaide, Perth (Australia) Wellington, Hamilton, Dunedin (NZ), Portland (USA), Edinburgh (UK), Ottawa, Winnipeg, Regina, Calgary, Edmonton and now Victoria and Vancouver.
Is your show a new work, or has it been performed elsewhere?
It's my latest work, but I have been performing it now for almost 2 years.
Significant awards or accolades? (not just on the Fringe circuit) 
Adelaide Theatre Award
Ottawa Most Outstanding Solo
Calgary Best of Fest
Perth ABC 720 Best Theatre
Dunedin Best Theatre
Dunedin Best Show (Nom)
Can you speak to the creation process of this work? 
It stemmed from a blog I wrote while I was undergoing treatment for breast cancer. I was writing the blog to keep people informed, but ever the comic, I kept throwing jokes in to stop people getting bored with the mundane medical jargon, and the blog had quite the following. So the show was built around that. It was also built around the stand-up comedy I was doing to keep myself sane during treatment, and I also nabbed my own medical imaging to animate them and project them onto my body.

Who will your show appeal to?
I have to be honest here and say that although it's an important show for women in particular, men in my audiences are frequently the ones who guffaw at the gags and have a great time. It is a wonderful show for survivors of cancer, for health professionals, and for family members of cancer survivors, but really, you don't need to limit to those people as everyone loves it. Although I've never had kids or teenagers in the audience – mainly because I just think they'd be bored.
What would you say to entice a potential audience member to come?
This show will make you think differently about cancer. You are in very good hands with an expert comic performer and also, there are boobs.
What do you hope to inspire in your audience?
I want people to feel like they come out of my show armed with the knowledge of how to talk with people who receive a diagnosis, how to help them and how to be free to help them laugh at the situation and retain their identity. Because if you don't laugh, you sink. 1 in 3 people are diagnosed with some form of cancer. I want people to understand what people close to them are going through, because the standard lines people give you are annoying for cancer patients to hear. Because it's not a "journey". It's a hostage experience. Let's all acknowledge what it really is, and maybe we can change the world for the people closest to us, and perhaps even ourselves.
Is there anything I've missed asking you, or that you would like to comment on?
Don't miss it. It's a truly unique show that plays with many genres, pushing the boundaries of autobiographical theatre, and you will leave with a smile on your face.
Oh. And you have to be OK with a bit of bare bosom. Mine. Not yours. 🙂
Lovely Lady Lump by Lana Schwartz
Venue 2 Downtown Community Centre, 755 Pandora Avenue
Tickets $11 via Ticket Rocket online, or at the door
Duration: 75 minutes
Genre: Comedy, multimedia, storytelling
Rating: 16+ partial nudity and occasional language
Mon Aug 28 – 5pm
Thu Aug 31 – 7:30pm
Fri Sep 1 – 4:45pm
Sat Sep 2 – 2:15pm
Sun Sep 3 – 7:30pm
More info:
www.twitter.com/lanaschwarcz
www.facebook.com/lanaschwarczpresents
www.lanaschwarcz.com
http://schwarczie.weebly.com – Her breast cancer blog on which the show was based
https://www.facebook.com/tenadelaide/videos/1363036930427716/
Aussie Comic Laughs Cancer out of Town with Award-Winning Show

Lana Schwarcz teams up with Dense Breasts Canada to raise the roof
and raise awareness at Victoria Fringe Festival with Lovely Lady Lump.

Comedian Lana Schwarcz is coming to Victoria with the funny, defiant and moving show she created in response to her own breast cancer diagnosis. In an unmissable hour that is vibrant, touching, real, raw and hilarious, Lana skilfully makes mutated cells the butt of the joke. Cos Cancer seriously deserves to be laughed out of town. Speaking about the show she says: "If I've done my job properly there will be two types of tears –laughter and empathy."

There is a story about Lana's diagnosis that features a dog, a strange woman in the dog park, and a mammogram that she had because she was depressed (after all, a mammogram is something to DO, isn't it?). It's a good luck story about a rare early detection in extremely dense breasts that frames her quirky perspective: the fears and questions surrounding life, death, surgery, loss of identity through treatment, fertility preservation, and art therapy for cancer patients. Collage, anyone?

So now, 3 years later, Lana is joining forces with Dense Breasts Canada (DBC) to tour the show and raise awareness of the dangers of dense breast tissue. Mammograms can miss up to 50% of cancers because dense breast tissue appears white on a mammogram, and so does cancer. Women with dense breasts also have a higher chance of developing breast cancer: dense breasts are a more significant risk factor than family history. Supplemental screening, such as ultrasound, can dramatically increase cancer detection in women with dense breasts. Most women with dense breasts do not know they have them. According to Jennie Dale, Cofounder of Dense Breasts Canada, currently in British Columbia, all information about a woman's breast density is withheld from both her and her GP. Over 400 000 women in BC are being kept in the dark about a significant risk factor that increases their chance of breast cancer and a missed diagnosis.

Dense Breasts Canada (DBC) is a non-profit organization whose mission is threefold: to raise women's awareness about the importance of knowing their breast density, to advocate for provincial governments to report breast density to women, and to provide supplemental screening, such as ultrasound, for women with the densest breasts. A collaboration with a comedy show about the subject seems timely. For more information visit: densebreastscanada.ca

LOVELY LADY LUMP has picked up Awards for Calgary Best in Fest 2017, Most Outstanding Solo Show (Ottawa), Best Theatre Award (Dunedin), Highly Commended Theatre Award (Adelaide) with nominations for Best Show (Dunedin) and 720ABC Best Theatre Award (Perth).

"Hilariously honest hour" – Sometimes Melbourne
"Absolutely hilarious… Bubbly, wacky, and most of all, unique." – Glamadelaide
"Utterly delicious, Schwarcz is like fizzy soda – an effervescent performer. Pure comedy with a serious edge" – Uptown Magazine
"So supremely talented, she makes the one woman show seem filled with life" 5 stars – The Sun, Winnipeg
"One of those performers who immediately commands a stage" – Edmonton Sun
"Laugh, Cry, Laugh again, you'll fall in love with the unstoppable Lana Schwarcz" – Inside Ottawa