Interstellar Elder by SNAFU. Victoria Fringe 2017. An interview with Ingrid Hansen.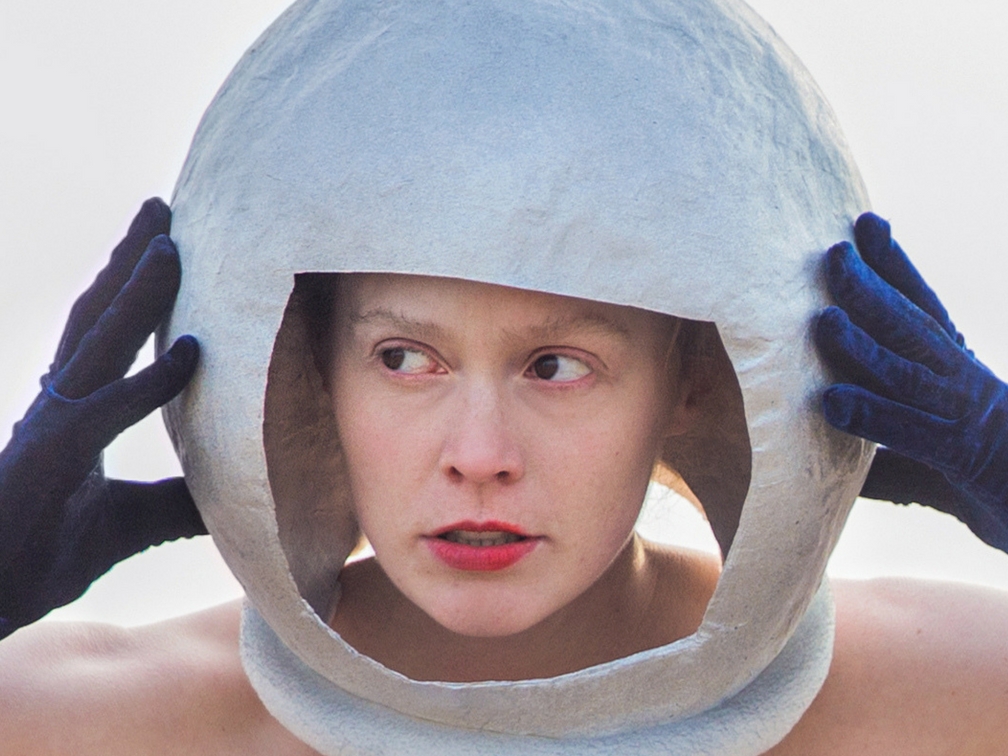 Fans of Little Orange Man rejoice!  Ingrid Hansen returns with her character Kitt, now a badass grandma in space.  Interstellar Elder is a futuristic dark comedy (may not be suitable for children under twelve).
NB: Interstellar Elder is coming from the Edmonton Fringe and will not be in Victoria for the first weekend; there are only five shows.
How long have you been producing work on the Fringe circuit?  As an artist/company?
SNAFU's first fringe show was BLiNK at Point Ellice Heritage House in Victoria in 2007.  Kathleen Greenfield and I had our first fringe tour with an early draft of Little Orange Man, which we toured to Calgary in 2010.
Is this your first visit to Victoria?
I first visited Victoria as an 18 year old looking for a University.  I fell in love with UVic's green campus and went there to study theatre, and co-founded SNAFU, originally with other UVic alumni Victor Dolhai and Sarah Jane Pelzer. Today SNAFU is steered by Co-Artistic Directors Ingrid Hansen and Kathleen Greenfield.  SNAFU has performed at Victoria Fringe in 2007 with BLiNK, 2009 with Pretty Little Instincts, 2010 with Ginger Ninjas, 2011 with Little Orange Man, and so on and so on.
Have you been (or will you be) taking the show to other Fringes?
This summer my tour started in Montreal with the world premier of Interstellar Elder.  Montreal is the party fringe, where everyone dances till 4am every night.  It's also home to some really lovely hardcore fans of my first solo show (also directed by Kathleen Greenfield,) Little Orange Man, so we had a really warm welcome to open Interstellar Elder in Montreal.  We've also toured Interstellar Elder this summer to Toronto Fringe, Saskatoon Fringe, Edmonton Fringe, and after Victoria we're off to Vancouver Fringe.
Is your show a new work, or has it been performed elsewhere?
New work!
Significant awards or accolades? (not just on the Fringe circuit)
I recently was invited to take a puppetry workshop with my heroes at Sesame Street in New York where I got to hang out with Cookie Monster.
Can you speak to the creation process of this work? 
Kathleen and I created the concept, and we workshopped the piece together in Victoria together with Britt Small in April.  After only three days of creation/rehearsal, we had a works-in-progress showing for some friends and colleagues, and another showing after about two weeks of creation. As awkward and bumpy as early creation showings are, we've found them to be super crucial and really liberating, especially in shows where the audience is invited to play an active role.
Who will your show appeal to? Fans of Science Fiction, and badass female characters.  People who want to be cryogenically frozen for an hour.  Adventurers. Little Orange Man Fans
What would you say to entice a potential audience member to come?
We've toured across the country, sold out and won multiple awards.  This show is about a badass grandma in space.  Prime Minister Justin Beiber accidentally destroys the planet, and the final human survivors are cryogenically frozen and shot into space to wait for earth to heal.  Aboard the ship there's only one person awake: the ships sleep custodian, the Interstellar Elder.
What do you hope to inspire in your audience?
Laughter / tears / flatulence
Is there anything I've missed asking you, or that you would like to comment on?
It's for adults and humans age 10 and up.  This show is not for dogs.
INTERSTELLAR ELDER is produced by theatre company SNAFU
Venue 3: The Metro Studio, 1411 Quadra Street
Tickets $11 via Ticket Rocket online, by phone or at the door
Duration: 75 minutes
Genre: Theatre, comedy, puppetry
Rating: PG14+
Dates:
Wed Aug 30th @ 6:30pm
Thu Aug 31st @ 5pm
Fri Sep 1st @ 11pm
Sat Sep 2nd @ 8:45pm
Sun Sep 3rd @ 6pm
Co-Created and Directed by Kathleen Greenfield
Co-Created and Performed by Ingrid Hansen
Choreographed by Britt Small
Dramaturgy by Emma Zabloski
Twitter @SnafuDance
Instagram @SnafuDance
Facebook event https://www.facebook.com/events/260123641158853/
Interstellar Elder is a dark physical comedy about a renegade grandma in outer space. The show is created by multi-award-winning company SNAFU, whose show Little Orange Man sold-out nearly all their performances at last year's fringe festival. SNAFU's newest show Interstellar Elder performs live at the Victoria International Fringe Festival with shows August 30 to Sept 3, 2017 at The Metro Studio.

In this show's futuristic scenario, North American Prime Minister Justin Bieber attempts to end world hunger by deforesting the continent to plant thousands of acres of genetically-modified swiss chard. This Superfood grows awry, taking over the entire planet and choking out all other forms of life. The last surviving humans are cryogenically frozen and shot into earth orbit, waiting for Earth to heal so that they may return home and begin a new civilization. On board the spaceship there is only one person left awake: the geriatric custodian and sole caretaker of the ship's frozen 'human cargo.'

Interstellar Elder's creator Ingrid Hansen is a multi-award-winning actor and puppeteer who has been touring across Canada, the US, and Japan for the past seven years. On television she is the voice and puppeteer of Gertie the Gopher on Tiga Talk on APTN, and plays a moon monster in the series Princess Sparkly Butt and the Hot Dog Kid. Hansen recently received a special invitation to train with Sesame Street puppeteers in New York, where she got to "hang out with Cookie Monster." Interstellar Elder, however, is a dark comedy not suitable for children under twelve. SNAFU are Victoria hometown favourites, and tickets for Interstellar Elder are expected to sell out fast, so snap up your tickets in advance or you might get left stranded on earth.

"You will inevitably ROAR WITH LAUGHTER, but what you might not see coming is the immense heart and powerful imagery behind the performance. Ingrid hits another home run with this brilliant piece of physical theatre. The use of the audience and the way this play is set will forever change the way you see theatre and its possibilities." – Montreal Theater Hub

"An amazingly versatile physical comedian with a knack for bringing inanimate objects to life. She's also come up with what may well be the BEST ENDING IN THE HISTORY OF THE FRINGE." – The Montreal Gazette

"She's the sort of girl that director Terry Gilliam might have dreamed up." – Calgary Herald