Six Fine Lines by Mack Gordon. Victoria Fringe  2017. An interview.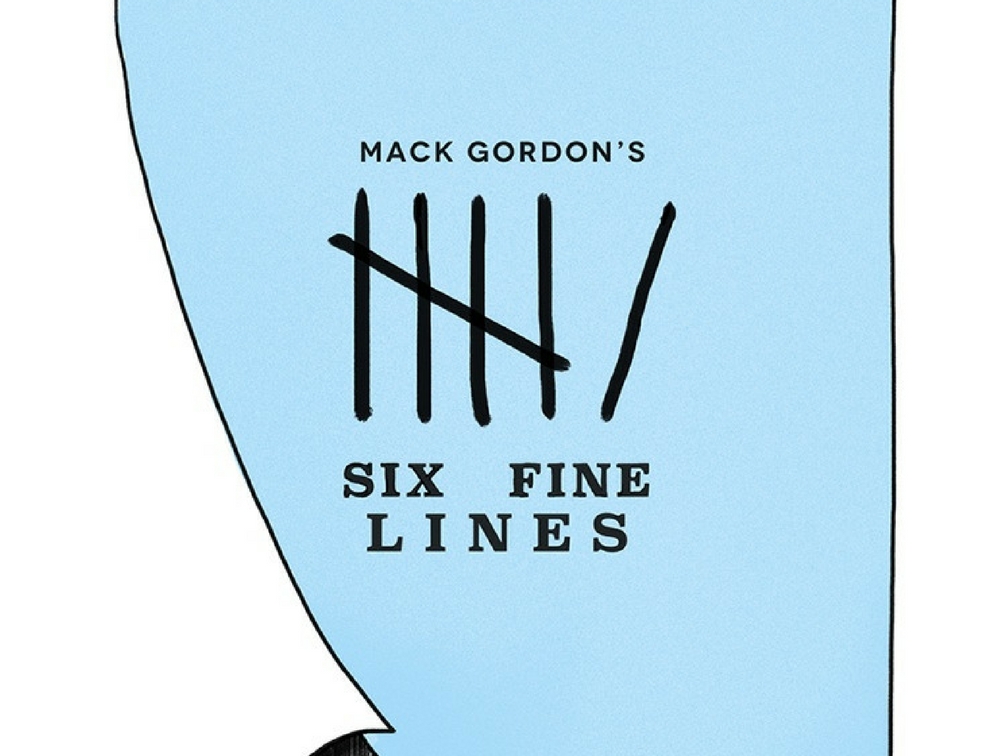 UVic Theatre alumnus Mack Gordon returns with a personal one-man show. "There are no written rules in life" he says.  Learn more about Six Fine Lines and the process of creation.
NB:  Since Six Fine Lines is coming from Edmonton, the first show is Tuesday August 29th and there will only be five performances.
How long have you been producing work on the Fringe circuit?  As an artist/company?
My first fringe experience was ten years ago when I was a third year university student at UVIC! I did a SATCO called Dead Celebrities and Carey Wass decided we should tour Canada with it. So we did!
Is this your first visit to Victoria?
Nope. I spent five years living in Vic and most recently was back in town doing The Lion, The Witch, and The Wardrobe for the 2015 Spotlight on alumni at the University of Victoria.
Have you been (or will you be) taking the show to other Fringes?
Yes, I open in Edmonton on Thursday and then, after Victoria, head over to Vancouver.
Is your show a new work, or has it been performed elsewhere?
It's a brand new, personal, one-man show and I'm terrified and excited to perform it.
Significant awards or accolades? (not just on the Fringe circuit) 
Three Time Jessie Richardson Nominee (Vancouver Theatre Awards). Nominated for Vancouver Critic's Choice Innovation Award in 2017.
Can you speak to the creation process of this work? 
I've had a really hard year. I've responded to it by writing like I just got out of dental surgery. I've thrown myself pretty heavy into work, also creating and running a regular game show night at the Biltmore Cabaret in Vancouver. I decided to cobble together all my processing and life experiences into a sort of lyric essay: journal entries, poems, stories, and game show sequences all colour this decoupage of life experience as I try to reflect and pick myself back up.

Who will your show appeal to?
Lovers of fun and lovers of language. Half of the show is live game show sequences featuring contestants picked from the audience and half of the show is well-crafted contemporary literature. It's equal parts Game Show Network and This American Life.
What would you say to entice a potential audience member to come?
There are prizes. I am literally going to order a pizza and give it away every night.
What do you hope to inspire in your audience? 
One of the things I've learned this past year is that there are no written rules in life. There's only what we make up, so let's make some good ones. I want to make people feel less alone. I want people to be inspired to reclaim their presence in the world by seeing it as the breathtaking and beautiful place it can be.
Six Fine Lines by Mack Gordon presented by Level-Headed Friends Productions
Venue 6: Fairfield Hall, 1303 Fairfield Road
Tickets: $11 at Ticket Rocket online or at the door
Duration: 60  minutes
Genre: Part-game show, part-memoir, part-house party
Rating: All-ages, coarse language
Tue Aug 29 – 8:15pm
Sat Sep 2 – 8:15pm
Thu Aug 31 – 6:15pm
Sun Sep 3 – 9:15pm
Fri Sep 1 – 5pm
Six Fine Lines is a rolling, heaving game-show memoir that combines the fun of interactive game shows with a true story of grief.

The story is told through multiple techniques including rounds of Family Feud and The Newly-Wed Game, with participants chosen from the audience. The Family Feud survey answers will be gathered throughout the grounds of the festival. There's prizes and surprise musical guests every night!

Level-headed Friends Productions believes in the exciting explosion when artistic disciplines collide. They have a rich history of innovation and collaboration, staging plays in heritage museums (Debts with ITSAZOO Productions), pitch-black auditoriums (Three Stories Up with Alley Theatre), and teaming up with local Vancouver musicians (Shake the Sheets! at the 2015 Fringe Festival). Last in Victoria for UVic's Spotlight on Alumni presentation of The Lion, the Witch, and the Wardrobe.

Mack Gordon has been nominated for three Jessie Richardson Theatre Awards, including a 2017 nod for the Georgia Straight Critic's Choice Innovation Award (Three Stories Up).

"Gordon is a playwright worth taking seriously." -Colin Thomas, Georgia Straight

"The pictures Gordon paints are so vivid, they take on a life of their own… pictures that transcend gimmick." -Mark Robins, Vancouver Presents