One Man, Two Guvnors at Langham Court Theatre January 18-February 4, 2017. A review.
After a particularly charged day in world affairs, opening night of One Man, Two Guvnors at Langham Court Theatre provided much needed relief and silliness—a perfect night for audiences who simply want to go to the theatre to relax and laugh copiously.
It takes a steady hand and firm grasp to bring ages-old techniques of improvisation into the modern world while adding the well-defined genres of slapstick, physical comedy and British music hall.  One Man, Two Guvnors, adapted by Richard Bean from Servant of Two Masters, a 1743 Commedia dell'arte style play by the Italian playwright Carlo Goldoni, proved to be an instant hit, winning multiple Tony awards.
Bean had the ingenious idea of adding a skiffle band to the plot.  Unique to Britain, skiffle bands became popular in post war Britain (the Beatles started out in skiffle bands) and always contained home-made instruments, out of economic necessity.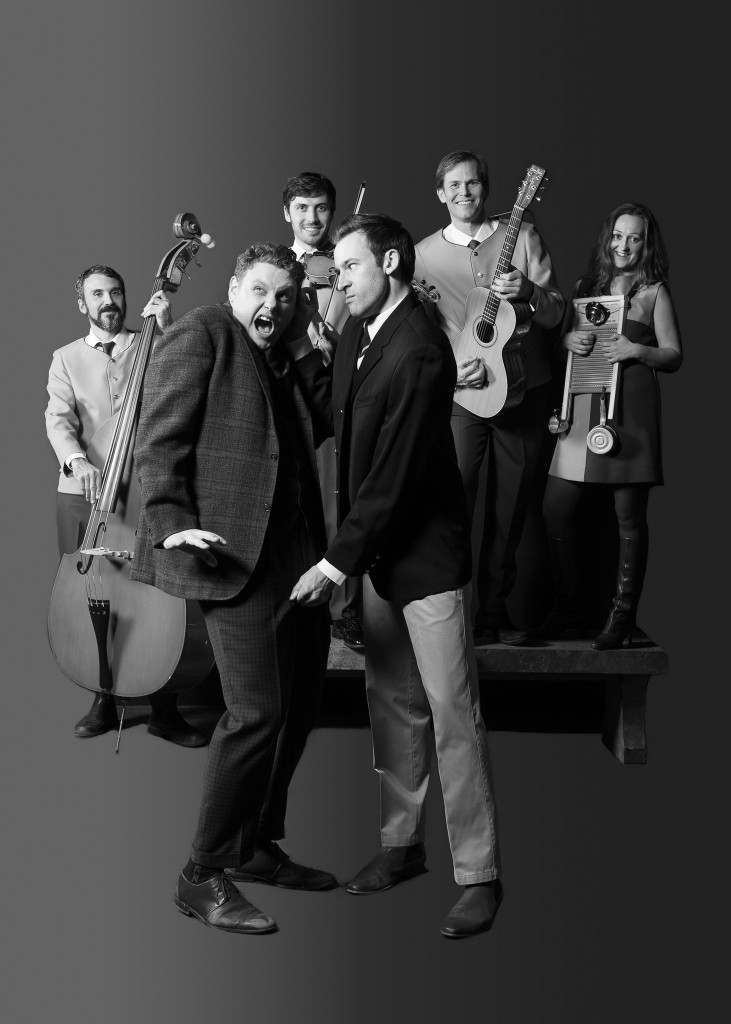 front: Kyle Kushnir (Francis) and Liam McDonald (Stanley). Photo: David Lowes
back: The Salty Quips Damon Henry, Bass, Eli Bender, Violin & Melodica, John Stull, Lead Vocals & Guitar , JenJen Good, Washboard
It's not often that a show at Langham Court starts with the red curtains closed.  The Salty Quips, constituted specially for this show, and comprised of excellent musicians who often gig together (Josh Stull-lead vocals and guitar, Damon Henry-bass, JenJen Good-washboard, Eli Bender-violin and melodica), entertain at the opening, during set changes and at the interval, greatly adding to the music hall illusion. Their energy is infectious—and cameos by several cast members heighten the cheekiness of their presentation.
Set design by Bill Adams is representational, adding to the absurdity of the proceedings.  In some of the most comedic moments, the set features as a major part of the fun, with characters moving quickly from one room to the next—to often end up in the wrong place at the wrong time.
Diane Madill's costume designs will elicit sighs from anyone who ever lived during the early 1960s—particularly Dolly's (Melissa Taylor) show-stopping, form fitting red dress and Pauline's  (Kayla Foster-Brandt) pop-inspired wide-skirted floral.  Kyle Kushnir is resplendent as Francis in an outfit where plaid, check and vivid argyle patterns happily collide, and Alan (Pat Rundell) is attired in the quintessential relaxed outfit of the actor—turtleneck and jacket.  Small time mob boss Charlie Clench's (Tony Cain) high-waisted suit (complete with suspenders) immediately signals his social class and station, as do lawyer Harry Dangle's (David Biltek) and Stanley Stubbers' (Liam McDonald) more refined bespoke numbers.
In this improbable and highly fraught tale, Francis ("a role model for village idiots everywhere") has been booted from his skiffle band. In search of his next meal, he signs up to become the muscle for a small time hood (Allison Roberts as Rachel Crabbe playing Roscoe, her twin brother) and, in a moment of avarice, the hood's opponent.  Mistaken identities, misalliances, three inter-connected love stories, and a host of crazy characters—based on commedia–conspire to undo him. Langham Court Theatre audiences have a bit of a love affair with Kushnir—he's received rave reviews for roles in Drowsy Chaperone, Cabaret and Humble Boy—and he certainly doesn't disappoint as Francis, a loveable and slightly thick lout of a man (modelled after Arlequino).  On opening night howls of laughter erupted as he wrestled with a heavy trunk—and then turned to the audience for help—and tried to keep his two masters from running into one another in the dining room of the Cricketers' Arms Pub.  Kushnir is quick with a retort too.  Seated in the front row was a small boy (this is truly a play for all ages) who, upon learning that Francis was starving, kindly shouted out an offer of a KitKat—happily accepted.
Special kudos are warranted for three other key players in the dining room scene—the rather officious head waiter (Michael Romano), the doddering geezer he's only recently hired—Alfie (Mark Riishede is remarkable as he stumbles, shakes and backflips in one unfortunate incident after another) and the audience member innocently pulled onstage to help serve—so effortlessly was this scene played that I thought she was a plant.
Last playing opposite Kushnir in Humble Boy, Melissa Taylor as Dolly, Charlie Clench's feminist bookkeeper, is the antithesis of that play's character Rosie. Here, she shimmies and sashays, her every move a come-on, her every line drenched in innuendo and sharp social observation. Truly an electric performance. It's any wonder, once his appetite is satisfied in Act One, that Francis hones in on her as the object of his affections.
The hard-working cast make the non-stop comedy appear easy, even as the patter (common to vaudeville and shows like On The Buses) never ceases with its Cockney rhyming slang and well-worn routines.  Director Roger Carr has the rhythm down pat—everything is sharp and well executed. Alan Mackenzie's sound design provided the perfect arrangement of effects to underline the "funny bits".
Despite her cluelessness, Foster-Brandt's Pauline is sincerely sweet as she doggedly pursues Alan (Rundell exhibits just the right touch of self-involvement).  Alison Roberts puts on a mighty manly swagger as Roscoe.  Liam McDonald is the perfect toff as Stanley Stubbers—Rachel's true love—who nonetheless shows impressive comedic chops in a series of alliterative back-and-forth jokes with Francis.
Tony Cain's Charlie Clench is a softie at heart but his menacing undertones carry a hint of real danger.  David Biltek, as Dangle, was happy playing to the crowd, handing out business cards to the front row.  Samuel Alexander in his first stage appearance, was slyly mischievous as the dodgy Lloyd Boateng, an ex-con and proprietor of The Cricketers' Arms.
The evening finishes on an impressive high note with the entire cast in the musical final number Tomorrow Looks Good From Here—their serious musical theatre chops becoming evident. Karrie Ayotte's lighting design created the perfect Broadway climax.
One Man, Two Guvnors is a ribald, crowd-pleasing laugh fest made possible by the carefully honed talents of the ensemble, the astute direction of a veteran director, the expertly coordinated production team and behind-the-scenes, hardworking volunteers. Tickets are going fast.  If you'd like an evening of pure fun, don't delay.
"One Man, Two Guvnors is a blooming good time" – MARK ROBINS, VANCOUVER PRESENTS!

"Give yourself over to laughing right out loud in the presence of others. It's undignified, but what can you do?" – LIZ NICHOLLS, EDMONTON JOURNAL
One Man, Two Guvnors
A comedy by Richard Bean Music and songs by Grant Olding
Directed by Roger Carr
A Langham Court Theatre Production at Langham Court Theatre, Victoria, BC
Performances January 18 to February 4, 2017
Tickets: $16-22 with 2 for $30 Tuesdays January 24 & 31 and $10 Student Rush Tickets.
online, in person (Monday –Friday noon to 4pm and 6:00 to 8m on performance days) or by phone: 250-384-2142

SUITABLE FOR ALL AGES
Director ROGER CARR 
Producer GIL HENRY 
Assistant Producer ANGELA HENRY 
Assistant to the Director PETA MACKENZIE 
Stage Manager SARAH INNES 
Assistant Stage Managers ALEX CARROLL, MAUREEN COLGAN 
Set Décor & Properties SALLY CRICKMAN 
Set Design BILL ADAMS 
Lighting Design KARRIE AYOTTE 
Sound Design ALAN MACKENZIE 
Costume Design DIANE MADILL 
Music Directors JOSH STULL, ELI BENDER
CAST 
Harry Dangle DAVID BILTEK 
Dolly MELISSA TAYLOR 
Lloyd Boateng SAMUEL ALEXANDER 
Charlie "the Duck" Clench TONY CAIN 
Pauline Clench KAYLA FOSTER-BRANDT 
Alan PAT RUNDELL 
Francis KYLE KUSHNIR 
Rachel Crabbe ALISON ROBERTS* 
Stanley Stubbers LIAM MCDONALD 
Gareth/Taxi Driver MICHAEL ROMANO 
Alfie MARK RIISHEDE 
Extras MICHAEL GOSSELIN, ALEX CARROLL, CARL POWELL, JENJEN GOOD
THE SALTY QUIPS 
Josh Stull LEAD VOCALS & GUITAR 
Damon Henry BASS 
JenJen Good WASHBOARD 
Eli Bender VIOLIN & MELODICA
Further reading: http://www.curveonline.co.uk/content/uploads/2014/09/One-Man-Two-Guvnors-Education-Pack.pdf
Langham Court Theatre is Victoria's longest running theatre in its 88th consecutive season. It is a Canadian success story of what happens when passionate, talented people work together doing something they love. With nearly 400 volunteers and members, it is also Victoria's largest volunteer-run community theatre which operates its own theatre facility in the community of Rockland.
Disclaimer:  I received complimentary tickets to attend opening night of One Man, Two Guvnors.