Life is a cabaret—or is it?  There is plenty to ponder amid the hummable songs and intricate dance numbers of Cabaret currently playing at Langham Court Theatre to sold-out houses (January 15-February 1, 2014).
At heart, Cabaret is the classic tale of a young American (Griffin Lea as Cliff Bradshaw) bound for Europe and adventure.  Set in Berlin during the heady and decadent between-wars time of the WeimarRepublic, this on-the-surface coming-of-age tale exposes much murkier corners of a society on a come-back from near devastation and ruin, with the tragic consequences of the Second World War a brief glimmer on the horizon.
Director Richard Carr treads carefully with his interpretation—modern audiences have the benefit of knowing the outcome of history; characters onstage do not.  The challenge is to make their actions congruous with the period, and not spoil the story line with revisionist meddling.  Carr succeeds in imbuing the show with very satisfying major and minor notes.
Cabaret is based on the short story Goodbye to Berlin by Christopher Isherwood, which later became the play I Am A Camera by John Van Druten.  The first Broadway production was in 1966 and the iconic film (with Liza Minnelli and Joel Grey) was released in 1972. Langham Theatre is using the 1998 Broadway revival that added songs cut from the original production, and songs unique to the film adaptation, including: "Money", "I Don't Care Much", "Mein Herr" and "Maybe This Time".
As society has evolved, so has the direction of the musical. Themes that would have offended or shocked audiences in 1966 are openly discussed in 2013. A gay leading character is not unusual.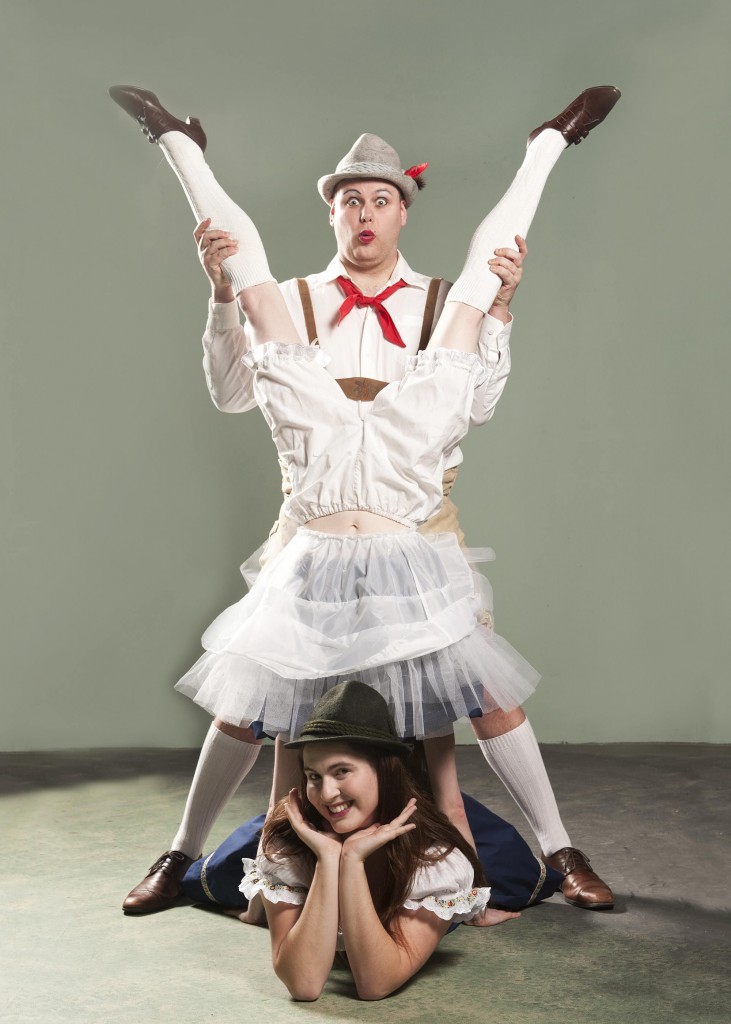 Kyle Kushnir: The Emcee, Euphemia MacMurchy: Kit Kat Girl (Helga) ~ on floor Amanda Gray: Kit Kat Girl (Rosie) ~ upside down
Photo: David Lowes, Art Studio 21
Kyle Kushnir is a marvellously naughty Emcee who beguiles from the opening number. The world of the Kit Kat Klub, while tawdry and slightly seedy, definitely has a certain appeal.  The Kit Kat Girls and Boys exude an air of disinterest and haughty disdain while at the same time giving the impression of being abused by life. The genius of this production lies in perfecting the imperfections. There is an art to dancing slightly less than in synch or singing imperceptibly off-key.  Overall, the effect is one of desperate gaiety and survival against all odds.
Music directors Rick Underwood and Angela Carter chose to employ a pared-down band of four instrumentalists (Carter-piano/keyboard, Genevieve Weber-trombone, Katrina Greenfield Hanevelt-tenor saxopohone, Russell Lovat-drums) who together—thanks to computer and keyboard sampling—create a much richer sound.  Often hidden behind a scrim, they are allowed zanier moments during the show numbers.
Cliff Bradshaw introduces us to the disconnect that runs throughout Cabaret—he's in Europe for fun, and to cut loose; the other characters are simply trying to get through the day.  He's written a particular type of heroic leitmotif (with himself as hero) that is at odds with the reality of the times, and ultimately has harsh consequences.
Throughout this finely nuanced and detailled production, viewers are pushed and pulled in their sentiments—siding with a bubbly insouciant Sally Bowles (Chelsea Kutyn) in her rebellion against her upbringing ("Don't Tell Mama", "Mein Herr") and then making an abrupt about face when circumstances require her to decamp to Cliff's room ("Perfectly Marvelous").  Lea and Kutyn's duets and scenes as star-crossed lovers are tender, reckless and mis-guided moments amid rising political tensions, and under-score the more deliberate and reasoned love story of Fraulein Schneider (Susie Mullen) and Herr Schultz (Alf Small).  To some degree we even understand the motivations behind the actions of Ernst Ludwig (Ken Yvorchuk) the business man and Nazi sympathizer, and Fraulein Kost (Jo Barnes) fellow boarder and lady-of-the-night.
There is great strength in the cast of characters who reside outside the Kit Kat Klub, and each of the actors provides depth and shading to their performance—Fraulein Schneider's seemingly hard exterior, Fraulein Kost's bitterness, Ernst's desire for a moral high ground, and Herr Schultz's belief that he's safe from "simple school boy pranks".
The musical numbers are uniformly outstanding, whether show-stopping and scandalous cabaret tunes, romantic ballads or ensemble pieces.  Emotions run the complete gamut—my heart broke as Fraulein Schneider sang "What Would You Do", I laughed at "Money" and "Two Ladies", and cheered for "Cabaret".  "Tomorrow Belongs To Me" is particularly chilling for Carr's choice to cast young local high school students Harrison Mundschutz, Ethan Otto and Chase Arden.
Set designs at Langham have a well-deserved and exemplary reputation. Bill Adams creates two completely different worlds by employing retractable and fitted flats that morph quickly from cabaret walls to Fraulein Schneider's boarding house.  The opening train car sequence was particularly evocative. Stage crew also become customers at the Klub—a fine finishing touch.
Cabaret is a complex musical that allows for seasoned veterans Jennifer Sanders (choreography), Diane Madill (costumes), Karrie Ayotte (lighting) and Alan Mackenzie (sound) to employ their considerable talents to highlight and emphasize the disturbing and morally ambiguous elements of what could be—in lesser hands than director Roger Carr's—a straight forward story.
Special mention goes out to the club performers, the Kit Kat Girls and Boys, excellent dancers and singers all—as credits from Langham, Theatre Inconnu, Victoria Operatic Society and Ballet Étoile, among others, attest —without whom there would be no Cabaret.
No production at Langham would be possible without the countless volunteers on the production team—thank you!
In their 85th year, Langham Court Theatre continues to build on a long tradition, while stretching to provide opportunities for performers whose ages span four or five decades.
Cabaret, a story written over 70 years ago and then worked, re-worked, adapted and revived, still has the power today to amuse and disturb—to leave us humming tunes a week later while asking deep questions about our own moral compass. Where would we be seated, and how would we align as dark forces gathered?
Cabaret at Langham Court Theatre is completely SOLD OUT.  Patrons without tickets may wish to queue at the theatre approximately 30 minutes before show time (arrive around 7:30pm) to see if any tickets become available due to last minute cancellations.  There is no wait list.

CABARET – THE 1998 BROADWAY MUSICAL REVIVAL
Book by Joe Masteroff | Based on the play by John Van Druten & Stories by Christopher Isherwood
Music by John Kander | Lyrics by Fred Ebb | Broadway production directed by Harold Prince
Produced for the Broadway Stage by Harold Prince
Directed by Roger Carr | Choreography by Jennifer Sanders
Music Directors: Rick Underwood & Angela Carter
January 15-February 1, 2014 at LanghamCourtTheatre
PRODUCTION TEAM
Director: Roger Carr
Assistant Director: Peta MacKenzie
Musical Directors: Rick Underwood & Angela Carter
Choreographer: Jennifer Sanders
Choreographer Assistant: Stephanie Geehan
Stage Manager: Sylvia Lindstrom
Assistant Stage Managers: Katt Campbell & Jon Scheer
Producers: Gil Henry & Angela Henry
Set Design: Bill Adams
Properties & Set Decor: Sally Crickman
Lighting Design: Karrie Wolfe
Sound Design: Alan MacKenzie
Costume Design: Di Madill
Hair & Make-up Design: Lena Forster
CAST (actor / role)
Kyle Kushnir: The Emcee
Chelsea Kutyn: Sally Bowles
Griffin Lea: Clifford "Cliff" Bradshaw
Alf Small: Herr Schultz
Susie Mullen: Fräulein Schneider
Ken Yvorchuk: Ernst Ludwig
Jo Barnes: Fräulein Kost
Airlie Sturrock: Kit Kat Girl (Fritzie)
Amanda Gray: Kit Kat Girl (Rosie)
Ashley Evans: Kit Kat Girl (Frenchie)
Euphemia MacMurchy: Kit Kat Girl (Helga)
Katelyn MacKellen: Kit Kat Girl (Lulu)
Lauren Girard: Kit Kat Girl (Texas)
David Brillinger: Kit Kat Boy (Bobby), Gorilla
Mark Riishede: Kit Kat Boy (Herman), Max, Sailor #1
Shane Jeffery: Kit Kat Boy (Hans), Customs Officer, Sailor #2, Body Guard
Michael Romano: Kit Kat Boy (Victor), Sailor #3, Body Guard
Chase Arden: Nazi Youth
Ethan Otto: Nazi Youth
Harrison Mundschutz: Nazi Youth
STAGE BAND
Angela Carter: Piano, Orchestra Leader
Genevieve Weber: Trombone
Katrina Greenfield Hanevelt: Saxophone
Russell Lovat: Drums
I received a complimentary ticket to the opening night performance of "Cabaret" and was asked to write a review. As always, I retain complete editorial control over all content published on this website.