People by Alan Bennett at Langham Court Theatre January 13-31, 2015. A review.
Alan Bennett is, at 80, a national treasure in Britain, and the opening of any new play a hot ticket at the National Theatre.  Written in 2012, his latest work, People is a scathing indictment of the National Trust (among other sacred cows destined for his acidic pen).
The Langham Court Theatre 2014-2015 production chair and play-reading committee are to be congratulated for fairly leaping on the opportunity to produce People in Victoria (its North American premiere)—they would have been reading the play shortly after it opened to fit it into the 86th season.
I don't usually recommend theatre-goers do research before a play, and I don't often myself, preferring to watch the action unfold onstage and be transported into the story, but on opening night I was happy indeed to have glanced at director Tony Cain's excellent notes which helped define some of Bennett's major themes.
Cain had an enormous scope to handle, and the additional challenge of making the filming of a porn film (central to much of the laughter in the second act) believable and funny at the same time.  The action revolves around the central triumvirate of Lady Dorothy (Elizabeth Whitmarsh as the beleaguered, world-weary and acutely observant chatelaine of Stackpol), her crusty and earthy companion Iris (Geli Bartlett has a particular gift for non-sequiturs) and her very proper sister June, played by Jan Streader with energetic determination in her moral rectitude.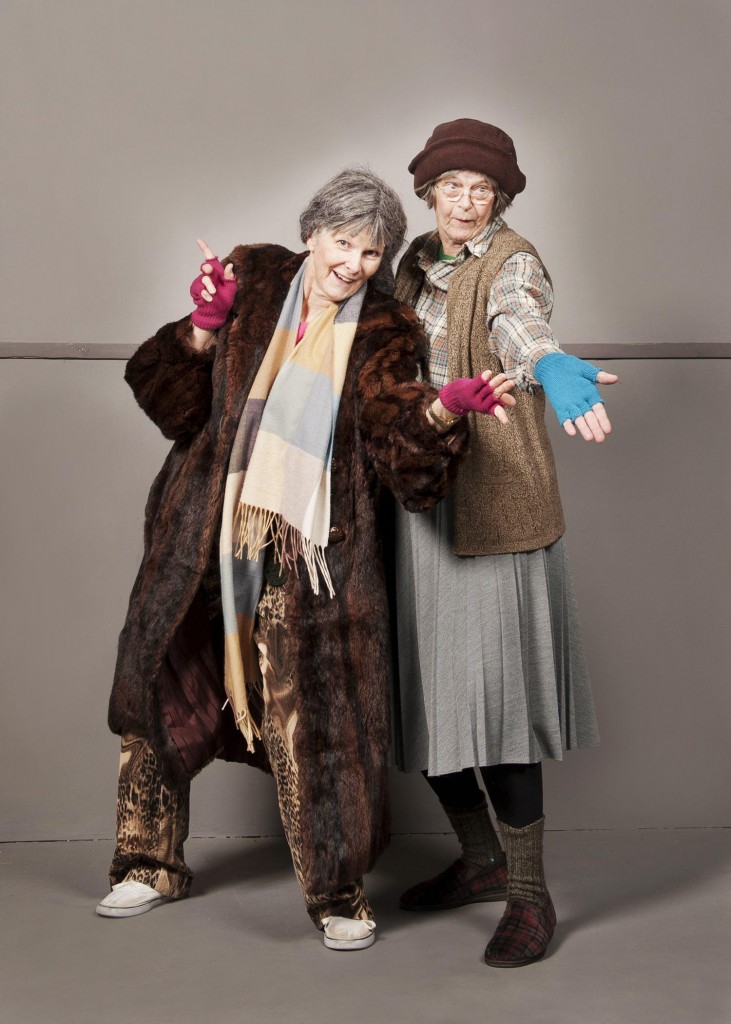 Elizabeth Whitmarsh (Lady Dorothy) and Geli Barlett (Iris). Photo: David Lowes, Art Studio 21
After centuries of family ownership the estate is badly in need of money and repair—the central conflict between the sisters resides in how to finance this.  Lady Dorothy would rather auction off the contents of the house (Jason Stevens as the suave auction agent Bevan ingratiates himself into her life with over-blown promises and declarations of similar views) or allow a porn flick to be filmed there in order to continue to live her solitary life, while June prefers passing it to the National Trust which means hordes of tourists and "Looky-Lous" traipsing through. Beneath the sisters' differences lie the very philosophical and ethical questions of heritage preservation.
Nothing is spared in Bennett's firmly anglo-centric script—neither posh, toffs nor hoi-polloi. England itself comes under his penetrating gaze—even as Dorothy refuses to be used as a living metaphor for the state of the country. There are however, universal aspects in his humour and themes that serve as touchstones for an international audience—society has suffered since the 1980s with cuts to social services; faith communities struggle with relevance; social isolation is an issue; standards of decorum (even the notion itself) are changing.
Act I serves to extrapolate many of the playwright's rather weighty hypotheses and is briefly illuminated by the antics of Lady Dorothy and Iris gallivanting around the drawing room singing and dancing to Downtown.  John Owen fairly salivates as Lumsden, the National Trust representative given to lengthy (and rather smarmy) soliloquies and the audience begins to understand Lady Dorothy's almost visceral aversion. The appearance of Toshik Bukowiecki as Theo (formerly a tea boy Dorothy knew in her days as an international model and film star), a film producer and location scout, introduces nostalgic and romantic tones. Bukowiecki and Whitmarsh tug at our heart strings in a touching duet to This Nearly Was Mine.
In Act Two the pace is brisk and funny as the porn film crew moves in.  Clutter is cleared away. Double entendre and outré jokes are de rigueur. With limited time and few lines to distinguish them, several actors created memorable characters—Rosalie Tremblay-Johnston as the Latvian knitting porn star Brit, Jennifer Elle Cannon as the solicitous crew member Louise, Malcolm Harvey as Bruce the grip—astutely fashion conscious.
In her first design for Langham Court Theatre Anne Swannell received applause for her set—a sumptuous and grand old British home in an advanced stage of decrepitude. An accomplished artist, she also painted many of the landscapes and portraits littering the floor and hanging on the walls.
Diana Keating's costumes ranged from shabby (Dorothy sports a moth-eaten fur coat and sneakers in Act I), to chic (Balenciaga gowns and Schiaparelli hats for her stunning transformation), from stately arch-bishop's robes to skimpy lingerie on the film stars.  (Any nudity was carefully screened during the filming).
Tim Watters sound design sweeps from hits of the 60s to triumphant British marches (Elgar's Pomp and Circumstance as the renovation team attacks the job at hand—humourously choreographed by Susan Wilkey), and resounds with authentic touches—the careful pacing of steps in the hallway, or the plink of a raindrop in a bucket.
Lighting by Anastasia Schwarze moves from dusty and time-worn to brilliant and bright as the house is transformed.  Theo's arrival in the dark—punctuated by a single flash light beam—while Dorothy sleeps added a splendid mysterious and slightly menacing note.
Casting and crew assignments reflect a full spectrum of ages and abilities, something I always appreciate about a Langham Court production. To me, it's the very basis of community theatre-making.
Whether you enjoy a night out for purely entertainment purposes or like to seriously examine the themes behind the work you've just seen, preferring to leave the theatre with questions unanswered and research to do—People provides both.
People by Alan Bennett, directed by Tony Cain
Langham Court Theatre
January 14-31, 2015
Tickets:
$21 Adults, $19 Students / Seniors (ages 65+), $16 / ticket Groups 10+
2 for $20 Preview (Wed, Jan 14)
2 for $30 Tuesdays (Jan 20 & Jan 27)
$10 Student Rush Ticket (15 min before curtain, with ID )
Performance Schedule (Jan 14 to Jan 31, 2015):
Jan 14 to Jan 17–Wed thru Sat nightly show time 8:00pm
Jan 20 to Jan 24–Tues thru Sat nightly show time 8:00pm
Jan 27 to Jan 31–Tues thru Sat nightly show time 8:00pm
* Plus two Sat matinees Jan 24 & Jan 31-show time 2pm
For more information, contact Langham Court Theatre:
805 Langham Court
Victoria BC V8V 4J3
Box Office / Admin: 250-384-2142
Email: boxoffice@langhamtheatre.ca
Website: http://www.langhamtheatre.ca/
Twitter: https://twitter.com/LanghamTheatre
Flickr: https://www.flickr.com/people/langhamtheatre/
Cast (character / actor):

Dorothy Stacpoole – Elizabeth Whitmarsh
June Stacpoole – Jan Streader
Iris – Geli Bartlett
Bevan – Jason Stevens 
Ralph Lumsden – John Owen 
The Bishop – Paul Bertorelli
Mr. Theodore – Toshik Bukowiecki
Bruce 'Grip' – Malcolm Harvey
Louise 'Wardrobe' – Jennifer Elle Cannon
Nigel 'Assistant Director' – Henry Skey 
Les 'Camera' – Thomas Holder 
Colin 'Actor' – Bobby Cleveland
Brit 'Actor' – Rosalie Tremblay-Johnston 
Film crew 'ASM' – Bryce Knudtson
Film crew 'ASM' – Victoria Stark Production Team:
Tony Cain – Director
Terry Oliver – Asst Director
Sylvia Rhodes – Producer
Michael Gosselin – Asst Producer
Sheila McKenzie – Stage Manager
Michael Gosselin-Assistant Stage Manager
Penny Pitcher – Shadow Stage Manager
Anastasia Schwarze – Lighting Design
Anne Swannell – Set Design
Timothy Watters – Sound Designer
Diane Keating – Costume Design
Heather Querengesser – Asst Costume Design
Jean de Cartier – Props and Set Dressing
Susan Wilkey – Movement and Singing Coordinator
Additional reading:
Alan Bennett's forward to People "It starts with an itch"
http://www.lrb.co.uk/v34/n21/alan-bennett/it-starts-with-an-itch
A round-up of reviews (helpful for the British perspective)
http://www.whatsonstage.com/west-end-theatre/news/11-2012/review-round-up-critics-cast-eye-over-bennetts-peo_2112.html
The rebuttal of People by Simon Jenkins, chairman of the National Trust
http://www.theguardian.com/stage/2012/nov/21/alan-bennett-people-national-trust