A Place to Listen season three. A conversation with Daniel and Laura Brandes.
I had the opportunity recently to sit down with Daniel Brandes, co-founder with his wife Laura, of A Place to Listen, the listening series— now in its third season—that takes place every third Wednesday of the month at James Bay United Church (corner of Michigan and Menzies).
I spoke with Daniel over coffee and then Laura added her thoughts via e-mail.
Since meeting Daniel and Laura in the fall of 2012 during A Place to Listen's first season, I have come to consider this listening series, and its habitués, my "home" in an often hectic world.  I eagerly await the arrival of each musical offering and the opportunity to stretch my listening and concentrating "muscles". If, like me, you would like to expand your musical boundaries, I would encourage you to attend.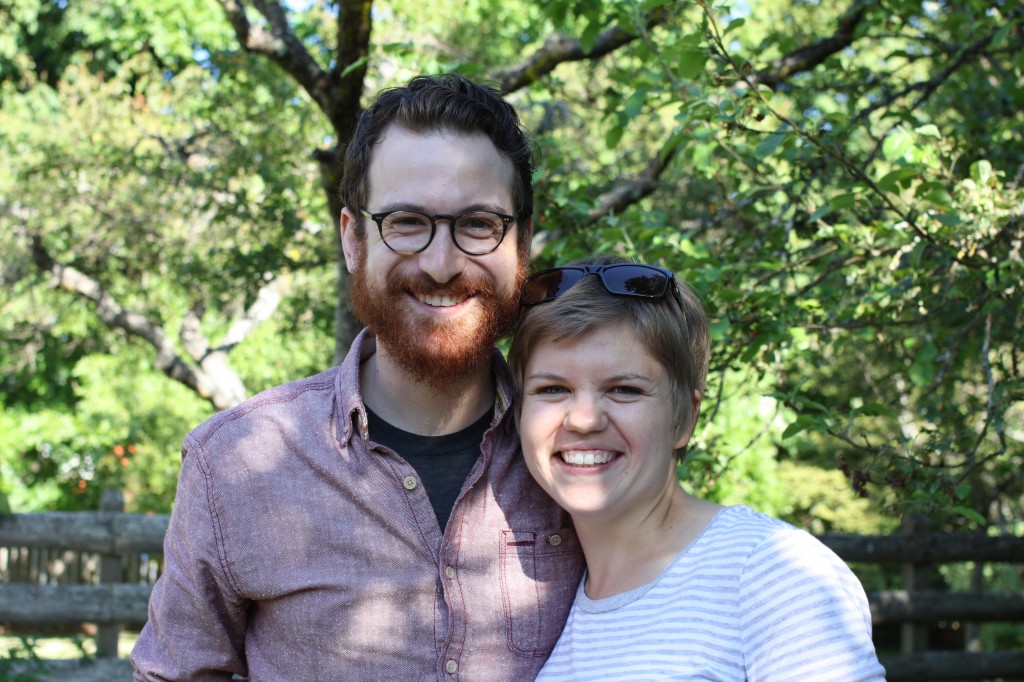 What have you learned from the past two seasons of A Place to Listen?
Daniel:
With each concert I learn more and more about what A Place to Listen is really about, its core identity. The music is centered around the Wandelweiser community but is not exclusive to it.  The series has become, paradoxically, more refined but less refined.  We often say that it is about "tones and silence", about the sense of quietness, helping people to cultivate a practice of unplugging and intentionally stepping into a very different timescape and soundscape. In some ways it can be considered a Sabbath practice. We've learned to be less prescriptive about the music—it's more about the intention.
Laura:
?Oh, I've learned a lot of things! I think as the series continues to unfold, both Daniel and I are learning more about its identity— what feels right, what works, and what those parameters might be for it to retain its vision and unique energy. Two or three years ago, I can remember having a simple conversation at our kitchen table about wanting to put on shows and create an outlet for Wandelweiser music— this particular niche of quiet and often spacious music. The series started with just us and a few keen friends. Now, a couple years later, it's still a core group of friends that make it happen, but it's also starting to feel like A Place to Listen— as its own entity— exists in its own right. A community has started to build up around it and the series has put down roots. I've learned that we have a responsibility to tend to it, to keep it thriving.
Thoughts on audience development?
Daniel:
We have a different barometer of success and it doesn't necessarily include numbers of people who attend. It's a very particular kind of experience, one that touches certain people's imagination and their reaction is "this is something that I've been looking for without even knowing".  As long as the people who are there are really there—that is a success for us.
?Laura:
It's been interesting to see the subtle shifts in the audience over the past 20 shows or so. It started out with a lot of friends and family, people who were really supporting us—and Daniel in particular—because they know and love us. Over time though, we've seen more and more regular faces—faces of people who only know us because of this series. And they come because they have a real interest in this type of music or the contemplative atmosphere it creates or something else that speaks to them.
In terms of growing the audience, so far word of mouth has been one of the best "tools." The articles that have been published in various local media outlets, like the Times Colonist and Monday Magazine, have helped to profile the series as well and we've really appreciated that support. I also think the regularity of the series—every third Wednesday, same time, same place—has made it something that people can really count on and this has helped to draw more people in.
Having said all that, the number of people in the pews isn't a rubric we really use to measure success. Of course, we want everyone who has an interest in this music or space to know about what we're doing! But, at the same time, it's more about the experience that's created at each and every show. It's about the sense of community and intimacy that comes out of engaging with this especially quiet music and the way in which communal deep listening can draw all of us—performers and audience alike—together for that shared time. This experience isn't dependent on numbers: It has happened at shows with an audience of 5 and shows with an audience of 40.
What are you looking forward to in Season Three?
Daniel:
Every concert we've programmed for Season Three is a joy!
Chris Reiche and I will be realizing brand new pieces by Chris, and by Antoine Beuger (the founder of Wandelweiser). Antoine has specifically composed Dream Come True for A Place to Listen—it's quite an honour.
I'm looking forward to Kristy Farkas' solo piano concert with Jennifer Butler in February. Kristy is a very busy individual and she hardly ever performs.
Mathieu Rhulmann, Lance Olsen and Joda Clément are a trio who perform experimental improv music. They will be realizing text pieces by Stefan Thut.
Laura is performing more—the two of us will be featured in a whistling duo in December. That concert will also include work by Laura Steenberge.
Cathy Fern Lewis and Christopher Butterfield are tentatively scheduled for spring 2015 with sound poems by Greta Monach.
?Laura:
I'm looking forward to every concert because, for me, A Place to Listen provides a time for connection, spaciousness, and relaxation.
In terms of some season-three specifics, Kristy Farkas will be doing a solo, piano-based show in the new year, which I can't wait to hear. She has such a lovely touch and sound. Also, Christopher Butterfield and Cathy Fern Lewis will be performing this season. Daniel is working on a duo for Kristy and me to perform, which I'm really excited to see. I don't actually know if this piece will be on this year's program or not, but I am looking forward to it nonetheless!
Next concert:
A Place to Listen
domains of radical receptiveness for piano four hands
works by Chris Reiche and Antoine Beuger
Wednesday October 19th, 2014 at 7pm
James Bay United Church, corner of Michigan and Menzies
Admission $10/$5 students