The language is as blue as the collars of the four young working class protagonists in Neil La Bute's Reasons To Be Pretty but it is not gratuitous.
Filled with all the passions and dreams of these twenty-somethings on the cusp of adult-hood, this naturalistic, sprawling juggernaut of a tale moves rapidly from scene to scene, underscored by the throbbing music of  "the Boss" himself – Bruce Springsteen.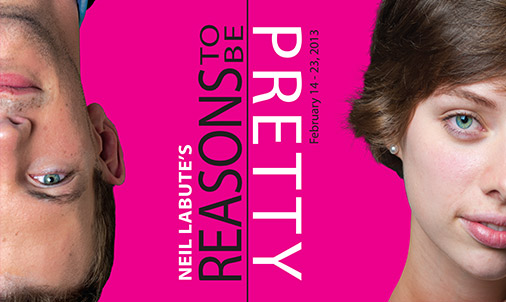 Reasons To Be Pretty premiered in 2008, and is the first of popular playwright La Bute's plays to be produced on Broadway (2009). It's a naturalistic tale of young lives trying to come to terms with their place – in society and in their personal relationships – malaise is the order of the day.
One imagines a time before "the incident" – a seemingly innocuous remark between "guys" overheard and repeated – when Greg and Steph, Kent and Carly were secure in themselves, their friendships, and work.
Steph's over-the-top reaction, a screaming profanity-laced diatribe, opens the play, and unsettles the delicate balance, forcing an unravelling.
Movie audiences have become accustomed to foul language, but it's not often theatre-goers get to experience it to this level. La Bute has been compared to the other master of the genre, David Mamet (Glengarry Glen Ross). Here, however, there is a window into the life of a young woman.
It's a risky move, from the playwright's perspective, to begin this way – will the arc of the play be able to sustain, and make sense of this powerful opening?
Reese Nielson plays Steph with gusto – at the show I attended there was much laughter and sympathy at, and for, her reaction.  She represents every time we have felt slighted and unable to reach the person who has hurt us with our arguments. The situation can only go from bad to worse as Greg (Robin Gadsby) refuses to understand, acknowledge or even own up to his original remark.  It doesn't help that he is vindicated in his position by his best friend Kent (Alex Frankson) – their misanthropic tête-à-têtes are cringe-worthy. The women don't fare any better – Steph and Carly (Alberta Holden) definitely want to get ahead, and will employ feminine wiles to do so.
Somehow, in the midst of much emotion and stress – much self-inflicted – these young people begin to make sense of their lives, and justify their positions in soliloquies.  Holden is note-perfect as a fragile exposed Carly, standing on the edge of the stage, worrying about the life her daughter will have. Can you ever be too pretty? Frankson brings bravado and an impressive physicality to the role of Kent; even defeated in a slug-fest with Greg, he swaggers. A spotlight moment has him jumping rope, and working out with free weights while delivering his speech.
Greg's inner journey forms the nexus of Reasons To Be Pretty, and while La Bute refuses to deliver a tidy ending, Greg does come to terms with his previous behaviour and its consequences. Gadbsy is earnest and likeable in his desire to improve.
Elaborate sets (Breanna Wise) including a lunch room with not one, but three, working microwave ovens, capture the working class environment completely, I was intrigued with the use of large mirrors, displayed in such as way as to reflect the audience back at itself just before the play opened, and at the intermission, and wonder how many others checked their hair, or were otherwise discomfited by a moment of meta-theatre.  Set changes, effected by stage-hands as actors, with the use of pull-alongs, accented the shouts of "woah, hey" in Springsteen's lyrics, and contributed significantly to the tone.
Lighting designers Michael Whitfield & Erin Osborne use projections in compelling fashion, bleeding them onto side walls, and over scrims to expand the world of the play. Music (Hayley McCurdy) translates the hum and thrum of the factory floor, and the lives of those who work there. Costumes (Hayley Fullford) mirror the reality of modern- day life; uniform for work, and self expression in personal clothing (Greg sports T shirts with the titles of authors he's reading).
Reasons To Be Pretty is the MFA thesis project of Director Christine Willes, an accomplished theatre, film, and television actor (Dead Like Me).  In a talk before the show, Willes listed the themes the creative team and cast worked with: the experience of being judged and belittled on the basis of appearance(s); the battle between the sexes; growing up (coming of age); ambition, and explained her collaborative approach.
Congratulations to director, cast and team for committing totally to this project and going "balls to the wall" to deliver a slice-of-life for the 21st century that speaks to the heart of many young people today, and confronts us all with our own attitudes.
In the end, no matter how flawed these characters are, we can relate to their reasons and are left wanting to know more about the next chapter in their lives.
Reasons  To Be Happy, a companion piece which picks up the story of Steph and Greg three years later, will have its Off-Broadway premiere in June 2013.
Reasons To Be Pretty, By Neil LaBute, UVic Phoenix Theatre
February 14 – 23, 2013
Director Christine Willes (MFA Candidate)
Set Designer Breanna Wise
Costume Designer  Halley Fulford
Lighting Designers Michael Whitfield & Erin Osborne
Sound Designer Hayley McCurdy
Stage Manager Imogen Wilson
Alex Frankson (Kent)
Robin Gadsby (Greg)
Alberta Holden (Carly)
Blair Moro (Rich)
Reese Nielson (Steph)
Advisory: This play is definitely four-letter word friendly. Mature subject matter and very coarse language.
Produced by special arrangement with Samuel French, Inc. New York City.

January 14-23, 2013
Public Previews @ 8pm: ($7 tickets after 5pm) : February 12 & 13
Evenings @ 8pm: February 14 (Opening),15 (Lecture), 16, 18, 19, 20, 21, 22, 23
Matinee @ 2pm: Saturday, February 23
Tickets: Tickets $22/24, $18 (seniors), $13 students
Box office:
Open for show: February 5 – 23, 2013
Call: 250.721.8000
I was offered complimentary tickets to attend Reasons To Be Pretty. I was not required to write a review. As always, I retain complete editorial control over all content published on my blog.