If life, through no fault of your own, has ever painted you into a corner from which there appears to be no escape—other than using your wits to rise above—you will empathize with Jean, the character at the heart of Judy Wensel's wryly observational and bittersweet coming-of-age drama Shangri-La. (Currently at Intrepid Theatre's Uno Fest 2014)
Small town family life is laid bare with painful precision through the surprisingly cogent ruminations of this 14 year-old second sister—torn between loyalties to kin and a desire for self-determination.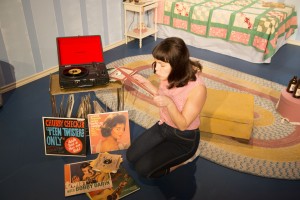 Shangri-La is set in 1963—a time of crinolines, pedal pushers and teen-age crooners—deep in the heart of the "rural municipalities" where life has a pre-determined path, and judgement runs high. Jean has been banished to her bedroom, the result of a tiff with her mother, and told to make an attitude adjustment.
In the space of one short hour Wensel reveals not only the heart and mind of a 60s adolescent but also the mores and values of the society in which she lives. Her portraits of neighbours and school chums reveal, in telling detail, the pressures placed—with drastic consequences—on individuals to conform.  Squeezed into a box she has no desire to occupy, Jean whiles away her time, spinning 45s and creating movies in her head to accompany the tunes, perfecting her drinking skills with an "alcohol resistance program", and practicing her dance moves.
Struggling to create some distance from a "complicated" family she loves deeply, her existential musings are, by turns, funny, poignant and brave.
Wenschel is an author who inhabits the territory of Alice Munro, Sinclair Ross and Jack Hodgins in her portrayals, and is a theatre artist I want to see more of.
I don't know if the creator intended it to be so, but for me, Shangri-La is a modern day tribute to the rallying cry "the personal is political". It stands as a testimony to a moment in time, while serving as a reminder that some things never change.
Shangri-La was developed with assistance from One Yellow Rabbit Summer Lab Intensive and premiered in Regina in the fall of 2013 as part of the 2013/2014 Shumiatcher Sandbox Series at the Globe Theatre. Watch for Shangri-La at the Saskatoon and Edmonton Fringe Theatre Festivals in the summer of 2014.
Shangri-La, Intrepid Theatre Club, # 2-1609 Blanshard Street
Tickets $20, $79/5 Show Pass, $100 Karma 5 Show Pass
Ticket Rocket online, in person or by phone 250 590 6291
Tuesday May 27th 7pm*
Thursday May 29 9 pm
Friday May 30 6 pm
Created and performed by Judy Wensel (Regina)
Directed and dramaturged by Michelle Kennedy
Dramaturgy by Denise Clark
$20 – 60 minutes – dramatic comedy (coarse language)
sodhousetheatre
Twitter @showshangrila
Disclaimer: I received a complimentary ticket to Shangri-La.