Shrek the Musical by Four Season Musical Theatre May 22-31, 2015. A review.
The appreciative buzz in the jam-packed lobby of the Isabelle Reader Theatre (Spencer Middle School in Langford) as fans jostle for a chance to speak to their favourite performers after the opening of Shrek The Musical, says it all—Four Seasons Musical Theatre have another hit on their hands.
Featuring a cast of 36 ranging in age from 6 to sixty, production team of fourteen and crew of over thirty, Shrek is wonderfully over-the-top and full of camp with enthusiastic ensemble numbers, heart-warming (and dastardly) solos and some fine tonal interplay in duets and trios.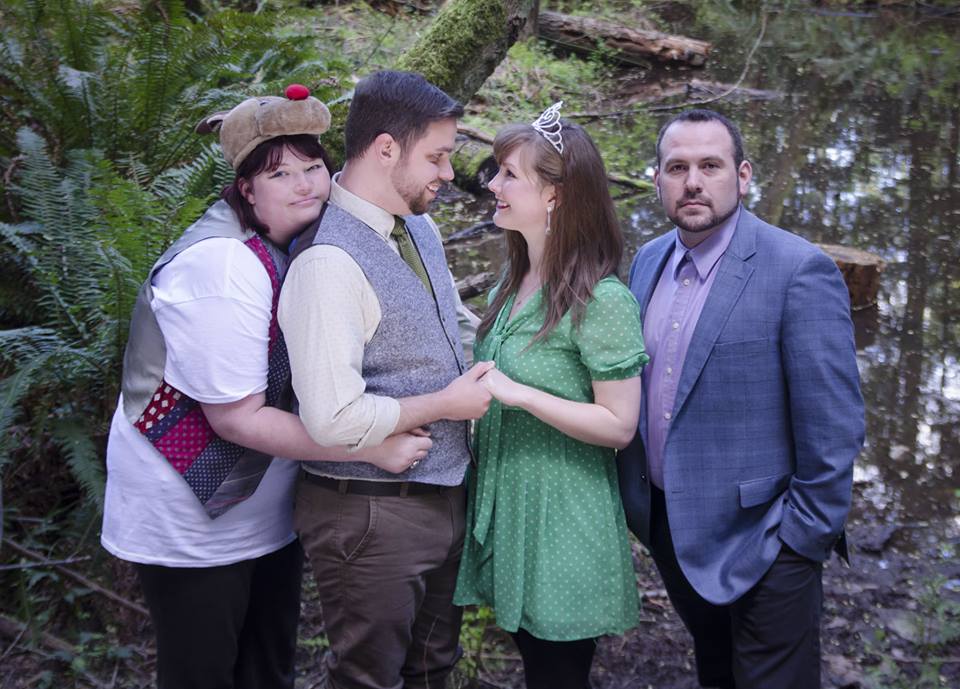 Sasha Moriarity Schieven (Donkey), AJ Hildebrand (Shrek), Julia French (Fiona) and Nathan Black (Lord Farquaad)
Long a fixture of the arts scene on the WestShore—celebrating 40 years in 2015—but perhaps less well-known to audiences across the region (I'm ashamed to admit that this might be the first time I've ventured out to see them perform) Four Seasons demonstrates what community theatre is all about. Depending on a core group of board members and volunteers, drawing in trained professional and emerging talent, and providing an opportunity for community members to try their hand—whether on stage or in the crew—they mount two shows a year (upcoming are A Christmas Carol (December 2015) and My Son Pinocchio (spring 2016) and also run classes and summer camps for children.
When I think of the logistics involved—co-ordinating rehearsals and being mindful of the youngest cast members' school schedules, developing choreography (Shannon Delaney) that allows 36 people to move at once on a small stage, pulling together a team of musicians (Kathie Hunwick and Lara Oberg), creating multiple costumes for each performer (Marie Fidoe) and organizing the crew to manage the many costume changes, building sets on a limited budget (Chris Edley), creating lighting and sound effects that make people sit up and take notice, coaching voices unaccustomed to singing—it's any wonder producer Helen Edley and director Jaymes D. Goodman started preparations for Shrek last September.
Based on the 2001 DreamWorks film of the same name, Shrek the Musical was developed for the stage by Jeanine Tesori (music) with book and lyrics by David Lindsay-Abaire, premiered on Broadway in late 2008 and garnered twelve Drama Desk Award and eight Tony Award nominations. With its feel-good positive message, catchy tunes and sly undertone, Shrek is definitely a show that appeals to wide audiences—indeed, the theatre was filled with families including small children and grandparents.
In the role of Shrek, AJ Hilderbrand is a most convincing grumpy hermit of an ogre, who, exiled at age seven, is positively furious at being forced to share "his" swamp with a swarm of displaced fairy-tale creatures. The ensemble numbers Story of My Life and The Goodbye Song are a not only a feast for the eyes with the many different characters (Pinocchio, Pied Piper, Fairy Godmother, Prince Charming, Wizard, Humpty Dumpty, Tinkerbell, Genie and more) from classical stories and modern films, but are also rich in one-liners and quips that bring quick jolts of recognition.
Forced to venture into the land of Duloc, home to the evil Lord Farquaad, in order to regain his privacy, Shrek rescues a Donkey (Sasha Moriarity-Schieven in a hyper-active, non-stop, full-on performance) along the way and reluctantly agrees to travel with him. The excellent contrapuntal singing in the duet Don't Let Me Go signalled with assurance that there were other highlights to come.
Meanwhile, in the kingdom of Duloc, nefarious deeds are underway as the diminutive Lord Farquaad (Nathan Black in his first ever stage role) seeks to reign supreme. Black seems born to the stage, despite his small stature (created with some costume wizardry and incredible acrobatics accomplished while kneeling throughout most of the show), he happily camps it up as the frustrated lord who wants to be king in Welcome to Duloc/What's Up, Duloc? accompanied by the Duloc Dancers in high-kicking style, and returns for The Ballad of Farquaad in a bubble bath with his guards dressed in bath towels. This second scene remains visually one of the most enduring moments of the show.
In order to retain his swamp Shrek sets out to rescue Princess Fiona (the winsome Julia French) from the Dragon (Veronica Hartland in a dazzling fuchsia and purple lamé gown, slithering sensuously across the stage). Fiona, played at three ages by French, Molly McClellan (Young Fiona) and Maeve Poulin (Teen Fiona), sings with yearning earnestness of her desire to be released from tower where she has been held captive in the ballad I know It's Today.
Once the princess freed, the intrepid trio (Shrek, Fiona and Donkey) set off for Duloc, wistfully singing of their hearts' desires (Who I'd Be) and bonding in funky fashion over bodily noises (I Think I've Got You Beat) in a tune that is sure to be a hit with the younger set.
Since Shrek is a fairy tale, albeit one with a sly undercurrent, all is for the best in the end, as evil is vanquished and right prevails. Positive messages abound in the final rousting numbers as the ensemble takes the stage to fly their Freak Flag in a Big Bright Beautiful World while proclaiming This is Our Story and I'm a Believer. This one-two-three-four punch will have you out of your seat clapping time and applauding the incredible work and talent represented as Shrek the Musical draws to a close.
Thanks to everyone involved in bringing Shrek The Musical to life and proving, once again, that our region is brimming with people willing to share their passions with the community, providing opportunities to everyone who would like to take part.
Shrek the Musical by Four Seasons Musical Theatre
May 22-31, 2015 at Isabelle Reader Theatre (Spencer Middle School 1026 Goldstream Avenue in Langford)
Tickets $14-20, family of four $54 available online and in person at Westside InstaPrint, Langford, and Jennings Florist or Ivy's Book Shop, Oak Bay.
Check the Facebook page for cast photos and biographies.
Disclaimer: I was provided with a complimentary ticket to attend Shrek the Musical.