It's time to bid farewell to the second season of Sin City: the live improvised soap opera, as the Carnies wrap up all the loose threads of the season. The final episode is slated for Tuesday May 29th at the Victoria Event Centre.  Since October of last year,Victoria audiences have laughed at the antics of The Serpentine Snake Lady, the Celestial Hypnotist, the Trick Shot Artist, The Amazing Mentalist, and more.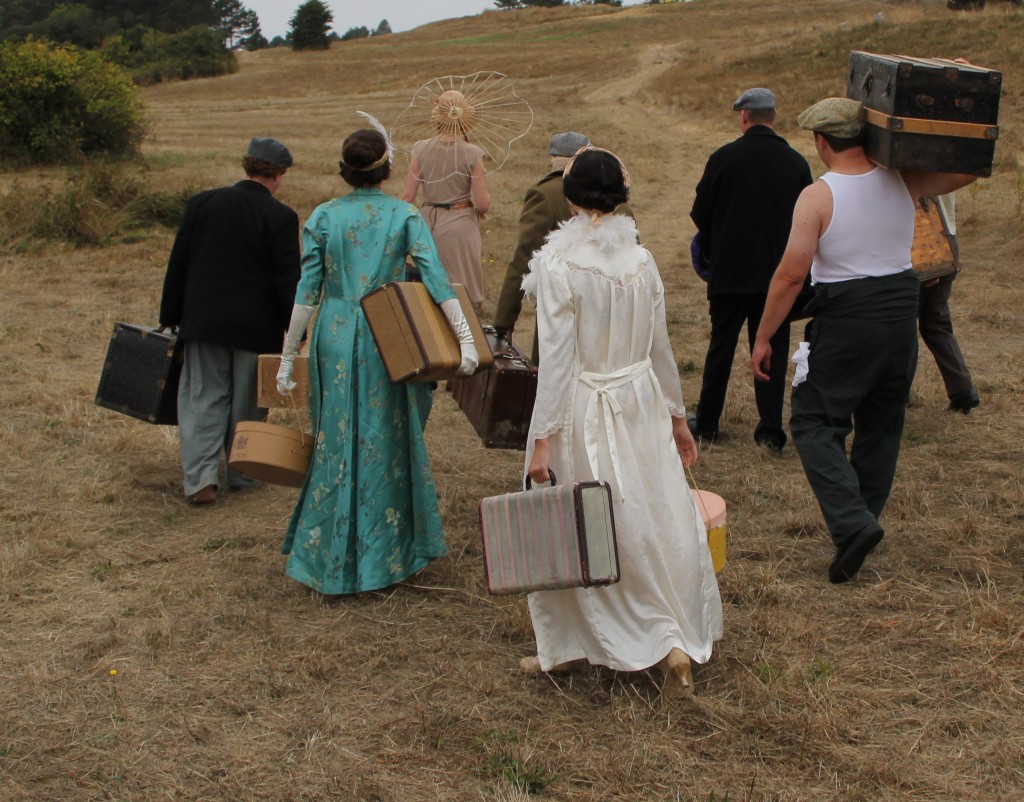 Photo: Chris Boots Orchard. Image provided.
Despite my best intentions I only managed to attend opening night and the penultimate episode last Tuesday.  There were many new (to me) characters including Charles Lapadieux Robert Conway (with a delicious and remarkably accurate French accent), a very pregnant Sparky McGee Amanda Lisman and a knock-em-out Delores Delisle Christine Upright .
Thankfully the program insert provided me with enough history to understand the antics onstage.
The actors (witty, profane and very funny) have enriched their characters considerably since October and provided situations that will require a fair degree of ingenuity to resolve next week. Will there be any cliff-hangers? Will the carnies return for Season 3 or will we see a completely new set-up?
During the show, I had the opportunity to chat with habitués and learned more about the revolving nature of the large cast.  Other acting and professional commitments pulled people out of the line-up, and they returned when possible.  This fluidity was only possible due to the considerable talents of the ensemble.
My original impressions from October still stand.
It's fast, funny and completely entrancing to watch actors at the top of their game, veterans of vaudeville and improv, as they hurl themselves willing into situations demanding complete trust in the abilities of their fellow performers.  Whatever you thought you knew about improv – throw it out the window, erase it from your memory, and grab your tickets quick before other theatre patrons realize just what a treasure we now have in the city.
Originally slated to end on April 17th, Sin City: Carnies proved so popular the season was extended for a record 30 shows to May 29th.
If you plan on attending the Season Finale, I'd recommend getting tickets now to avoid disappointment.
Sin City: Carnies
8pmTuesday May 29
Doors open at7:15.
A special treat for early birds:  a highlight reel  will be screened during pre-show
Victoria Event Centre
1415 Broad Street
Tickets: $14 in advanceTicket Rocket online or by phone: 250-590-6291
$15 at the door
Live direction by Ian Ferguson.
The cast features some of Victoria's funniest improvisers and comedic actors: Wes Borg, Morgan Cranny, Kirsten Van Ritzen, Christina Patterson, Chris Gabel, Karen Brelsford, Robert Conway, Alan Penty, Christine Upright, Charlie de Pape.
Special guests include: Miss Rosie Bitts, Andrew Bailey, Justin Carter, David MacPherson, Bill Nance, Stu Palfrey,  Jim Leard, and Amanda Lisman.
Grayson Walker provides improvised musical direction and Theodore Sherman is technical director (sound and lighting).