Sip and Savour, March 27, 2014 in Sidney BC.
One of the aspects of social media I have enjoyed the most since 2009 has been the opportunity to connect with individuals locally who I might not have met otherwise.  This is the case with Steven Duck of TIDES Group (The Island's Destination and Event Service).  Steve has a long history of guiding hiking, biking and gourmet tours—here on Vancouver Island, in BC, and also further afield in Italy, New Zealand and Central America.  He has a passion for good food, and highlighting Vancouver Island's incredible bounty—to tourists and locals alike.
His latest venture is Sip and Savour in Sidney on March 27th at the Mary Winspear Centre.  A number of foodie events are scheduled for later in the year—Sip and Savour is bound to fill the gap in early spring.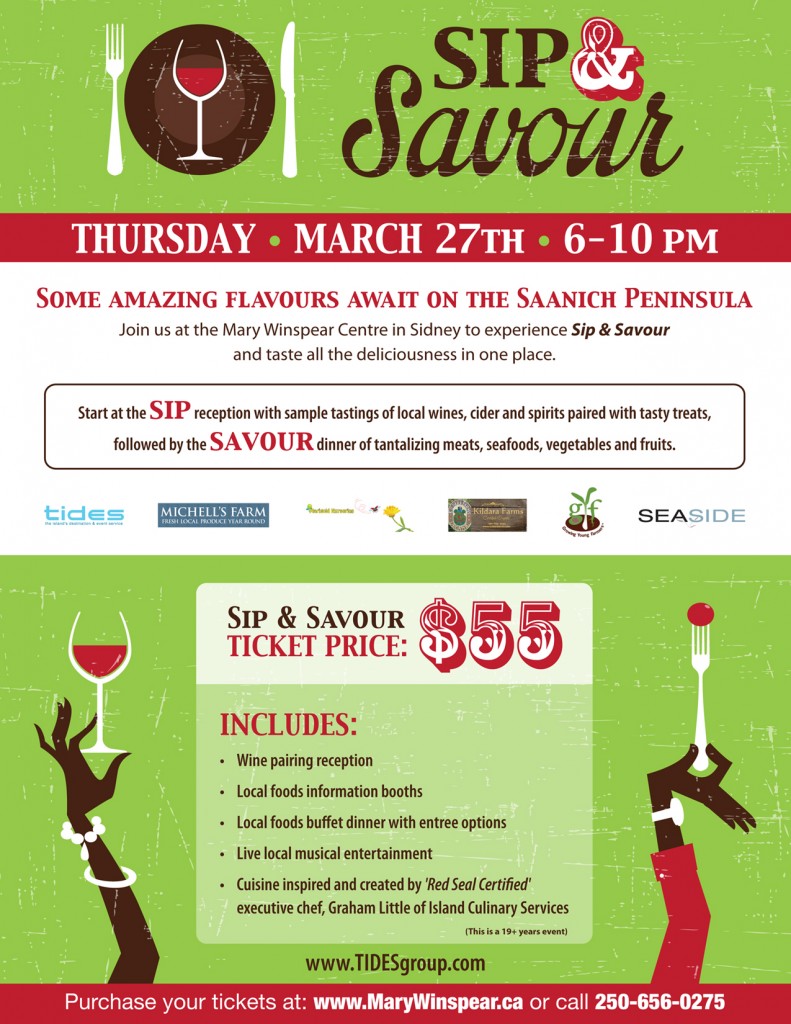 Are you a foodie?  Looking to find out what's cooking on the Saanich Peninsula?  Interested in the our local beverage industry?

Then, Sip & Savour Sidney will pique your interest!  Join us on Thursday, March 27th 6-10PM at the Mary Winspear Centre to enjoy all the deliciousness in one place.

On this evening, you can begin in the wine reception where you have the opportunity to taste beverages from Peninsula producers:

Following this, move into the banquet hall to

SAVOUR a gourmet buffet dinner

created by Red Seal Chef,

Graham Little

.  An outstanding menu of vegetables, fruits, meats and seafoods grown on the Saanich Peninsula by

Michel's Farm

,

Kildara Farms

,

Red Barn Market

and others.  Accompanied by the unique dulcet tones of the

Craig Henderson Trio.

THE MENU …Cold Food:
West Coast Decorated Salmon Display with local smoked seafood and shellfish
Saanich Peninsula Baked Breads from the Roost Bakery
B.C. Gold Potato Salad with a Dijon Dressing
Spring Mix salad greens with local Kiwi and Blackberry Vinaigrette
Roasted Vegetable and Pasta Salad with Sun-Dried Tomatoes
Apple & Cabbage SaladHot Food:
Mashed B.C. Golden Potatoes with roasted garlic and parmesan cheese
Sauteed Saanich Peninsula Spring Vegetables including Carrots, Turnips, Zuccini, Swiss chard and Cauliflower
Oven Roasted Herb Peninsula Chicken with Tangy Orange BBQ Glaze
B.C. Wild Mushroom Ravioli with a creamy garlic sauce
Savoury Beef . Cubed, Roasted and Simmered in V.I. Brewery Pale Ale, Michel Bros. Carrots and Savoury Herb Gravy

Dessert & Coffee:
Fruit & Berry Shortcake featuring Saanich Peninsula Strawberries, Blackberries, and Kiwis.  Fair trade coffee and tea service from Level Ground Trading

Sip a little then Savour a lot …. a remarkable evening you don't want to miss.