The Charming of the Shrew by Launch Pad Theatre Co March 31-April 9 2016 at Craigdarroch Castle.
In the elegant surroundings of a beautiful mansion, a group of cultured ladies and gentlemen bid you welcome as they proceed to desport themselves for your enjoyment.  David Radford and Christina Patterson of Launch Pad Theatre Co. present a vigorous modern version of Shakespeare's classic, now re-named, The Charming of the Shrew.
As a conceit, the assembled partygoers produce a show in the fourth floor ballroom-cum-theatre, apportioning the roles in a seemingly off-the-cuff fashion as the guests mingle in the main floor rooms while sipping champagne.  Audience members have clearly embraced Launch Pad's intent and came attired in tuxedoes, gowns and cocktail wear (although to protect the floors stilettos are not advised).
Climbing the 87 steps—with breathtaking views on every landing—it is easy to slip back in time to a slower era, before radio, film and television, when every country house and estate would have featured entertainment of this genre—people making fun for themselves, regardless of their station in life.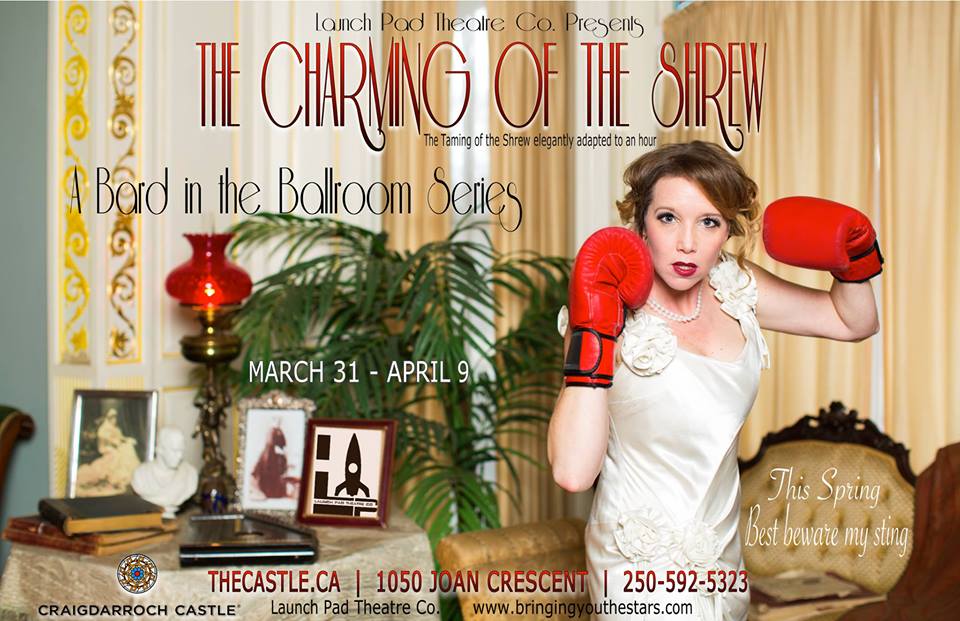 Photo: Derek Ford
A sure test of a company's mettle is the ability to translate Shakespeare's work for the uninitiated.  Radford has winnowed and whittled until the essential remains—a story of true love and how it is tested.  Comedy has been greatly accentuated via the bumbling older suitors Gremio (Graham Croft) and Hortensio (Paul Oppers), the class-mixing Lucentio (Jared Gowen) and Tranio (Monica Ogden), and the personality clash between Katarina (Christina Patterson) and Petruccio (David Radford).
Rather than attempt dangerous hand-to-hand combat in close confines, the directors hit upon the brilliant idea of utilizing foley (hand-reproduced sound effects) ably matched to the choreographed fights by Emma Dickerson.  Swords are drawn and zing with alacrity. In more refined moments, champagne flows and glasses tinkle.
Patterson, with her tall and regal bearing, is an impressive Katarina—strong-willed, striding about in jodhpurs and riding jacket, crop in hand—clearly not someone to be meddled with.  Yet into the fray, whole-heartedly, bumbles the drunken and boorish Petrucchio (Radford) sporting a kilt and the broad Scots brogue to match.  Hints at the direction of their intercourse arrive early, as Petrucchio wordlessly chides Baptista (David Biltek) when the latter lifts a hand to his daughter. Here are a couple equally matched—and after the initial sparks, grows a passionate and lusty love, one filled with wit and laughter and a refusal to accept society's narrow boundaries.
The pettiness and manoeuverings of the aging suitors Gremio and Hortensio, symbols of an established order, in comparison, are derided and scorned—when they are finally trumped, the audience can rejoice.
As a counterpoint to the sturm und drang exhibited by Katarina and Petrucchio, the budding romance of Lucentio (Gowen) and Bianca (Kate Flanagan) is gentle and kind.  The Charming of the Shrew focuses, above all, on respect—means differ but in the end the young couples are aptly suited to one another, having played a turn on their elders.
Narration and synopsis (Monica Ogden) keeps the audience informed of plot points omitted.
The action moves swiftly yet the story retains all its impact, humour and satire thanks to insightful direction by Radford, Patterson and co-director Graham McDonald.  Altogether this Charming of the Shrew is a thoroughly pleasant way to while away an hour or two, surrounded by luxury and vestiges of a bygone time.
Now the question arises—which of the Bard's works will Launch Pad Theatre Co. tackle next?
In the fall, the company promises a return to stories of The Dark Knight.
The Charming of the Shrew
March 31-April 9 2016 at Craigdarroch Castle
Tickets $28-$35  online or by phone at 250 592 5323
Adapted from William Shakespeare's The Taming of the Shrew.
Re-imagined and refined, adapted and updated, to a witty and wonderful hour-and-a-half of enjoyment.

Following a sold out run of our Halloween production, Arkenham Abbey, Launch Pad Theatre Co. invites you to bring in the spring with a feverish, fast paced farce.

Come in your snazziest cocktail attire (No stilettos please) to enjoy an evening of classy entertainment, a glass of bubbly, and a beautiful re-imagining of one of the Bard's most well-loved comedies.

Elegantly cut to an hour
Tastefully fitted to the castle
Perfectly tailored for you.

*Please note, the Castle boasts a beautiful oak staircase containing 87 stairs to the 4th floor ballroom with no elevator or ramps.
Cast (in order of appearance)
Monica Ogden – Tranio/Narrator/Widow
Jared Gowen – Lucentio (Cambio) /Grumio
Kara Flanagan – Bianca
David Biltek – Baptista
Graham Croft – Gremio/Vincentio
Paul Oppers – Hortensio (Litio)
Christina Patterson – Katarina
David Radford – Petruchio
Martha Burd – Seamstress
Emma Dickerson – Foley Artist
Adapted by David Radford
Directed by David Radford and Christina Patterson
Co-Directed by Graham McDonald

Disclaimer: I as offered a complimentary ticket to attend The Charming of the Shrew.