The Clean House by Sarah Ruhl at Langham Court Theatre. A review.
Langham Court Theatre tackles the challenge of Sarah Ruhl's comedy-fable The Clean House (April 18-May 5, 2018) with intelligent direction, sophisticated staging and design, and spirited acting.
Ruhl's witty deadpan style demands skilled actors with an appreciation of the pause, a talent the ensemble displays in abundance. This absurdist fable also requires a complete commitment to creating a world that is realistic while being slightly skewed.
Pity poor Lane (Sarah Heyman), a normally "cool-as-a-cucumber" doctor battling between her desire to be compassionate to her maid Matilde (Dani Parkinson) and Matilde's refusal to clean while she works, instead, on the perfect joke. Lane's life is slowly unravelling, her precise world falling apart, no matter what she does. Enter her sister Virginia (Fran Patterson buzzes with manic energy) who finds great comfort in housework and order—befriending Matilde she surreptitiously offers her services as housekeep. There's delicious irony in the reversal of class, and revenge of long-held sibling rivalry in Virginia's incursion into her sister's inner sanctum.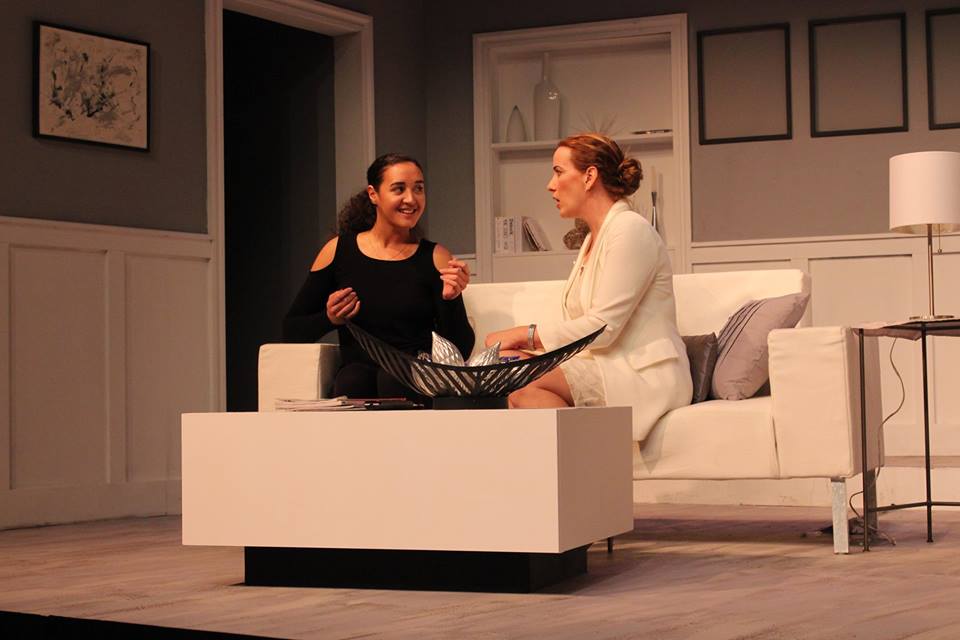 Dani Parkinson (Matilde) and Sarah Heyman (Lane). Photo: Kathy Macovichuk
Jason Vikse and Sean Thompson have collaborated on a set design that is the epitome of modern elegance with its white and grey interior, dominated by a massive stone fireplace, and highlighted by exquisite furnishings and accessories on sleek shelving and sideboards (Joyce Kline has once again worked magic to create an interior that could take pride of place in Architectural Digest; furniture was designed and built in-house by Kline with the assistance of Chris Clarke and Diane Madill).   As in the play, the set is not all it appears to be; transformations delight with their unexpected nature (and I will not spoil the effect for future audiences) revealing an incredible level of technical expertise. A shout-out to the carpenters, builders and painters is in order (head scenic carpenter Chris Clarke; head scenic painter John C. Smith)—the quality of Langham Theatre sets is well-known; this set raises the bar even further. The contrast between Lane's meticulous interior and the haphazard nature of Ana's is further emphasized through the use of colour and props (Jean de Cartier, Drew Waveryn, Ann Harris).
The Clean House opens with a lengthy monologue (in Portuguese) by Matilde–completely discombobulating the audience—there are no surtitles.  Craziness continues from there. Ruhl's script takes marital infidelity and elevates it through the notion of "bashert"—soul mate; of course this is cause for grief and consternation in real life, yet here it is perfectly plausible for Charles (Michael Romano), the surgeon, and Ana (Gloria Snider), his patient, to fall in love instantly and move in together.  In a zany sequence Romano foolishly chases Ana's heart from spot to spot as it dances around the room.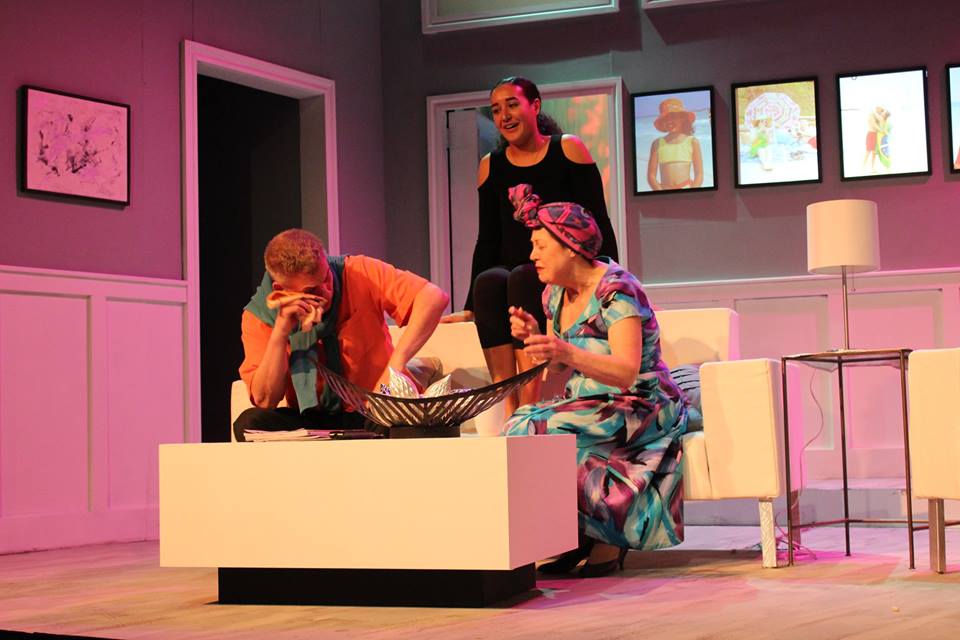 Michael Romano (father/Charles), Dani Parkinson (Matilde), Gloria Snider (mother/Ana).Photo: Kathy Macovichuk
Romano and Snider also play Matilde's parents—who met late in life and loved one another deeply.  Through dreamy flashback moments the arc of their love story is mirrored in that of Charles and Ana.
When tragedy happens and life does not go as planned, how can people cope?  As Lane falls into deep melancholy over the ruin of her perfect marriage, the once-distant Virginia provides consolation, aligning herself with her sister for the first time since they were children. And when Ana's illness returns, Lane cares for her as Charles takes off on a last-ditch mission to Alaska in search of a miraculous yew tree (the symbolism is trenchant).
It's not often that a quartet of actors over fifty (Ana is written as a 67 year old) get to share the stage in a quirky, modern vehicle—there's a depth to Ruhl's characters, an understanding that tragedy and joy co-mingle, something Heyman, Patterson and Snider convey with ease.  Rivals become friends in acts of sacrifice and compassion. Romano is a man swept up by the strength of his passions—clear-headed in his resolve. Parkinson, in her Langham debut, is an assured and imperious presence.
Parkinson and Snider deserve extra mention for their efforts to learn Portuguese and Spanish (coaches Mice Albano and Martha McGachie) which definitely adds to the verisimilitude on the story.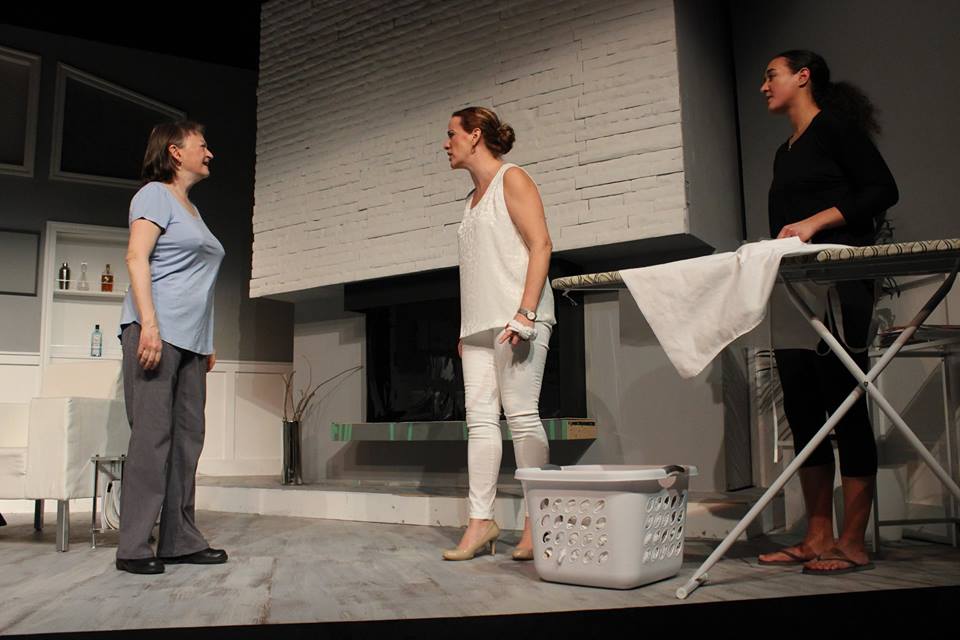 Fran Patterson (Virginia), Sarah Heyman (Lane), Dani Parkinson (Matilde). Photo: Kathy Macovichuk
Jason King's sound design incorporates soulful and up-tempo Latin rhythms while his projections enliven Lane's rather stark interior with colourful vignettes.  Paul Hinton's lighting emphasizes the cool tones of Lane's home in contrast to the warm setting of Ana's apartment by the sea and excels in creating the differentiation in the flashbacks and imaginary scenes.
Ainsley Harrington's costumes also highlight the divide between Lane in white and Matilde in black, and contrast the flamboyance of Ana with Virginia's more utilitarian garb.
This is the first show at Langham Court Theatre for director Jason Vikse; hopefully this stellar debut will signal more to come. His keen insight and inventive mind bring a spirit of playfulness and deep truth-telling to The Clean House; under his clear direction the cast displays great physicality and verbal dexterity bringing the comedy to the fore while grounding each character's emotional journey.  Bravo on a fine example of the incredible strength and depth of community theatre in Victoria.
"Everyone has a great, horrible opera inside him" says Ruhl.
2005 Pulitzer Prize for Drama Finalist.

"A gorgeous production… tart humour, theatrical audacity, emotional richness." New York Times

This theatrical and wildly funny play is a quirky comedy centred on Matilde, a young Brazilian cleaning woman who hates to clean and would rather be a comedian. Matilde works for Lane, a sharp doctor who is perfectly satisfied with her structured life. Lane's sister Virginia loves to clean and sets up her own deal with Matilde, hoping that Lane doesn't catch on. But Lane's attention is diverted when she discovers that her husband and co-worker, Charles, is leaving her for his patient, the older and vivacious Ana. The Clean House is a piece written in the genre of magical realism; it's a comedy about cancer, death, and love that dares to laugh in the face of trauma and celebrates the beautiful chaos of a messy life.

SUITABLE FOR ALL AGES.
The Clean House by Sarah Ruhl
Directed by Jason Vikse
Langham Court Theatre
April 18-May 5, 2018
Tickets: $17-23 through the Box Office 250.384.2142 boxoffice@langhamtheatre.ca
Cast:
Sarah Heyman as Lane
Fran Patterson as Virginia
Dani Parkinson as Matilde
Gloria Snider as Ana
Michael Romano as Charles
Production Team:
Angela Henry: Producer
Caitlin Dowe: Stage Manager
Euphemia MacMurchy: ASM
Sean Thompson: Set Design
Jason Vikse: Set Design
Paul Hilton: Lighting Design
Jason King: Sound Design
Jean de Cartier: Properties
Drew Waveryn: Properties
Ann Harris: Properties
Joyce Kline: Set Decor
Ainsley Harrington: Costume Design
Mice Albano: Portuguese Coach
Martha McGachie: Spanish Coach
Further reading:
An interview with Sarah Ruhl https://www.newyorker.com/magazine/2008/03/17/surreal-life
Disclaimer: I received complimentary tickets to attend the opening night of The Clean House.