The God That Comes at the Belfry Theatre SPARK Festival 2015. A review.
In The God That Comes (Belfry Theatre SPARK Festival March 17-21) modern minstrel and story-teller Hawksley Workman delivers a wildly hypnotic performance that defies theatrical convention.  The Juno-award winning musician is a multi-instrumentalist of phenomenal ability whose blazing virtuosity will remain seared in memory long after the show is over.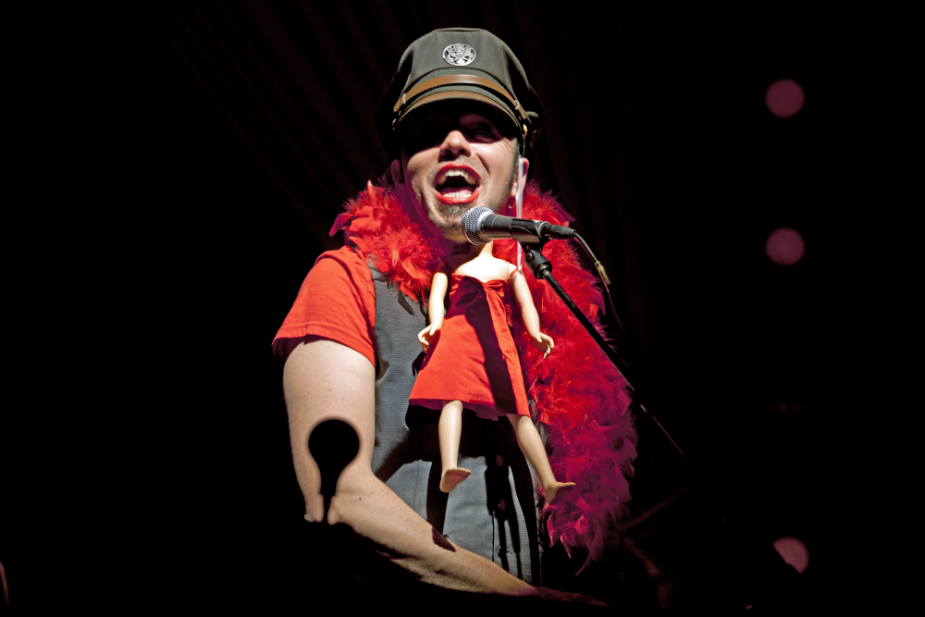 Three years of attention to detail and story line have produced a show, written and directed by Christian Barry of 2B Theatre in Halifax, that has been fine tuned to the nth degree since an earlier workshop presentation at Intrepid Theatre's UNO Fest in 2012.
One tip—grab your drinks on the way in. Workman began the evening by reminding the audience this was a show about wine and excess, and inviting people to head back to the bar for libations.
In an aside—which does not signal the beginning of the show apparently—he then recounts Euripides' The Bacchae—the tale of a king, his mother and a strange new god Dionysus.  A desire for the rule of law and order clash with a spirit of abandon and licentiousness—it does not end well for the king.
Set along the back wall are mannequins' heads, representing the characters, to be switched out during the show on a body sitting slightly behind the instruments.
Then begins what can only be described as a musical frenzy that starts on the drums and moves across the stage to keyboard and electric piano and includes, in the mix, ukulele, guitar, electric bass and guitar, harmonica (in one of the most deliciously cheeky moments of the evening), flute and a mbira (thumb piano).
Opening to the wild beats of The Invocation he pounds out rhythms that set the stage for all the excesses to come and invites the audience to participate, howling lyrics like one demented. The Dress Makes The Man is a campy send-up that owes much to cabarets. Wild Abandon is savageness personified—producing loops of music in symbiosis with his sound mixer and operator Todd Lumley—he hurtles back and forth across the stage, grabbing shepherd's staffs and pounding them full-force as his feet tap and stomp. His voice soars and wails, dropping to tender and heart-broken on He's Mine.  And, in a most cautionary epilogue, Workman sends out a chilling message to the denizens of blossom-bedecked towns everywhere in They Decided Not to Like Us.
Lighting design by Leigh Ann Vardy provides visual pyrotechnics aplenty for audiences more accustomed to concerts in larger venues.
Workman is a beguiling, seductive, imperious, wild thing—in every instance the consummate showman with a terrific sense of timing—attuned to the minute movements of the crowd and able to react immediately with a well-placed quip.
The God That Comes is a display of musical prowess not soon to be forgotten—haunting melodies remaining as ear worms long after the music ends. It might be difficult to adequately and accurately describe as a concept, but one thing is certain—if this doesn't draw non-theatre-going audiences through the doors, little else will.
The God That Comes by Hawksley Workman & Christian Barry
Presented by 2b Theatre Company (Halifax NS)
Belfry Theatre SPARK Festival
March 17-21, 2015
Tickets $36
Performer Hawksley Workman
Director & Playwright Christian Barry
Lighting Designer Leigh Ann Vardy
Costume Designer Dana Osborne
Sound Designer Jesse Ash
Choreographer Monica Dottor
Sound Mixer & Operator Todd Lumley
Production & Stage Manager Louisa Adamson
 
The God That Comes runs approximately 70 minutes without intermission.
Warning: This show contains mature subject matter, strobe lighting effects, beautiful loud music, explicit language, sexual imagery, and other naughty ideas. Enjoy.
Songs from The God That Comes

Invocation (You Know What It Is, Come To The Mountain)
Remember Our Wars
Glory Glory Hallelujah
Ukelady Boy
If Your Prayer
The Dress Makes The Man
Up, Up, Up He Goes
Wild Abandon
Can You Believe?
He's Mine
They Decided Not To Like Us
Disclaimer: I was provided with complimentary tickets to attend The God That Comes.