The Other Guys Theatre presents The Incompleat Folksinger January 8-18, 2015 in Victoria BC. A Review. 
The most recent production by The Other Guys Theatre Company (OGT) The Incompleat Folksinger by Pete Seeger featuring Mark Hellman (January 8-18 2015 at the Metro Studio Theatre) is a mini-history lesson with beautiful tunes, accomplished storytelling and an immense heart.
OGT is well-known for their historical musical revues Good Timber and Moodyville Tales, which included Hellman as part of the cast. For this latest effort, artistic director Ross Desprez and Hellman have pared the story and staging down to one main, one mike, a guitar, banjo, bench and stool.  Musical direction was provided by Tobin Stokes, and lighting by Rebekkah Johnson.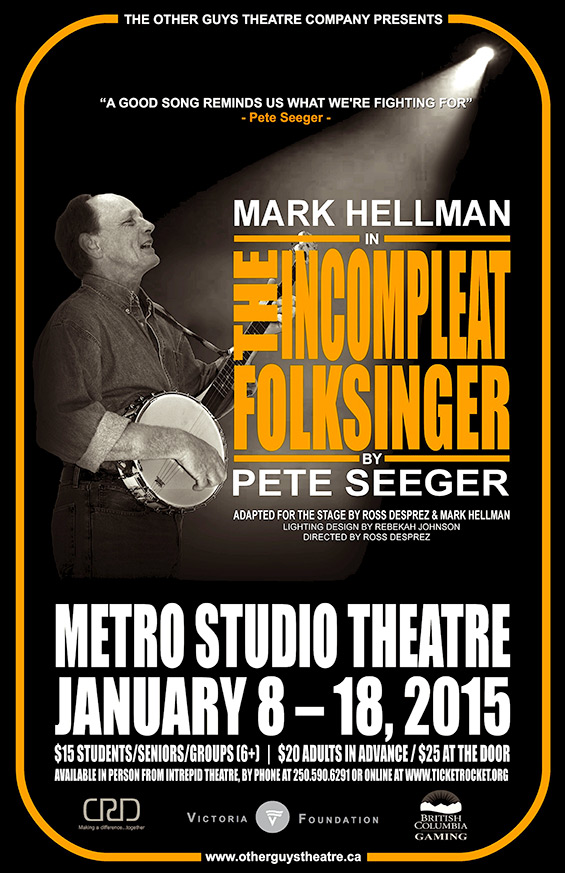 It takes an assured performer, one familiar with the vagaries of audience participation, to stand, in-effect naked, and take the assembly on a journey through collective memory. Hellman, with his years of performing, and community work—particularly as founder of the Vic High Neighbourhood Choir—definitely has the necessary skills.
Anyone with a passing interest in the American folk song has at the very least some knowledge of Pete Seeger. The Incompleat Folksinger helps to fill in the gaps. Born in 1919 into a "comfortable" academic family—his father was the musicologist Charles Seeger—his passion for folk songs was ignited as he travelled while still a teen with his father on trips "boondogging" in the American South, in search of long-lost melodies.
Dropping out of Harvard he began to sing for trade union meetings and hootenannies. Seeger remained an activist all his life, was on the front lines of civil rights and Vietnam War protests, and was subsequently blacklisted. One very telling episode recounts his appearance before the House Committee on Un-American Activities (HUAC) and his principled stand—refusing to testify he invoked the First Amendment and was ordered jailed.
His voice continued to ring, almost until the day he died, in 2014 at the age of 95—in latter years, in support of Occupy Now and against the XL Pipeline and fracking.
I can think of no more fitting tribute to his life than this joyful exploration in word and song.  The mainly older audience was familiar with the material, and sang out, with great enthusiasm, as Hellman strummed along. While some of the content is bittersweet there is also a sense of urgency in the message.  Seeger calls us all to live the life of our values.  Speaking to a young person after the show, it became apparent how important it is to share positive stories of people making a difference—with what they have and where they are—long into old age.
The Other Guys Theatre Company has a hit on their hands with The Incompleat Folksinger—with its wide appeal (fans of history, music and good stories will clap, hum and follow every word intently), I foresee a future of touring this production widely in North America and beyond, much as Seeger toured the world as the troubadour of generations of fair-minded people.
Pete Seeger was a folk singer, political activist, and a key figure in the mid-20th century American folk music revival.  He sang in defence of the poor, the oppressed, and the exploited; and always to enliven and encourage, to delight, and to tell tales. The Incompleat Folksinger, adapted by Ross Desprez and Mark Hellman from the book of the same name, shares, in Seeger's own words and music, his  inspirations, his conflicts with the bosses and the government, his favorite songs,  stories, and instruments, and the kind of learning that comes from listening carefully. "Any fool can get complicated," he wrote. "We are born in simplicity but die of complications".

Directed by Ross Desprez with musical direction by Tobin Stokes.
The Incompleat Folksinger at Metro Studio Theatre, Victoria
Regular price tickets are $20 in Advance & $25 at the Door; Youth/Student/Senior price tickets are $15; Group 6+ $15. (Please call 250-590-6291 for group sales)
8pm Performances: Jan 8, 9, 10, 14, 15, 16, 17
2pm Performances: Jan 10, 11, 17, 18
Metro Studio 
1411 Quadra Street
Victoria, BC – Canada
Tickets:   http://bit.ly/12kfBzb
Further reading:
A Pete Seeger appreciation page: http://peteseeger.net/wp/