Small Room at the Top of the Stairs at Langham Court Theatre. A review.
The Small Room at the Top of the Stairs, currently at Langham Court Theatre, November 18-December 6, 2014 is rich, replete with interpretations and claustrophobic in its psychological intensity.
Grace (Julie Forrest) has everything a young woman can desire—a rich husband, Henry (Justin Carter) who loves her and showers her with gifts, a beautiful mansion (28 rooms of which 10 are guest rooms)—yet, Grace is not happy.
Grace perseverates. Why can't she go into the small room at the top of the stairs? The desire to do so overtakes her.
I refer to it as "looping"—this constant return to a niggling thought or doubt, a reworking of ground previously ploughed or returning to an issue that was thought to be resolved—but the correct term is perseveration. It means to repeat something insistently or redundantly. and indicates an inability to switch responses
It's also in the very language of Carole Fréchette's text—which, in a lesser hand, could become, quickly, monotonous.  Instead, the effect is one of lyricism and also, foreboding.  John Murrell's translation conveys every tone and nuance of the inherent poetry. Think of a miniature painting—the number of brush-strokes required, how carefully the paint must be laid down. This is the very essence of Fréchette's work.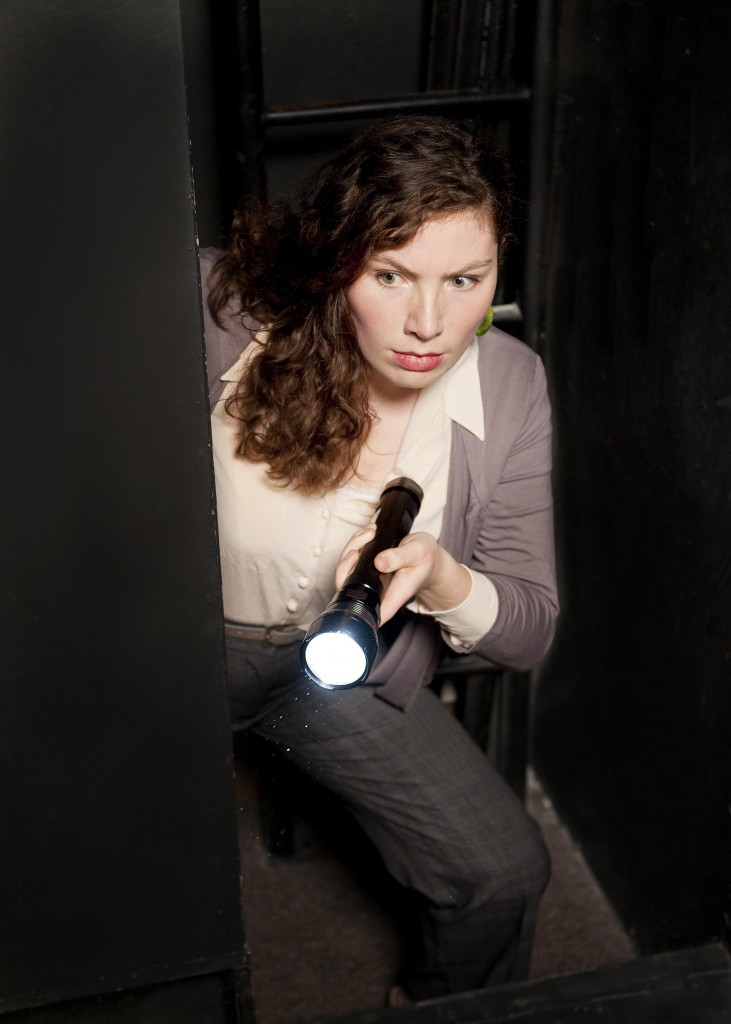 Julie Forrest as Grace. Photo: David Lowes
There are intrinsic difficulties in attempting to convey psychological states across cultures and language—don't forget that the French gave us Descartes and Lacan—one's idea of self is not necessarily shared. Nevertheless, Murrell's translation is sublime, and captures the swelling undercurrents of Fréchette's language with great precision.
Add to the musical nature of the language, a director (Naomi Simpson) with a deft sense of the complexities of the script, a group of accomplished actors (in addition to Forrest and Carter they are: Michelle Morris as Anne, Grace's sister; Wendy Magahay, her mother and Leane Allen as the maid, Jenny) and a talented creative team (set design—Julian Cervello, costumes—Joyce Klein, lighting—Finn Archinuk, sound—Grayson Walker)  and you have an intriguing 90 minutes onstage that will leave you contemplating multiple possible interpretations.
Not all is dark and spooky either—Magahay has the felicitous ability to provoke laughter with inane repetitions of joy at her daughter's good fortune; there's abundant comedy in the caricatures of mother and daughters, who dig endlessly at old wounds all of us recognize.
The design team has worked hard to create a world that is at once familiar, but askew. Much of the action takes place in Grace's head with segues to more life-like scenes played out for the audience.  The set design (a first time for actor/director Julian Cervello) has an Escher-like quality to it—nothing is square; staircases lead nowhere; the "small room" of the title moves from one spot to another—which adds to the mystery.  Grayson Walker's sound design creaks, groans and jars—there is little calm to be found here. Projections are other-worldly and enigmatic.  Finn Archinuk uses light to paint the austere set with washes and touches of colour that add to the implied richness of the décor. Joyce Klein's costumes subtly convey the different social classes.
Small Room at the Top of the Stairs is a production of "firsts"—making their Langham débuts are Julie Forrest, Justin Carter, Michelle Morris, Leanne Allen, Grayson Walker and Julien Cervello. Although they already have an association with the theatre, it's the first time Naomi Simpson has directed for them, Joyce Klein has costumed and Finn Archinuk has been responsible for lighting design.  Leanne Allen is appearing for the first time onstage and finally—it's the very first time that Langham Court Theatre, in 86 years of producing community theatre, has staged a one-act play.
Tackling a work with many intricacies and providing opportunities for theatre professionals and audiences alike to stretch is a very lofty goal indeed, and one that cast and creative team have met with success.
Theatre, like life, does not always need to provide a neat story arc or facile ending.  Fréchette herself states in an interview from February 2008 "of all my plays, it's perhaps the one I understand least", and goes on to say "there are many ways to interpret it; it's not my job to do it".
If you can bear living in uncertainty, if you are prepared to encounter your own "Small Room", then this well-crafted, mysterious and provocative piece will thrill you.
There is a facilitated discussion after every show and, on the night I attended, people were passionately engaged in exploring the issues.
Frechette was recently received the 2014 Governor General's Award for Drama (French) for her play Small Talk—the latest in a long line that includes the Siminovitch Prize (as the only Francophone author to do so), and another GG in 2002 for Les Quatres Morts de Marie, among others.
 
Small Room at the Top of the Stairs, by Carol Fréchette, directed by Naomi Simpson
Langham Court Theatre
November 18-December 6, 2014
Tickets:
$21 Adults, $19 Students / Seniors (ages 65+)
$16 / ticket Groups 10+
2 for $20 Preview (Wed, Nov 19)
2 for $30 Tuesdays (Nov 25 & Dec 2)
$10 Student Rush Ticket (15 min before curtain, with ID )
Performance Schedule (Nov 19 to Dec 6, 2014):
Nov 19 to Nov 22–Wed thru Sat nightly show time 8:00pm
Nov 25 to Nov 29–Tues thru Sat nightly show time 8:00pm
Dec 2 to Dec 6–Tues thru Sat nightly show time 8:00pm
* Plus two Sat matinees Nov 29 & Dec 6-show time 2:00pm

Cast:
Grace: Julie Forrest
Anne: Michelle Morris
Henry: Justin Carter
Joyce: Wendy Magahay
Jenny: Leanne Allen
Production Team
Director: Naomi Simpson
Assistant Director: Julian Cervello
Producer: Angela Henry
Stage Manager: Rosemary Jeffery
Assistant Stage Managers: Kevin Gillingham, Emma Morgan-Thorp
Set Design: Julian Cervello
Lighting Design: Finn Archinuk
Sound & Projections Design: Grayson Walker
Costume Design: Joyce Kline
Properties/Set Décor: Joyce Kline
For more information, contact Langham Court Theatre:
805 Langham Court
Victoria BC V8V 4J3
Box Office / Admin: 250-384-2142
Email: boxoffice@langhamtheatre.ca
Website: http://www.langhamtheatre.ca/
Twitter: https://twitter.com/LanghamTheatre
Facebook: https://www.facebook.com/langhamtheatre
Flickr: https://www.flickr.com/people/langhamtheatre/
Disclaimer: I was offered a complimentary ticket to attend and review Small Room at the Top of the Stairs.