It took 18 tries before Graham McDonald, Theatre Inconnu's Associate Artistic Director, was able to secure the rights to Enda Walsh's The Walworth Farce (on now at Little Fernwood Hall until June 16th).
For his patience,Victoria audiences are about to be rewarded with a diaspora tale-within- a-tale, a farce of mythical proportions and great black-comedic appeal.
Walsh is a leading light in contemporary Irish theatre, coming to prominence at the Edinburgh Fringe with his play Disco Pig (starring an as-yet-unknown Cillian Murphy) in 1997.  Disco Pig toured world-wide and was recently re-worked as Misterman (again starring Murphy).
The Walworth Farce, written in 2006, has had the same level of success, and thus, McDonald waited.
Join Dinny (Clayton Jevne), and his two sons Blake (James Roney) and Sean (Graham Miles) as they live out their days in a dingy council flat on the Walworth Road (London), telling ritualized stories of their days in Cork.
It's been 20 years since the family fled Ireland, trying to make sense of their reasons for leaving, all the while keeping the foreign-to-them world of London at bay.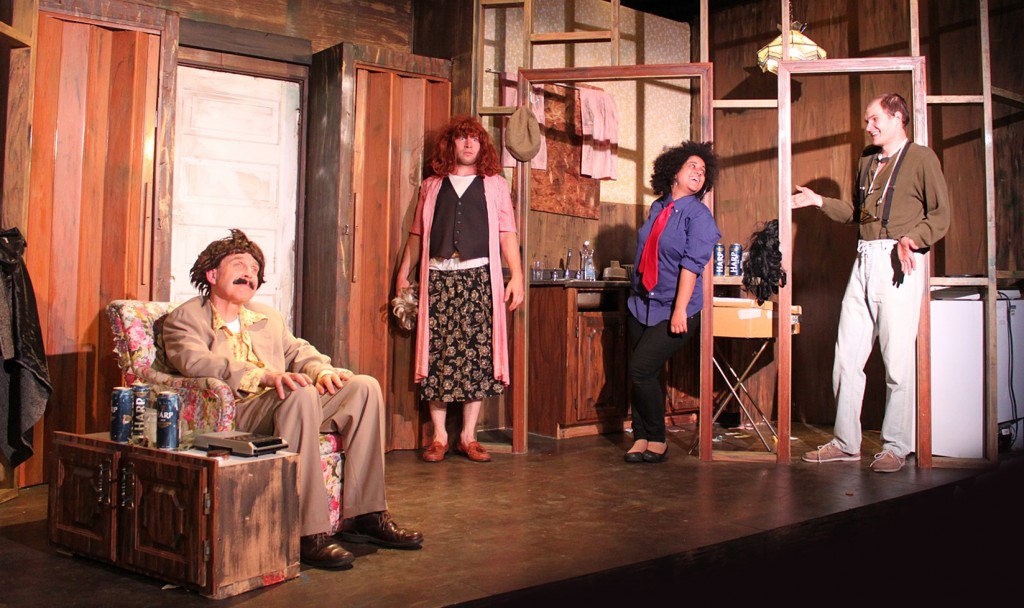 Clayton Jevne (Dinny), James Roney (Blake), Elizabeth Marsh (Haley) and Graham Miles (Sean)
Photo: Graham McDonald, provided by Theatre Inconnu
Set designer Michelle Ning Lo constructs an oppressive, claustrophobic interior, symbolizing rooms by basic framing rather than complete sets, heightening not only the dramatic tension but the comedic effect of entrances and exits inherent in farce.
The play begins conventionally enough with daily domestic routines: Blake ironing, Dinny waiting not-so-patiently for Sean to arrive home with the groceries.  From there the entire first act becomes more and more absurd, haphazard, random and wacky.  The audience wants in on the reason for all this absurdity, but answers are not to be revealed – yet.
Sit back, enjoy, and allow the action to wash over you.  I marvelled at the actor's skill in keeping the stories straight, in a script replete with the accoutrements of stylized character differentiations – dresses, wigs, glasses, caps.
At first glance much of the farce has a child-like naiveté – cardboard coffins, wigs that don't fit – I'm reminded of my children taking on and casting off roles as easily as the costumes from their "Tickle Trunk" when they were younger.
Director McDonald keeps a frenetic pace – the actors brilliantly maintain the necessary equilibrium of this Jenga-like fabrication, but we grow increasingly uneasy with the realization it will all end in a heap – badly.
Themes of loyalty, trust, the Irish diaspora, personal identity, survivor syndrome – Walsh addresses them all under the guise of cartoon-like re-enactment. As the characters shift between reality and fabrication, our sympathies come in to play.  In the tragedy of their lives, our own identity is questioned. If they are able to edit, re-edit and re-tell, who are we to escape?
"But none of these words are true." (Sean)

"It's my truth, nothing else matters." (Dinny)
An interview with Walsh reveals, to my mind, a very telling quote:
"I'm defined to my brothers through five stories. That's great. That's enough for us – we're blood.

But for me – it's like – What if the stories aren't real? What if they're actually lies?"
The introduction of Hayley (Elizabeth Marsh in her first performance with Theatre Inconnu) in the second act means the dynamic will, inevitably, change.
McDonald negotiates the twists and turns of this significant modern work, without falling into the trap of over-simplification or simple rote. The story may be absurd, but relies on finding the truth in terrible brokenness. This cast is invariably pitch-perfect in its ability to translate, under the guise of farce, the very nub of human behaviour, and transcend tragedy to bring hope to light.
Surrounded by the chaos of the world around us, humans tell stories to give meaning to lives. When I come away from an evening at the theatre wanting more discussion about the ideas I've seen played out on stage – this defines artistic success to me.
Theatre Inconnu, once again, continues to push my theatre-going boundaries with The Walworth Farce.
The Walworth Farce
Starring 'Critics Choice Winner' Clayton Jevne, Graham Miles, James Roney, and Elizabeth Marsh
OPENS 8pm Friday, June 1
8pm June 2, 5, 7, 8, 9, 13, 14, 15, 16
2pm June 2, 3, 9, 10, 16
Pay-what-you-can Tuesday, June 5
Tickets at TICKET ROCKET online or by phone 250 590 6291
$14/$10
 Complimentary Tickets, 2011 Punch Cards, and Reservations:
Call Theatre Inconnu directly 250-360-0234, or email: mail@theatreinconnu.com.
Creative Team:
Directed by Graham McDonald
Stage Manager: Karen Stack
Lighting Designer: Patricia Reilly
Set Designer: Michelle Ning Lo
Costume Designer: Staci Sten