Time Waits For No One at William Head On Stage (WHoS). A review. October 10-November 8, 2014.
Filled with a sense of magical realism and wonder, Time Waits for No One (A Prison Play), currently at William Head Onstage (WHoS) October 10 to November 8, 2014—a joint production of the Prison Arts Collective and the inmates at this federal institution—brims with equal measures of fantasy and the hard-won lessons of life.
From the moment the audience enters the space, a converted gym and its lobby, people are swept up in a carnival atmosphere. Be sure to come early to take your chances at the midway games (ring and bean bag toss, strong man, duck bowling)—they are harder than you anticipated. A carnie circulates with popcorn and drinks are available (all free with the price of admission).  Take the time to peruse the many beautiful handicrafts for sale—First Nations masks, well-turned bowls, intricate marquetry laden boxes, beaded moccasins—before heading into the actual theatre space.
What was once a utilitarian gym has been transformed into the world of the amusement park—gorgeous hand-painted draperies and hangings adorn the walls and are suspended from the ceiling. In the centre, an elaborately-carved six-sided structure represents the carousel. Staging is in the round—as if seated under a big-top.
Time Waits for No One is loosely based on Mitch Albom's book The Five People You Meet in Heaven, a story about an old man at the end of his life, forced to take a look at how his actions affected the lives of others.
It maintains the central character Eddie and the amusement park as a setting.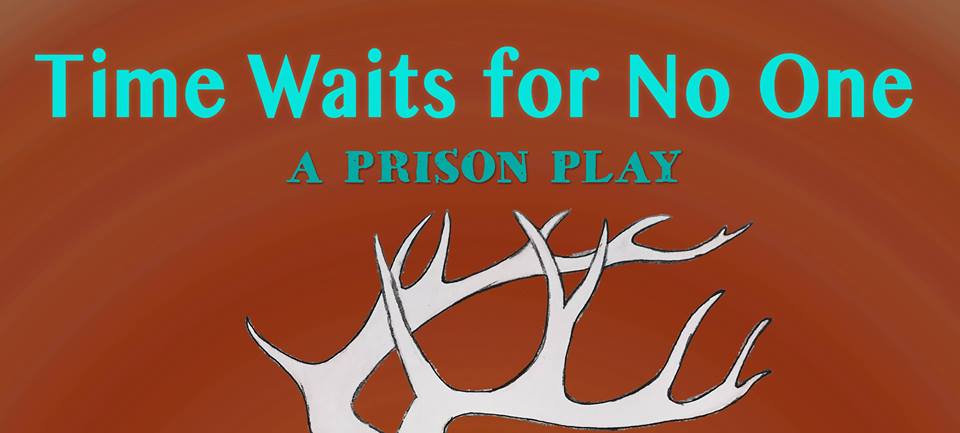 Working under the direction of Kate Rubin, assisted by Kathleen Greenfield and Anne Cirillo as writing partners, with music direction by Katrina Kadoski, choreography by Ingrid Hansen, set design and scenic painting by Carole Klemm (assisted by Jeni Luther) and lighting by Paphavee (Poe) Limkul, the actors has devised a  fable that takes us on the journey of Eddie's life.
In all, four men (EJY, CSJ, ST, KE) represent Eddie, from his childhood, through the teen years, to incarceration and finally, as an old man, release.  This multi-person characterization was made possible through simple devices of costume (checked shirt and jeans) and a pendant that the men handed off to one another. Eddie's experiences are inspired by the true stories of the incarcerated men's lives.
Humorous moments abound for young Eddie's (EJY) when he's taken to the carnival and meets Charlotte (Kathleen Greenfield). Together they play bumper cars, eat cotton candy, try to get on the Ferris wheel and ride the carousel.
The carousel serves as a central allegory, open to individual interpretation. It is comprised of a raised dias and five free-moving masked animals—a squirrel (VV), deer (EW), hummingbird (SD), raven (DK) and horse (ALF)—four appear to rotate (an illusion made possible by the sublime lighting reflected through the top) orchestrated by the horse. Wordlessly imitating the movements of their respective animals they stand as silent interlocutors and guides as they re-appear in the stages of Eddie's life.
Abandoned by his mother (Anne Cirillo) and even uncle, raised by a foster mother who despises him then throws his out, Eddie turns to music.  Even a relationship with Charlotte cannot keep him from a rough crowd and he is jailed. Before he is, there is one brief redeeming moment of heroic action as he saves the life of a young drowning girl.
Music, written and performed by Kadoski and the inmates, weaves in and out of the episodes and remained in my mind for days after, particularly the bluesy tune On the inside.
Lying in bed in prison, the middle-aged Eddie falls sick and dreams. Out of his dream comes a Bollywood-inspired dance sequence to a traditional Hindi love song that beguiles as the actors gyrate and twirl. I've followed the work of WHoS (now in their 33rd year) more closely since 2010 (CHALK, their original devised piece) and watched as they staged both devised work and adaptations of classics (Ghormengast, The Hobbit).  This Bollywood number represents a highlight for the ensemble; not only for the work required but for the utter abandon and joy with which it is staged.  The artistic growth exhibited is astonishing.
As choreography, mask-making, and music have become more and more elaborate, so has the staging and interpretation. Time Waits For No One is the culmination of four months of intense work shopping and creation by an extremely dedicated,  cohesive and resourceful group of  people. Its haunting message, woven with love and dedication, will follow you long after you leave the grounds.
If I have one word of advice, it would be to purchase your tickets early. WHoS has a loyal following, particularly on the Westshore, and the end of the run is usually sold-out.
Since Time Waits For No One is staged inside a federal institution, all tickets MUST BE PURCHASED IN ADVANCE. Only people 19+ are admitted. ID is necessary and all valuables will need to be locked up.
Time Waits For No One, A Prison Play
William Head Institution, 6000 William Head Road (a 35 minute drive from downtown Victoria)
October 10, 11, 17, 18, 24, 25, 30, 31
November 1, 6, 7, 8
Tickets $20 in advance only throughTicket Rocket (#2 – 1609 Blanshard St. at Fisgard) 250-590-6291 or at My-Chosen Cafe(4492 Happy Valley Rd, Metchosin)
Please note that ticket sales at Ticket Rocket cut off at 3:30 pm the day of (whether in person or online).
6:15pm – Gate Open
7:15pm – Gate Closes
(absolutely no latecomers)
7:30pm – Show Begins
Audience Reminders:
WHoS is located inside a Federal Institution.  Must be 19+ to enter.
You may be electronically scanned
Personal belongings (purses, wallets, cell phones, money, etc.) are forbidden and must be left in your car.
No smoking materials are permitted
Disclaimer: I was provided with a complimentary ticket to attend this production.