What a magnificent choice to celebrate WHoS (William Head on Stage) 30th year and 50th production, in this, the centenary year of Gormenghast's author Mervyn Peake.
This  tale – part morality play, part fantasy – recounts the history of  a kingdom where rule and ritual reign and the mantra "No Change!" is well respected. It's production in a federal minimum security institution carries a certain level of  double-entendre.
William Head on Stage is the only inmate initiated, inmate run theatre program inside a Canadian federal prison which opens it's gates to a public audience.  Over the years, many theatre students and members of the local theatre community have been enlisted to assist with direction, design, staging and acting (particularly for the female roles as William Head is a male-only institution). Choices have been consistently challenging – Animal Farm, Waiting for Godot, the Marquis of Sade, MacBeth are recent examples.
Last Friday night, as the sun set,  we drove the beautiful roads of Metchosin to opening night.
Other than a few lines in the program, the story of Gormenghast was completely unknown to me.  I sat, waiting to be carried away.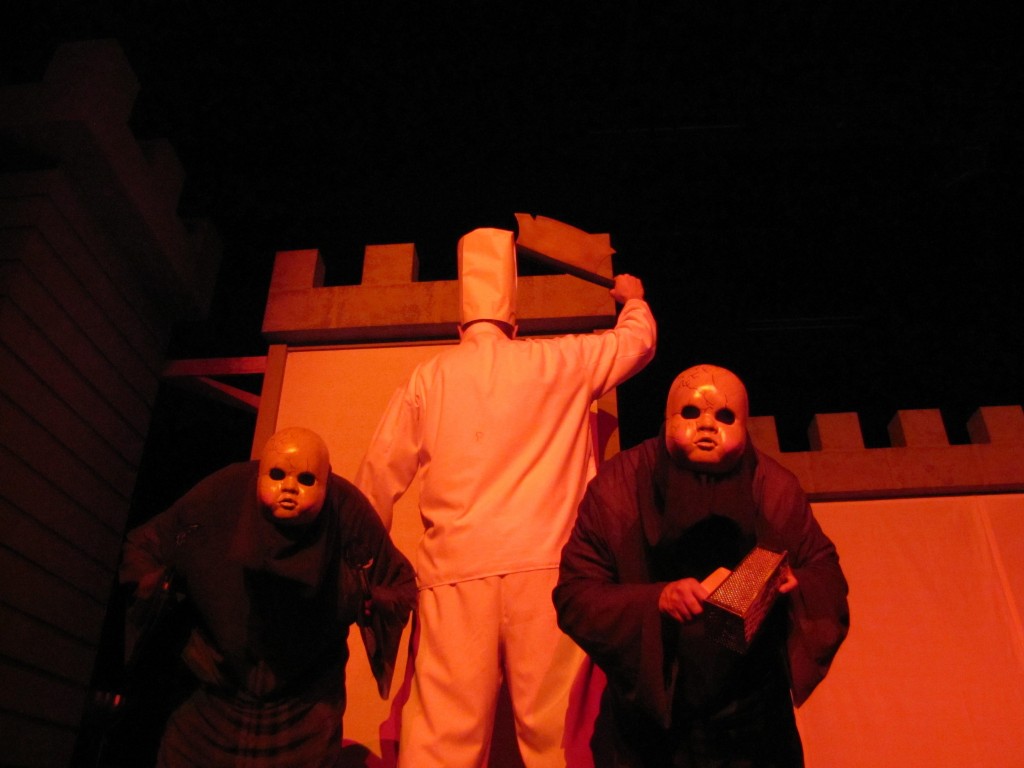 Swelter the Cook (RS) and his minions Photo: Ian Case used with  permission
Giant turrets and grey walls create a foreboding backdrop for the birth of Titus, 77th Earl of Gormenghast, very effectively displayed using shadows. Servants and family members move in a stylized  manner to the beating of drums, and the cries of his mother.  We're slowly introduced to the characters – Titus, his parents (an absent mother Kate Rubin and father more interested in books than in his son), his sister Fuschia Ingrid Hansen, his aunts Cora and Clarice Michelle Chowns and a bevy of retainers and servants, including the villain of the story Steerpike.  There are mysteries a-plenty (the disappearance of the 76th Earl), a love story, the triumph of good over evil, and the young man's success as he struggles to find his own way in the world.
The kingdom slowly crumples, as mirrored in beautifully un-kempt costumes.  Particularly effective were the acetates and projections used to portray the scenery.  In the final moments, as the waters rise, thunder (rumbling sheet metal) booms across the land and lightening rends the sky.  Hours of work were lavished on creating these "low-tech" effects.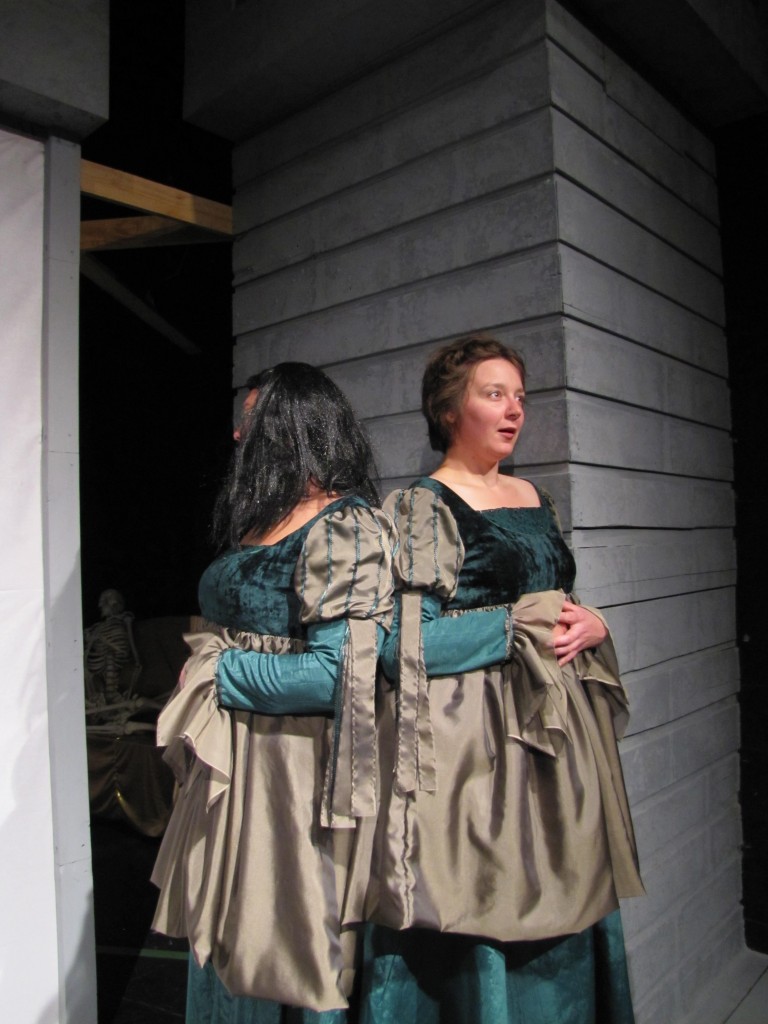 The Aunts – Cora (DW) and Clarice (Michelle Chowns). Photo: Ian Case used with permission
Director Ian Case, the entire cast (most of who cannot be named under CSC rules) and crew are to be commended for producing, in a remarkably short period of time, a work of theatre that captured my attention from beginning to end.
I applaud the tenacity and perseverance of people who strive to light the creative spark within, particularly under difficult circumstances when it would be easier to submit to the mantra "No Change".  I believe in the ability of the arts to transform our lives, to provide a window into a world we do not or cannot inhabit.
Perhaps you too would like a chance to believe and applaud – the trek to William Head on Stage and Gormenghast is well worth the effort.
Saturday morning found me on my computer, researching Mervyn Peake, with a goal of finding his books to read. How is it that this accomplished painter, illustrator, author and playwright is completely unknown to me?
Performance dates are: October 14, 15, 21, 22, 28, 29, November 3, 4, 5, 10, 11 and 12.
Gates open to the public at 6pm and close at 7:30, the performance will begin shortly after 7:30.
No latecomers will be admitted.
Tickets are $20 each and are available at the following outlets:
* My Chosen Café – 4480 Happy Valley Road – 250-474-2333
* Ticket Rocket (online, by phone or in person) #2-1609 Blanshard Street, 250-383-2663, www.ticketrocket.org
WHOS is located inside a Federal Institution. No persons under the age of 19 will be admitted. You may be electronically scanned. Money, wallets, purses, cell phones cannot be taken into the institution, as well as tobacco products, lighters, etc and must be locked in your vehicle or locker provided.
Disclaimer:  I was offered complimentary tickets to attend the premiere of this play. I was not paid to write a review nor was I required to do so. As always, I retain editorial control over all the content published on this blog