Tomorrows Child at Belfry Theatre SPARK Festival 2018. A review.
The mind-bending experience of Tomorrow's Child by Ghost River Theatre (currently at the Belfry Theatre SPARK Festival 2018 March 20-24) begins long before entering the theatre.
Panels and poster boards provide information on the company and the main creators. Bright-eyed "performer mecs" greet patrons assembled in the lobby for this auditory immersive piece.  Instructions are provided—blindfolds are to be worn while shuffling in fives to seating within Studio A.  A definite sense of the unknown creeps into the group dynamic—reminiscent of many trips through Hallowe'en haunted houses being forced to thrust hands into bowls of unknown contents.  How safe is it going to be?
Seated in an office chair, sound quickly envelopes the space—coming from all directions the voices of little children, happily screaming at play, ebbs and flows as the audience shuffles in.  There's a considerable amount of time to become oriented, and settle, allowing thoughts to wander, imagining all sorts of possibilities.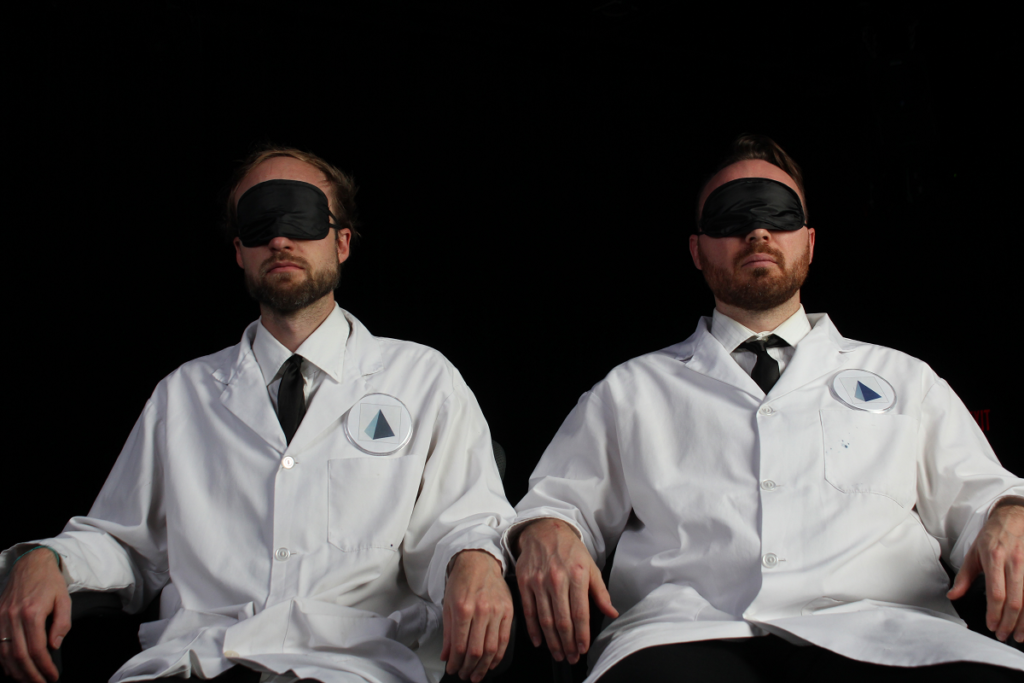 Fans of audio books, podcasts and radio plays will appreciate the attention to detail in the multi-layered sound scape—a highlight of which is the helicopter coming in for a landing with its loud "whup whup" of blades striking the air. Similarly aficionados of science fiction will recognize the many buzzes, whirrs and beeps of the machinery in this retro-futuristic tale. Tomorrow's Child is based on the Ray Bradbury short story Tomorrow Child—written in 1947 it takes place in 1988, a time when all births are provided by a "Birthing Machine".
Proud expectant parents Polly (Anna Cummer) and Peter (Tyrell Crews) have their hopes of a happy family dashed when their first child Py (Wren van Belle, Aubry Hall, Jesse Osborne-Lanthier and Sarah Albu) is born into another dimension due to a machine malfunction. Forced to cope with an entity unlike any other (a blue pyramid with tentacles) Polly slowly unravels—the scene where, in a dream, she chases Py from spot to spot, displays superior sound technique with voices appearing and disappearing, fading in and out all around the room as she becomes more and more frantic.  Peter is matter of fact—escaping every day to the office and determined not to show Py to the world. Dr. Walcott (David van Belle) is infuriatingly placating—sure they'll find a way to bring Py back to this dimension.  Hope, fear, longing and love combine.
Tomorrow's Child premiered in 2014 and is the first in Ghost River Theatre's series The Six Senses which also includes Touch, Taste, Sight, Smell and, in 2018, Intuition—each work meant to focus the audience's experience on one sense.
While an auditory-only experience is not what one expects to encounter in the theatre, it is something people are familiar with (cf: the afore-mentioned audio books and podcasts). Much like the allure of books over movies, the magic of Tomorrow's Child is in the ability to create one's own imaginary world from the excellent ingredients provided by the exceptional sound design (Eric Rose and Matthew Waddell).  In addition to the dialogue of the main characters, the  script (Eric Rose, Matthew Waddell and David van Belle) includes intriguing bits of cross conversations from unnamed and unknown bystanders and participants, adding a level of richness. Currently emotion is often manipulated by sound in films and TV shows—it's refreshing to be part of an aural event where this is not the case.  Tomorrow's Child is fresh and filled with a spirit of hopeful adventure, much like the period of time in which it was originally written. In the end, despite the dark uncertainty they face, Peter, Polly and Py will prevail in being a family.
Blending sound art, theatre, and science fiction, Tomorrow's Child invites audiences into the realm of internal spectacle. This is a one-of-a-kind sensory experience where audience members will be blindfolded and individually guided into swivel chairs, the story unfolding in the sonic landscape that surrounds them.

Brand new parents, Polly and Peter, in the imagined retro-future of 1988, confront the reality that their child has been born into another dimension. Will they accept the interstellar divide between parent and child? Or is there another spacetime solution?

A production for audience members across the sensory spectrum, including members of the deaf and hard of hearing communities, blind or visually impaired patrons, and those with mobility concerns. Please contact the box office for help with any accessibility needs.
Tomorrow's Child
Adapted from Ray Bradbury's short story by Eric Rose, Matthew Waddell and David van Belle
Belfry Theatre SPARK Festival
March 20-24, 2018
Tickets $30 online or by calling the box office at 250 385 6815
Dates
Tuesday, March 20 at 7:30 pm
Wednesday, March 21 at 7:30 pm
Thursday, March 22 at 7:30 pm
Friday, March 23 at 8 pm
Saturday, March 24 at 8 pm
70 minutes / no intermission
Direction and Sound Design: Eric Rose and Matthew Waddell
Assistant Direction: Evan Medd
Production Intern: Gillian Clark
Original Music: Jesse Osborne-Lantheir and Sarah Albu
Sculpture: Emily Promise Allison
Featuring:
Tyrell Crews as Peter
Anna Cummer as Polly
David van Belle as Dr. Wolcott
Wren van Belle & Aubery Hall as Py
Additional Performers: Aaron Zeiffer, Helen Knight, Joleen Ceraldi, Evan Medd, Eric Rose, Matthew Waddell, Molly-Raine Dale
Special Thanks: Ann Connors, Mandy Dale, Caitlin Gallichan-Lowe, Laura Anzola, City of Calgary.
Based on the short story "Tomorrow Child" by Ray Bradbury, originally published as "The Shape of Things" © 1947; renewed 1975 by Ray Bradbury. Performed by permission of Don Congdon Associates, Inc.
About Ghost River Theatre's THE SIX SENSES SERIES
Tomorrow's Child is the first installment of GRT's Six Senses Performance Series.  The Series is a rigorous exploration of what happens to the boundaries of narrative when you focus on stimulating the audience's senses.  When you take away sight—our primary gateway in the world— how do our imaginations open up to narrative? How can being deprived of sight prime us for a unique performance experience?  How does the audience imagination/engagement factor into the overall narrative experience of performance?
ABOUT GHOST RIVER THEATRE
Led by Artistic Director Eric Rose, with the support of Artistic Associate Louise Casemore GRT is a devised theatre company that creates, develops and mounts original productions through a significant investment in imaginative research and development. We make our work in a rigorous, supportive collaborative-creation environment that recognizes and utilizes the unique abilities of all participants, premiering our work in Calgary and then touring it nationally and internationally. Our work embraces a hybrid of high tech visual spectacle with low-fi theatrical magic. For more information please visit:  www.ghostrivertheatre.com
Disclaimer: I was offered a complimentary ticket to attend Tomorrow's Child.