I've written before about the intimate performance space at Merlin's Sun Theatre in Victoria BC. Timothy Gosley and Petra Kixmoeller have worked hard to create a theatre with a variety of performances and classes, suitable for many ages groups.  Tim, a well known puppeteer, has convinced Javanese puppet master Sutrisno Hartano to offer a workshop (Victoria's first) in traditional Indonesian shadow puppetry (Wayang Kulit).  Suitable for children 9 and up, as well as adults, these workshops can also include an open rehearsal of The Busy Island Gamelan Orchestra (founded by Mr. Hartano) and lunch.

Wayang Kulit Workshop. Images provided by Merlin's Sun 
Sundays February 12 or 19

11am
The Busy Island Gamelan Orchestra Open Rehearsal
12:30pm
Indonesian Lunch
2pm
Wayang Kulit Workshop (3 hours)

11 am:  Relax in a comfy living room with The Busy Island Gamelan Orchestra.  Mr. Hartana, not only a master of Wayang Kulit, but also in Javanese Gamelan and dance, will demonstrate the different instruments comprised of bronze and iron gongs, cymbals & bells, wooden drums, flutes, the rebab (a two stringed fiddle) and vocals. (In 2004, the King of Paku Alaman garnered Mr. Hartana the title Mas Lurah Lebda Swara making him a court musician at theRoyalPalace in Java.)

12:30 pm:  Anis Astuti will offer a light traditional Indonesian lunch.

2 pm: The Wayang Kulit Workshop will take place in the magical Merlin's Sun Home Theatre and includes (but not limited to): puppet manipulation, character explanation, gesture and "kinestetic" response, and dialogue.  Maximum of 20 participants – 3 hours.  (families welcome – open to ages 9 and up.)

Mr. Hartana is a dalang.  For traditional Indonesian shadow performances there is one puppeteer called a dalang.  They are deeply respected in their society and possess many talents. They must sit cross-legged for the nine hour performances; conduct the Gamelan Orchestra situated behind them by shaking a kechrek (rattle) with their right foot;  and manipulate and voice all the leather shadow puppets. They are special beings.

$10 suggested donation for the Open Rehearsal // $10 for the lunch

$35 for the Workshop  —  $48 for complete day // $40 without lunch

20% off groups of 10 or more.

15% off families, children (9 to 16), & groups of 5 to 10

10% seniors & students
Further Information & reservations contact:      

Timothy Gosley (250) 598-7488

timgosley@telus.net
[vsw id="drhPzDKc9BA" source="youtube" width="425″ height="344″ autoplay="no"]
Sutrisno Hartana, master of Javanese dance, gamelan music, and shadow puppets, performs internationally throughoutAsia,Europe, andNorth America in both traditional and contemporary works.  Mr. Hartana attended the Indonesian Dance Conservatory in Java and received his BA in 1992 from the Indonesian Institute of the Arts (ISI) inYogyakarta. In 2004, the King of Paku Alaman garnered him the title Mas Lurah Lebda Swara making him a court musician at theRoyalPalace in Java.  Mr. Hartana holds his MA in Ethnomusicology from theUniversity ofB.C. and is working towards a PhD at theUniversity ofVictoria.  He also directs and teaches gamelan withVictoria's Busy Island Gamelan; atSimonFraserUniversity; plus the Vancouver Community Gamelan Society and the Children's Gamelan Group through the Indonesian Consulate General inVancouver. Mr. Hartana currently lives with his family inVictoria.

The Busy Island Gamelan Orchestra isVictoria's first orchestra of this kind, and is dedicated to performing Javanese music and dance. Formed by Mr. Hartana, they perform and give workshops throughoutVictoria at arts festivals, schools and other special events including Luminara 2009. Musicians include Anis Astutia, Brendan McGuigan, David Dalzell, Janel Manerikar, Kazuko Sato, Lulu Sukawati, Michael Bodden, Ayundita Batari, Sutrisno Hartana, Ivana Jokic, Daymon Macmillan, Kimberly Shepherd. They rehearse weekly on Sunday afternoon at UVic. New comers are welcome.

 

For more information call Mr. Hartana at sutrisno@uvic.ca or(250) 361-0067.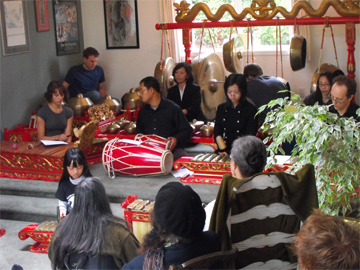 Busy Island Gamelan Orchestra in Rehearsal
Image provided by Merlin's Sun