Every foodie and oenophile in Victoria will be thrilled at the announcement of the Victoria Conservatory of Music's première fundraiser Uncork Your Palate, (a very special evening of wine, food and music Thursday April 26th) in partnership with Naramata Bench Wineries.
Meet the winemakers and be the first to taste the Naramata Bench Wineries Spring Release wines, paired with delectable morsels fromVictoria's finest eateries and accompanied by some ofVictoria's best young musicians.
Bid on wines and other exciting packages at the silent and live auctions.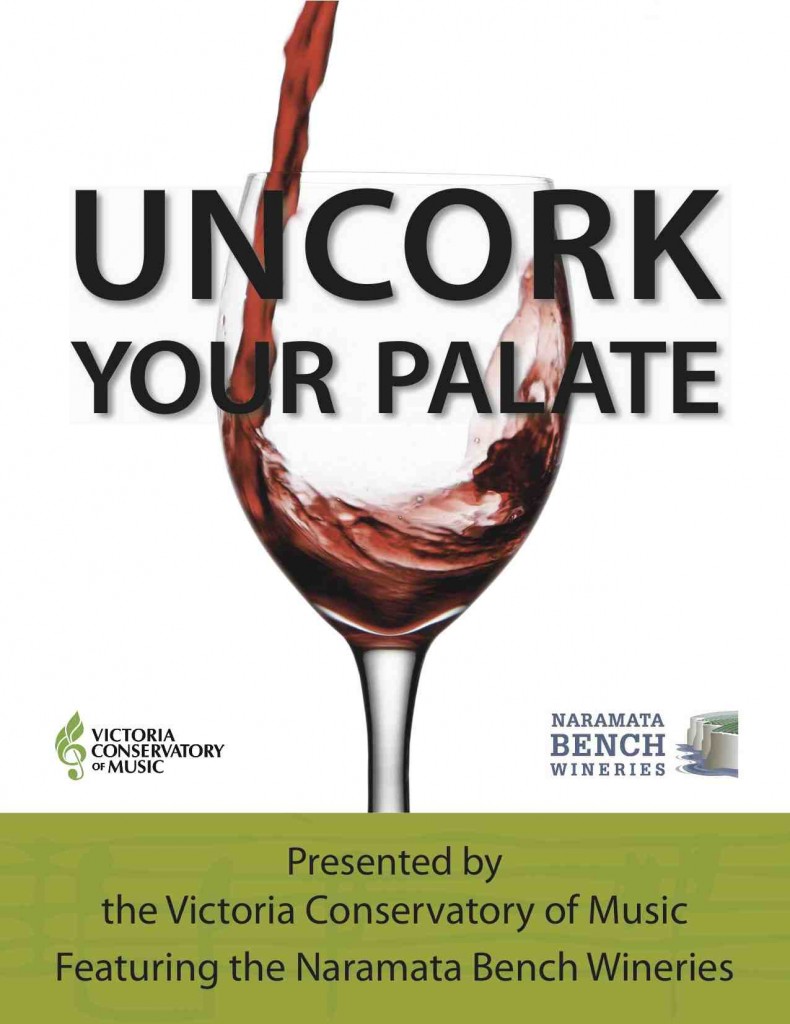 Participating Wineries:
We are devoted to using only top quality, fully ripened grapes from the Naramata Bench. Sandwiched between rock bluffs and nearby Okanagan Lake, our southwest exposure, rocky soils and steep slope provide superb growing conditions. The vineyard, established in 1998, is planted in 5 varieties well suited to our region.
After Sal D'Angelo was presented with the Grape King Award 1999, the top honour for the year in Ontario for having the finest vineyard, he knew it was time to reach even higher. So, he searched out the best property he could find in the Okanagan Valley and decided on the Naramata Bench on the east shores of Okanagan Lake.
As crazy as it sounds a logical story supports the christening of our winery. Grandmother Catherine acquired the orchard as a retirement investment. Grandfather Paul, or Poppy as we called him, was convinced that the investment would prove a "white elephant".

Hillside Winery & Bistro
Our estate vineyards are situated on the famous Naramata Bench, an area renowned for its unique terroir. All our vineyards are located on the southwest facing slope above Okanagan Lake and are planted in a mixture of well drained glacial and lacustrine soils.
Kettle Valley Winery

This past year Kettle Valley Winery proudly celebrated twenty years of making wine at our family farm winery on the Naramata Bench.
At LA FRENZ , we believe the quality in the bottle begins in the vineyard. Cutting edge and meticulous vineyard practices are used in combination with varieties tailored to the unique soils and micro climates of our vineyard sites to produce the vibrant and intense grape characters found only in the Okanagan Valley. The potential of the resulting fruit, using experience and careful stewardship throughout the vinification process, is maintained and enhanced to create exceptional wines that truly reflect the grape variety and vineyard site.
Established in 1996, we have 12 acres under vine and grow nine different varietals including pinot blanc, semillon, merlot and cabernet franc.
Our annual production is currently 10,000 cases making us a relatively small winery on the world wide scale. However, good things come in small packages – we boast several award winning wines and a popular patio lunch in one of the prettiest settings anywhere.
Founded by two former investment industry professionals, Laughing Stock Vineyards is a serious enterprise with a lighthearted attitude. And with a name like Laughing Stock, we wake up everyday with the motivation of not living up to our name.
No blurb but you can catch sea monsters on their website 🙂

Moraine Estate Winery
We are pleased to say we have just joined the Naramata Bench Wineries Association and will be getting our information up here shortly.

Nichol Vineyard & Estate Winery
Nichol Vineyard, known among Canadian wine lovers in the know, has been operating in Naramata Village in British Columbia using 100% Naramata fruit since 1993.

Perseus Winery
The winery and structure sits quietly among established Pentictonhomes, blending in with the character of the neighbourhood in the urban landscape bordering the bustle of downtown. Inside, the tasting room, wine shop, and amenities are modern, with a nostalgic twist.
In 1993 Poplar Grove Winery began as the quintessential garage winery located on the slopes of the Naramata Bench about 10 minutes from downtown Penticton, BC. The original owner, Ian Sutherland, was inspired by the Naramata Bench's ability to produce exceptional fruit and decided to dedicate his entire eight acre property to premium grape production. It was this initial decision that helped to define Poplar Grove's present goal: to produce world-class wines from family owned estate grown fruit.

Red Rooster Winery
Perched high above Okanagan Lake, our winery is located among the rolling hills of Naramata Bench Road. Here we have the most inspiring views you could possibly imagine. Which is probably why we tend to look at things a little differently.
The adventure that became Serendipity Winery began in the fall of 2005 when Judy Kingston embarked on a holiday wine tour of the Okanagan with a view to finding a retirement property in the south Okanagan. Instead, she found an old apple and cherry orchard in Naramata. This was the first Serendipitous moment, as she set out to convert the orchard to a vineyard with the goal of establishing a new boutique winery.

Therapy Vineyards
Therapy Vineyards & Guesthouse is located in beautifulBritish Columbia, situated on the Naramata Bench near Penticton.
I can't think of a better way to spend a delightful spring evening, in celebration of food and wine, and in support of one of Victoria's cultural icons, the Victoria Conservatory of Music.
UnCork Your Palate
Thursday  April 26th, 2012
6:30pm – 9:00pm
Crystal Garden – 713 Douglas St
Tickets: $95 [must be purchased in advance – 19yrs + event]
(A tax receipt will be issued for a portion of the ticket price following the event)
Buy Online with TicketRocket
Call – 250.386.5311 or toll free 1.866.386.5311
In Person – 900 Johnson St (VCM Front Desk)